Casualty Report - June 2011
At Least 41 People Killed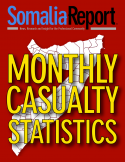 Somalia Report has compiled the following non-comprehensive estimate of casualties from medics, local residents and media reports. The injury count is typically lower than actual figures since they are reported less than deaths:
June 9 - 28, 2011
Killed: 41
Injured: Unknown
Mogadishu
(9 killed, 25 injured)
Two suicide bombers killed themselves and one other person when they stormed into Mogadishu's main seaport.
Four people were killed after armed guards opened fire on angry protesters who tried to break into Muna Hotel in central Mogadishu, which was hosting some Somali lawmakers. At least 25 people were injured.
A suicide bomber killed herself and Somalia's Minister for Internal Affairs and Security Abdishakur Sheikh Hassan Farah.
South
(26 killed, and 13 injured)
Kismayo
An aerial attack on an al-Shabaab training facility in Qandal, on the outskirts of Kismayo, resulted in an unknown number of casualties.
Luq
At least nine fighters have been killed thirteen others injured after al-Shabaab attacked a convoy carrying Somalia government, Ahlu Sunna wal Jamaa (ASWJ), and Ethiopian troops in Luq.
Hiran
Al-Shabaab reportedly stoned to death a teenager in small central Somali town of Mahas in Hiraan region.
Heavy fighting between al-Shabaab and ASWJ killed nearly sixteen people, mostly combatants in central Somali town of Beledweyne in Hiran region.
Puntland
(6 killed)
Unidentified gunmen attacked worshipers at mosque in Somalia's self-proclaimed state of Puntland, killing at least four people.
Puntland security recovered at least two beheaded bodies of soldiers believed to have been attacked and killed by al-Shabaab.