July Casualty Report
At Least 99 Killed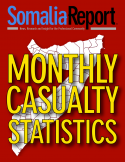 Somalia Report has compiled the following non-comprehensive estimate of casualties from medics, local residents and media reports.
July
Killed: 99
Running total (since beginning of March)
Killed: 1145
JULY BREAKDOWN
Mogadishu
63 killed
A landmine killed at least five insurgents in northern neighborhood of Daynile.
At least three soldiers, including senior presidential guard members, are killed as presidential security guards clash with forces loyalty to the parliament speaker in Villa Somalia.
At least 54 people, mainly fighters, killed and scores others injured in clashes erupted in northern parts of Mogadishu in two days (an American military expert, 10 civilians, Four AU soldiers, 11 Somali soldiers and 28 Al-Shabaab fighters).
Unknown gunmen shot dead a lawmaker serving in transitional federal parliament outside Marwaaz mosque in Hamar Weyne.
South and central
35 killed
Garbaharay
At least 11 al-Shabaab soldiers killed.
Kismayo
An American national who helped Al-Shabaab militants in explosives, named Ali Amriki, and three others killed in US drone attacks in towns of Dhobley and Afmadow, near port city of Kismayo.
Afgoye
The beheaded bodies of three teenagers believed to have been killed by al-Shabaab were found in the central town of Afgoye.
El-bur
Five al-Shabaab officials killed in between War-holo and Wabho village near El-bur of Galgudud.
Busar
12 killed in battles
Puntland
1 killed
Unknown gunmen shot dead a member of Puntland's intelligence forces in Garowe