August Casualty Report
208 Killed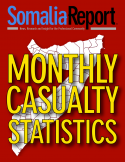 Somalia Report has compiled the following non-comprehensive estimate of casualties from medics, local residents and media reports.
August
Killed: 208
Running total (since beginning of March)
Killed: 1353
AUGUST BREAKDOWN
Mogadishu
98 killed
Two soldiers from the African Union's peacekeeping force in Somalia, AMISOM, were killed as they tried to prevent a suicide bomb attack.
More than 10 people, mainly internally displaced person, were confirmed dead and scores others injured after government soldiers opened fire on civilians in a looting spree in Mogadishu's Badbaado camp.
Nine people, mostly civilians, were killed and more than 10 injured, when AMISOM pounded an al-Shabaab-held area within Mogadishu.
Fighting killed at least 2 government soldiers as government troops and rebel fighters clash in northern district of Yaqshid.
Fighting killed at least 21 people, mostly soldiers, in Dharkinley and Karan of northern districts.
At least three suspected al-Shabaab fighters were killed and five others injured after a petrol bomb was thrown at their them in Lafole Village.
Three civilians and two al-Shabaab soldiers died and more than ten others were injured as shells believed to have been fired by AU troops hit Daynile and Huriwa districts.
The military court of the TFG executed two soldiers who were found guilty of murdering another soldier.
At least two civilians were killed and ten others injured as al-Shabaab carried out hit-and-run attack on the bases of government forces in Towfik, Hotel Ramadan amd Hosh.
More than 10 people died and 15 others were injured when al-Shabaab fighters attacked more than five bases belong to government forces.
At least three police soldiers died and several others were wounded, including central commander of the police, Ali Hersi Bare after clashes broke out between government soldiers and police.
South and central
108 killed
El-wak
At least 24 people, mainly fighters, killed and dozen injured in clashes that rocked Busar village, in the outskirts of El-Wak district of Gedo region, near the Kenyan border. Two days later, al-Shabaab recaptured Busar village from Ahlu Sunnah wal Jamaa, a pro-government militia, killing ten people, including a top TFG military officer. At least 20 fighters, mostly al-Shabaab soldiers, killed and 32 others injured in later fighting in Busar
Luq
At least eight fighters killed and dozens others wounded
Middle Shabelle
Al-Shabaab killed a Garas-Bintow resident near Aliyaale District after removing his life-supporting equipment.
Local residents and al-shabaab fighters clashed in the town of Jowhar, with at least two reported died in the violence.
Hiran
Heavy fighting between al-Shabaab and pro-government Ahlu-Sunnah wal Jamaa killed nearly 13, mostly combatants, in the outskirts of Bakura Village.
Mudug
At least 18 people, mostly fighters from both sides, were killed after inter-clan fighting broke out in a village in Dhegtur village, south of Galkayo town.
Galkayo
Unidentified gunmen shot and killed a prominent businessman, Mohamed Aroobe, in Garsoor village.
At least three soldiers from Galmudug state died when unidentified men hurled two bombs in the southern part of Galkayo.
Puntland
4 killed
Garowe
A bomb in Garowe, the capital of Somalia's Puntland region, killed two civilians and wounded three others.
Unidentified gunmen assassinated Hersi Jama Dhangad, the Deputy Commander of Garowe security forces in Garowe.
Bosaso
Gunmen assassinated Mohamed Jama Hala, Commander of Puntland's Darvish forces in Galgala in Bosaso.