October Casualty Report
308 Killed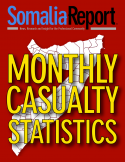 Somalia Report
has compiled the following non-comprehensive estimate of casualties from medics, local residents and media reports.
October
Killed: 308
Running total (since beginning of March)
Killed: 1849
OCTOBER BREAKDOWN
Mogadishu
215 killed
Four people were killed and three others injured by a landmine explosion in the Mogadishu's northern district of Karaan.
An explosive-laden Nissan truck rammed into a government building along the busy KM 4 junction, killing more than 60 people, mainly civilians.
At least nine civilians, four of them members of one family, were killed and many more injured in Mogadishu's government-controlled Huruwa district.
At least 28 people, mostly fighters from both sides, were killed while more than 30 others were wounded after fighting broke out in Huruwa district.
At least eight foreign fighters were killed in cross-fire when the African Union-backed government troops fought with the militant group al-Shabaab in Huriwa and Karan districts.
At least five people, mainly internally displaced persons, were confirmed dead and scores of others wounded when insurgent fighters opened fire on civilians clamoring for food aid in Mogadishu's northern part of El-ma'an.
A bomb blast killed nine government soldiers at the AU peacekeeping forces base in Gaheyr University.
Huge explosives killed seven people and wounded fifteen others in Hamar Jajab district.
More than 50 African Union soldiers were killed and over 80 others injured in clashes that rocked Daynile district. Some 12 other people, including two women, lay dead near Tiida village.
At least 23 combatants were killed and several others injured after heavily armed fighters attacked the TFG and AMISOM bases along the Industrial road.
South and central
93 killed
Dhusamareb
At least 17 people, mostly combatants died and over 20 others injured in Dhusamareb, the capital of Galgadud region, 500km north of capital Mogadishu.
Dhobley
At least eight Somali pastoralists were killed in US drone attacks in the Somali towns of Dhobley and Afmadow.
Fighting between Kenyan troops and the militant al-Shabaab left nine insurgents dead and many more injured.
At least 16 al-Shabaab fighters were killed in the latest spate of fighting between Kenyan soldiers and the insurgent group.
Missiles believed to have been fired by a US drone reportedly killed at least 23 al-Shabaab fighters and 16 innocent civilians. A dozen others were also injured.
Jilib
Kenya's fighter jets pounded a strategic town held by the al-Shabaab in Jilib of the Lower Juba Region, killing 12 civilians.
Mandera
At least eight people were killed and several others injured after a grenade went off inside a government vehicle in the northern Kenyan town of Mandera.