November Casualty Report
224 Killed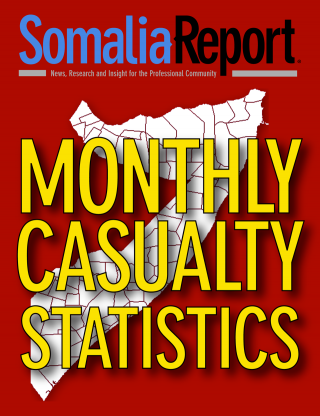 Somalia Report has compiled the following non-comprehensive estimate of casualties from medics, local residents and media reports.
November
Killed: 239
Running total (since beginning of March)
Killed: 2088
NOVEMBER BREAKDOWN
Mogadishu
78 killed
Wadajir
Unknown attackers hurled three grenades in Mogadishu's government-controlled Wadajir and Yaqshid districts, killing nine people while wounding twelve others.
A lawmaker serving in Somali transitional federal parliament, Aden Bulle Mohammed, has been killed in Mogadishu's Bulla Hubey area in what appears to be over land feud.
An explosion targeting government officials who were on security mission missed its target and hit a private vehicle in Wadajir district, killing nine civilians on the spot while nineteen others was left with serious injuries.
A suicide bomber dressed in a government military uniform attacked Villa Baidoa, the command centre of government military in central Mogadishu, killing four TFG soldiers.
Karan
At least eleven people have been confirmed dead and scores others injured when government soldiers opened fire on civilians clamoring for food aid.
Huriwa
More than eight civilians, four of them members of one family, have been killed and many more injured after a mortar shell landed houses.
At least 26 people, mostly fighters, were killed while several others wounded in fighting that have continued at least four days.
Dharkenley
Unknown attackers hurled a grenade at Somali troops patrolling Mogadishu's Dharkenley district, killing six soldiers while wounding seven people.
Hamar Weyne
At least four people have died and nine more injured in the internal strife involving Somali government forces in Hamar Weyne district.
South and central
126 killed
Mudug
15 killed in clan fighting in the Mudug region.
Beledweyn
Heavy fighting between Somali rebel group al-shabaab and a local militia allied to the Somali government has erupted in Somali village of Jiqley, about 40 km west of Beledweyn, the capital of Hiiraan region, killing nine people, mostly combatants.
Wabho
A landmine explosion have killed at least seven al-shabaab soldiers include three senior officials in Wabho town in Galgudud region.
Dhusamareb
At least 19 al-shabaab fighters were killed and more than 24 others injured after their armored vehicle hit a landmine in warholo near El-bur district, 100 km from Dhusamareb, the regional capital of Galgudud.
More than 17 people, mainly fighters, have been killed while scores others were wounded.
Dhobley
At least 16 al-shabaab fighters have been killed in fighting between Kenyan soldiers and insurgent group in the Somali town of Dhobley close to the Kenyan border.
Fierce gun battle broke out in between Qoqani and Dhobley districts of lower Jubba, where al-shabaab ambushed a convoy carrying Kenyan troops and Somali soldiers, triggering heavy exchange of gunfire that killed 6 fighters.
El-wak
A landmine explosion has killed at least six Somalia government soldiers in El-wak district.
Kenyan and Somali government troops have killed nine members of al-shabaab and four Kenyan troops were injured in El-wak district.
At least 14 people, mainly fighters, have been killed and several others injured in al-shabaab's strongholds of Busar, Qurac-Lafole and Sedex-Jirod villages.
Kulbiyow
Fighting in Kulbiyow district killed at least 8 fighters as Somali troops, Ras Kamboni militias and Kenyan forces and rebel fighters clash with al-shabaab.
Afgoye
An airstrike from unknown military aircraft hit a military compound of al-shabaab in the central town of Afgoye , located about 30 kilometers south of Somali capital, Mogadishu, unknown casualties were reported.
Kudah
A Kenyan navy attack on a skiff has reportedly left eight Kenyan fishermen dead and several others injured in what seems to be a deliberate attack off Somalia's coastline.
North
18 killed
Sanag region
Heavy clashes broke out in a parish on the disputed border between Somalia's northern breakaway states of Puntland and Somaliland (Erigabo district of Sanag region), killing at least 12 people, mainly soldiers, and wounded twenty three others.
Clashes broke out in Erigabo town, killing at least eight people, including six Somaliland soldiers and wounded several others.
North-Eastern Kenya
17 killed
A grenade blast has killed at least two worshippers inside a church compound in Garissa, police report.
Unknown gunmen have attacked a vehicle ferrying Swedish tourist in Isiolo's game reserve, killing a Kenyan driver and wounding one of the tourists.
Four Kenyan police officers have been injured after their vehicle went over a landmine in Hagadere, 9 km to Dadaab refugee camp.
At least one soldier was killed and eleven others injured after their military truck struck a landmine in Mandera district.
Two separate grenade attacks have killed five people in Garissa district.
al-Shabaab launched raids on a base used by Kenyan Administration Police in a remote town near Mandera, killing at least eight people.