Analysis
Kenyan Trade at Threat From 'War on Terror'
General Elections in Kenya a Barometer for Dissent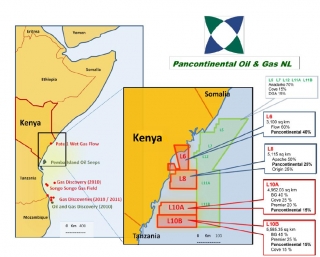 The ongoing 'war on terror' -- along with a police crack-down on members of the outlawed Mombasa Republican Council, the bloody demolition of shanty towns in the coastal region and the call for transfer of the Coast Provincial Commissioner -- all add up to a brewing storm for the forthcoming Kenyan general elections.
Coastal civil societies and religious groups, along with local politicians, are accusing the provincial commissioner of mishandling land use issues in the region. They blame him for the eviction of squatters and demolitions of homes, wherein some locals were killed or seriously injured while others lost their belongings.
Apart from demolition, the coastal communities have, since 1963, been betrayed by the state and local political elite that have deceived them to favor corrupt investors and dangerous mining. There is increasing dissatisfaction over salt mining in Malindi, sugar plantations in Ramisi and Titanium in Kwale -- all were once heralded as the solution to the region's ills.
As I see it, the fire is burning and something must be done to put it out...with the increasing police harassment and further arrests of members of the Mombasa Republican Council, it will be very difficult to contain the anger and frustration of the unemployed youth, as well as of the landless families.
The threat of violence at the next elections is very high, but the responsibility lies on the local politicians. What is currently going on reminds me of the south coast clashes and carnage in 1997, when wealthy and labourers alike lost their lives and property.
The Mombasa Republican Council does not belong to any political movement in the country, and they want the coastal province to secede from the Republic of Kenya.
It is painful to note that despite a wealth of natural resources, the coastal province ranks sixth of the fifteen poorest regions of Kenya. The rise of the Mombasa Republican Council has been brought about by poverty, discrimination, unemployment, land and ethnic subjugation.
Recently I met the top ranking leaders of the Mombasa Republican Council, and they told me that they have no political ambitions. They said the province has had no control of its resources for over 50 years now, and this has led it into impoverishment. Statistics indicate that 60 percent of the 3.3 million local residents are living below the poverty line and 62 percent of them are squatters.
It is heartening to note that independence from the British in 1963 led to the targeting of surplus land in coast province by the upcountry ethnic communities. As a result, the Kikuyu community from central province took possession of Mpeketoni in Lamu. Strangely, this occurred in total disregard of settlement guidelines requiring that 60 percent of each settlement scheme should be allocated to locals and 40 percent to outsiders.
The same happened in Kwale settlement scheme where 57 percent land was allocated to Kamba community from eastern province and 33 percent to the local Mijikenda community.
A survey carried out in 2011 by the Development Policy Management Forum indicates that only 38 percent of local coastal communities possess title deeds to the land on they live on, compared to 82 percent of communities from the coastal province. The Taita Taveta County has historical land injustices more than anywhere else. 62 percent of Taita Taveta County is occupied by Tsavo National Park, while 26 percent is owned by two political families. The local communities are competing over 12 percent of the land.
The Vipingo Sisal Estates in Kilifi County have, mafia-like, renewed their 99 year lease with a change of user, rather than restoring the land to the local community. To scare away the local community, 2,500 acres of land have in the past few years been set aside for Vipingo Ridge Golf Course with its private beach club, private airstrip and horseback security, covering 23 km with a perimeter wall.
The local community along the 640 km coast line cannot access the public beaches, while the local fishing communities have lost many fishing landing sites to tourist hotels.
Although the government appears to be softening its hardline position on the Mombasa Republic Council, the people from upcountry appear to be preparing to defend their lives and property.
As this is a time bomb, something must urgently be done. First and foremost, the historical injustices must be addressed.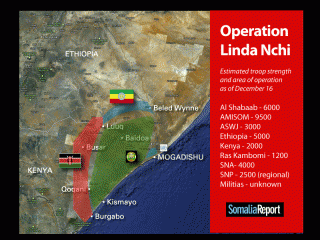 While the KDF is heading towards the sea ports of Kismayo, Markah and Barawa in southern Somalia, it is feared that al-Shabaab might cause havoc in the coastal towns of Mombasa, Malindi, Kilifi, Lamu and Kwale in retaliation.
Military analysts say al-Shabaab might interfere with the operations at the port of Mombasa.
The Port of Mombasa is Kenya's busiest and largest seaport, serving the hinterland by exporting important agricultural products, thus supporting the foundation of the Kenyan economy. In addition to serving Kenya, the port serves countries in inland Africa like Uganda, Tanzania, the Democratic Republic of the Congo, Southern Sudan, Rwanda, Sudan, Ethiopia, and Somalia. Inland transportation is provided by truck and train, and special railtainer services operate from the port to inland container depots.
The Port of Mombasa has a wide variety of shipping services that travel to important destinations worldwide, including Western Europe, Asia, the Americas, the Far East, and of course the rest of Africa. Regular feeder services operate between the Port of Mombasa and Dar-re-salaam, Mogadishu, Durban, Salalah, Djibouti, and Dubai.
The port of Mombasa recorded impressive performance in the year 2010. Container traffic recorded 695,600 TEUs up from 618,816 TEUs in 2009, a growth of 12.4 percent. Total exports also increased by 5.1 percent while trans-shipment rose by 50.4 percent. Transit market recorded significant growth in traffic with a total of 5,381,754 tonnes being handled up from 4,980,780 tonnes in 2009 representing a growth of 8.0 percent.
Container dwell time was reduced from six days in 2009 to 5.7days in 2010. The decline in total cargo throughput from 19.06 million tons in 2009 to 18.93 million tons in 2010, or 0.7 percent drop was caused by a reduction in imports by 1.9 percent. This is attributed to the reduction in import of relief cargo as most of the region experienced relative "political stability".
The neighboring country of Uganda, which accounts for almost 70 percent of the transit traffic through Mombasa's port, registered a 6.3 percent growth with a total of 4,232,735 tons compared to 3,980,780 tons in 2009. Other neighbours with favourable growth were Southern Sudan, D.R Congo and Rwanda who registered a growth of 33.5 percent, 15 percent and 49.1 percent respectively. All of these countries rely on Kenya's ports.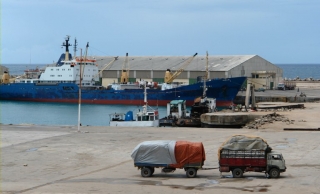 The port in Kismayo is one of the four major functioning sea ports in Somalia for foreign ocean-going vessels. It has four berths of 2070 feet and with a marginal wharf has a berthing capacity of about 6 ships of 18,000 tons at a time, and has throughput capacity of about 8,000 tons per day. Ocean-going vessels calling on the port are largely comprised of Indian dhows, along with general cargo ships and fishing vessels.
The port is currently under control of al-Shabaab which derives revenue of approximately $500,000 per month from port operations. Of that amount approximately $100,000 is derived from import taxes, $300,000 from export taxes and over $50,000 from berth taxes. The core services of the port are cargo handling services for general cargo, dry fish, electronics, vegetable oil, charcoal, small arms, sugar, wheat flour, rice, motor vehicles etc. Charcoal is one of the most prominent commodities exported through the port of Kismayo.