Breaking News
AMISOM May Replace Ethiopians in Hiraan
TFG Calls for AMISOM to Beledweyne, Locals Hate AMISOM But Despise Ethiopians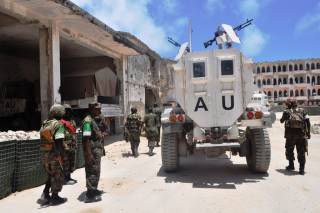 Somalia's Traditional Federal Government (TFG) say that African Union Mission in Somalia (AMISOM) peacekeepers will soon be deployed to the Beledweyne district in Hiraan region and they will replace the Ethiopian troops who presently control Beledweyn district after they evicted al-Shabaab at the end of December. Abdisamad Moalim Mohamud, TFG Minister for Interior and National Security said that they are planning to deploy AMISOM to Beledweyne, "AMISOM troops will be deployed in the south-central regions of Somalia, and AMISOM will control those places which we have seized from al-Shabaab. The Ethiopians are helping both TFG and AMISOM to push out al-Shabaab from the region, once that is successful, then AMISOM and TFG forces will take over from Ethiopian troops," the minister told local media in Mogadishu.
ASWJ officials who spoke to Somalia Report said, "there is no need for AMISOM in Beledweyne or even the Ethiopians. Somalis can keep the region secure. The presence of AMISOM troops will not reduce the number of suicide bombers and attacks, but will rather fuel them," the ASWJ official said.
TFG officers, on the other hand, saw the move positively. Ahmed Deeq, a senior TFG military officer, told Somalia Report, "AMISOM will replace Ethiopian forces in Beledweyne District, and soon will reach there. This is part of their mission of peacekeeping in Somalia. The TFG see this as another step forward to cleanse al-Shabaab from the country, after clearing the capital." Somalian MPs confirmed the story to Somalia Report, and said that AMISOM come to Somalia for peacekeeping, not as peace-makers.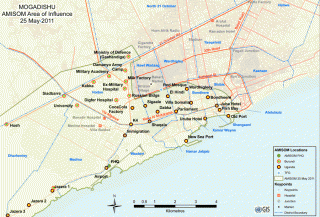 This comes when AMISOM troop numbers are expected to reach 20,000. Most Somali people in Beledweyne district are unhappy with the news but they prefer AMISOM to Ethiopians troops. "We hate Ethopians but we also don't like AMISOM. As residents in Beledweyne, we prefer AMISOM, because at least this will end the curfews the Ethiopians have imposed," said Bashir Aden Ali, a resident in Beledweyne who spoke to
Somalia Report
on Saturday.
"We don't want either AMISOM or Ethiopians. Since Ethiopians took power in Beledweyne from al-Shabaab, we have experienced insecurity -- more killings, explosions, never-ending curfews. We ask the TFG government to withdraw the Ethiopians and not replace them with AMISOM. Please, please, we don't want to flee again and again," Faduma Caynab, a resident in Beledwyne district told Somalia Report.
Somali people in Hiraan Region or other regions repeat that they don't like AMISOM, but if it means that the Ethiopians will leave Somalia, this bitter pill becomes more acceptable.
Somalia Report contacted AMISOM spokesman Paddy Akunda, he refused to confirmed if they plan to send their troops to Beledweyne, "We can't talk about what the TFG wants. Perhaps the TFG is planning this, but we have yet to meet and release a statement about it. For now, I can't talk about this," said Mr. Ankunda.
This is the second time Ethiopians troops have invaded Somalia. The first time was in 2006, when Ethiopians invaded Somalia and left when three years later, they pushed out the Islamic Courts Union (ICU) from Mogadishu. The presence of the Ethiopians, for whom the Somalis have deep ancestral enmity, led to a national resistance movement which supported the ICU and directly led to the rise of al-Shabaab.