Turkish Airlines Fly To Mogadishu
Turkey's Engagement WIth Somalia Continues At A Rapid Pace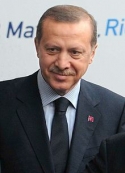 Ankara's desire to open up relationships with Mogadishu are taking the lead. First diplomatic visits on November 26th followed by an official embassy opening on January 27. And now $556USD roundtrip fares on Turkish Airline's
twice weekly red-eye flights starting March 6th
.
It was only in August 6th 2011 that al Shabaab beat a overnight retreat from their fighting positions in Mogadishu.
Unlike many nations who send their well wishes, Turkish Prime Minister Recep Tayyip Erdogan flew into Mogadishu with wife and daughter in tow back in August 20th to officially kick off his campaign.
Not to be outdone his Foreign Minister Ahmet Davutoğlr brought his family as well. His country had also responded with $115 million dollars in famine aid and had just convinced the 40 country Organisation of Islamic Co-operation to pledge $350 million dollars in aid. Not content to come bearing gifts, the Turks are also behind a new hospital, paving the airport road and waste disposal. Not glamorous but critical infrastructure projects that will also include field hospitals, vet assistance, new water wells, and housing.
Erdogan was the first head of state to visit Somalia in two decades and he was followed quickly by Prince Alwaleed Bin Talal of Saudi Arabia and Iran's foreign minister Ali Akbar Salehi.
The muslim nation's fearless approach to Mogadishu may have goaded the U.K. into their new stance of engagement with visits by Foreign Secretary Hague and development minister in the north.