Feature
Special Report: What is Galmudug?
Somalia Report Profiles the Regional State of Galmudug
Galmudug, an official regional state in central Somalia, was formed on August 14, 2006 when Galgudud and Mudug, administrative regions in the time of former Somali dictator Mohamed Siad Barre, joined together to create their own state after years of neglect from the Mogadishu-centric warlords that ruled the country following the outbreak of the civil war. Fed up with the warlords hoarding resources, the Islamic Courts Union seized control of Somalia in 2006 and defeated the central warlords, finally freeing up Somalia's regions to administer themselves. This enabled the Sa'ad clan (a sub-clan of the Habir Gedir) to carve out their own mini-state in the face of other clan-based scrambling for Somalia's territory, much like their northern neighbors of Puntland and Somaliland.
The official mandate to create their own decentralized state was justified through Article 11 of the 2004 Transitional Federal Charter which allows for two or more states to form their own region.
A "merger" between two regions would have assumed, however, that both regions possessed functioning governments at the time, which was not the case. Instead, this was an attempt by the most powerful clan of the region, headed by members of the the Sa'ad clan diaspora, to consolidate their power. To further solidify its base and influence, Galmudug solicited the support of the Shiikhal, Marehan, Madhiban, Suduble, Arab Salah, Saruur, and Ayr clans. In addition, at the end of last year the Wagar-dhac (a sub-clan of Marehan) officially joined the other clans supporting the Galmudug project. The state is currently trying to engage the Biyo-Maal clan (a sub-clan of Dir) to join the state and extend their reach into Hiran region.
Despite the clan mergers, the rivalry between the Sa'ad and their big rival, the Salebaan (who have a bigger presence in Harardheere, Hobyo and the other coastal areas), remains. Galmudug has always been a Sa'ad project, but they claim territory based on Mudug's lines on a map drawn by Siad Barre.
In Their Own Words

According to the
state's own website
, "Galmudug is a secular, decentralized state in the central region of Somalia. The administrative capital, South Galcayo, is based in the southern half of the city and district of Gaalkacyo. To the north is Puntland, to the west is Ethiopia and to the south and east is the rest of Somalia, presently under the control of the Transitional Federal Government (TFG). The name is a combination of Galgaduud and Mudug. Unlike the secessionist Somaliland region in northwestern Somalia, Galmudug, like the northern Somali region of Puntland, is not trying to obtain international recognition as a separate nation. It considers itself a federal division within the larger federal republic of Somalia, such as defined by the 2004 Transitional Federal Charter (TFG)."
(sic)
Who Controls Galmudug?
Officially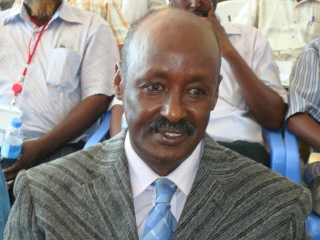 Today, Mohamed Alin serves as its president and Galmudug is broken into a series of clan based mini-states, with southern Galkayo as the official capital.
Although the putative state also boasts two universities, Galkayo and Mudug, there are few resources or government structures to project governance. The military is more akin to the remnants of former Somali President Aidid's militia than a state sponsored security organization.
Though the Galmudug administration claims sovereignty over much of Mudug and Galgudud administrative regions, the government does not exercise effective control on the ground. Clan rivalry, as discussed above, is the driving force behind Galmudug's governance.
Puntland controls the northern section of Galkayo, the capital, as well as Jariban and Garacad while Galmudug controls southern parts of Galkayo, as well as Hobyo and Harardheere, well-known pirate hubs. In Galgudud, Galmudug controls Gelinsoor and other villages. The Ahlu Sunna Wal Jamaa (ASWJ) militia controls also controls parts of Galgadud including Guri-El, Ceel-Bur, Dhusamareb and Abud-Wak (from Marehan, Dir and parts of sub-cans of the Habir Gedir like Saleban and Cayr). The mini-state of Himan and Heeb, crated by elements of the Sa'ad rival Saleban clan, controls Adaado and the surrounding area.
Galmudug continues to lack the influence of its northern neighbors, Puntland and Somaliland. The lack of this region's formal status became clear during the Garowe I (December 2011) and Garowe II (February 2012) meetings in which the members encouraged the leaders to formalize their role starting with a workable constitution and more cohesive government. Garowe II paved the way for a new federal government to establish a two chamber parliament effective on August 20th of this year with 225 delegates in the Lower House and 52 in the Upper House.
Despite the fact that Puntland and Galmudug were officially recognized as states within the federation during the Garowe II meetings, critics argue that Galmudug, as it stands, is illegitimate and needs to incorporate the entire region, not just parts of it, to qualify as a state under the federal charter.
Unofficially
Despite the official veneer, currently parts of the territory claimed by the Galmudug administration are under the de facto control of pirates, criminals and elements of al-Shabaab, the hardline Islamic group battling for control of the country.
Internationally, Galmudug is better known as the location of hijacked ships, pirate groups and kidnap victims. The coastal towns of Hobyo, Haradhere and Dhinooda are home to dozens of ships kept anchored offshore. Galkayo is famous for recent high profile kidnappings (two Americans and a Dane). Almost all kidnapped Westerners and abducted mariners kept on land have been retrieved from Adado, located within Galmudug, after being released from Wisil, Haradheere, Hobyo and other towns.
Galmudug's Key Leadership
State House Contact Information, Galmudug State Somalia
1234 Galkayo Street, Galkayo, Galmudug, Somalia
Tel: +252 - 123545; +252 - 543281
info@galmudug.com; mguled@galmudug-gov.com
MOHAMED AHMED ALIN, President
president@galmudug.com Clan: Sa'ad
Alin was nominated as president in 2009 for a three year term, following Mohamed Warsame Ali "Kiimiko". Previously he served as a colonel in the Somali military during the Siad Barre regime and worked for the Somali embassy in Saudi Arabia. When the government collapsed, he fled the country for northern Europe and returned to Galkayo in 2008. Alin officially declared a war on pirates on February 12, 2012.
To view Somalia Report's interview with President Alin, please click here.
ABDISAMAD NUR GULED, Vice President
Clan: Sa'ad
Date of Birth: 12 July 1960
Place of Birth: Galkayo
Background (in his own words, per an interview with Somalia Report) "I have one wife and six children and I studied in primary school in Sakhawa Diin in Mogadishu and then went to Omar Samatar Secondary School. I have been a businessman for the last 20 years. I used to import cars and lorries into Somalia from Asia, but after that in 2006 I joined Galmudug state. First I was member of parliament then President Kiimiko appointed me deputy speaker. Several months later he appointed me parliamentary speaker. When Somalia's Islamic Courts Union attacked Galmudug, President Kiimiko went to the US and he appointed me as deputy president. I remained at that job for two years until in 2008, when parliament elected Alin as president and then he he appointed me as vice president of Galmudug."
AHMED MOHAMOUD HASSAN (BAASTO), Minister of Interior Affairs and Security
Clan: Sa'ad
Date of Birth: 1 January 1959
Place of Birth: Feer-Feer
Background: He finished Holy Quran and primary school in Mataban in 1977. That year, he transferred to Halane Secondary School and later became a teacher at the Halane Political School. In 2008 he was appointed as the spokesman for the newly formed Galmudug state. The following year he became information minister and in 2010 Alin appointed him to be assistant minister of interior affairs and security. Baasto speaks Somali and Arabic.
HASSAN MAHMUD HAYL, Galmudug Parliament Speaker
Citizenship: American
Clan: Sa'ad
Date of Birth: 18 February 1945
Place of Birth: Galkayo
Background: Elected as speaker in 2009, Hayl has been instrumental in forming Galmudug in 2006 and orchestrating the completion of Galmudug's constitution. He completed his primary and secondary schooling in Hamar Jajab School and American College in Mogadishu where he studied accounting. In the 1970's he also worked for the ministry of general post and communication. From 1977-86 we worked for the Society International Communication and Air Saudi. In 2000 he went to the US where he attended community college, earning a degree in business management and marketing. After initially serving as Galmudug's minister of transportation, he was elected speaker.
MOHMUD GUURE GULED, Mudug governor
Clan: Sa'ad
He was nominated governor in August 2011.
ABDI HASSAN AWALE QEYBDIID, powerful warlord and former TFG official
Clan: Sa'ad
Background: He was one Mogadishu's most powerful warlords in Somalia particularly during the time of Mohamed Farah Aidid, but later separated. He was forced to flee Mogadishu by the Islamic Courts Union during fighting in 2006. In 2007 he became TFG police commander and returned back to Mogadishu and became a minister of mineral and water resources. Qeybdiid now is based in Galkayo where he still controls a large militia. On January 31, 2012, Qeybdid survived an assassination attempt by an al-Shabaab suicide bomber who detonated a bomb in his home, which killed four people.
Governance
Although Galmudug's parliament is officially made up of two chambers, the Upper House and the House of Representatives, only the House of Representatives is functioning. The Upper House currently does not exist beyond paper while the House has 25 MPs who hail from Galgadud and Mudug.
The state is made up of eight ministries including the ministries of internal affairs, justice and religious affairs, fishing and natural resources, international cooperation, health, information, education, and finance.
Galmudug's court system is made up of federal, state and municipal courts. Currently, each city under the control of Galmudug has at least two courts - one lower and one supreme.
Drama in Parliament
Although the region boasts of a semi-functioning government, it is not without drama. On December 1, 2011, Hassan Mohamud Hayt, the chairman for the Galmudug parliamentarians, said 17 out of 25 parliamentarians voted to sack President Alin who refused to step down saying the move was unconstitutional.
Not to be outdone, 18 days later, Presdient Alin disbanded Galmudug's parliament, accusing it of incompetence and violations against the regional constitution, with parliament - in turn - declaring that action unconstitutional.
The president also fired his entire cabinet in June 2011, citing poor performance and growing insecurity.
Article 46 of Galmudug's constitution covers the conditions in which the president can disband parliament members.
Section (1) the parliament can be disbanded when one of the following things occur or they occur together. Section (2) when the majority of the parliamentarians resign. Section (3) when the parliament fails to hold two consecutive sessions in one year without clear justification. Section (4) when it becomes clear that parliamentarians have clearly violated the constitution of Galmudug state constitution. Section(5) when events in sections 2, 3 and 4 occur, the president has to write to the high court which will decide whether the acts stated above did occur and only then can the president issue an order that disbands the parliament.
Meanwhile on December 16, 2011 Sheikh Noor Hussein, the minister for health of the Galmudug region, resigned from his post after saying that he couldn't accept the corruption he alleged is endemic to the Galmudug government. He did not, however, offer any proof of the alleged corruption.
By late January 2012, President Alin claimed the rift was over with parliament and that both sides were working towards improving the security of Galmudug.
Security
A survey conducted by the University of Galkayo in 41 townships over a ten day period in January of 2011 determined that drought had devastated the mostly pastoral communities. Their disturbing quantitative and qualitative report determined that the needs of the population had plummeted to the basic elements of survival. The number one priority of the Galmudug population was security (75%) followed by food (15%), shelter (5%) and then water (5%).
Insecurity on the Rise
Insecurity in Galkayo includes clan fighting, assassinations and kidnappings with the occasional impact on foreigners making the headlines. Incidents since January 2012 include:
• ABDI HASSAN AWALE QEYBDIID, former warlord and TFG official, survived a suicide bomb attack in his home

• ABDULLAHI MOHAMED SIAD, a renowned lawmaker, was gunned down

• ABDIQAADIR MOHAMED SALAAD (DR. FAARIS), a well-known doctor, was gunned down

• The bodies of two young men were found lying in the northern parts of Galkayo

• Clan/land dispute killed four in Hourmar village

• American, MICHAEL SCOTT MOORE, was kidnapped on the way to the airport in Galkayo

• Radio Galkayo journalist, AHI AHMED ABDI, was killed by gunmen as he returned home from work
The rising insecurity resulted in aid groups suspending operations in the area and the government of Galmudug ordering all foreign companies operating in the region to register.
On March 2, 2012, Galmudug authorities blamed for al-Shabaab fighters for a growing number of assassinations and attacks, however other sources can also be blamed including pirates and criminals. The further reality is that the lack of government resources, absence of emergency stores, nomadic nature, massive influx of Internally Displaced Persons (IDPs) and the harsh effects of climate have made Galmudug the poorest region of Somalia, sparking instability.
On March 20, 2012, after a meeting with their security council, Galmudug authorities demanded all clans and militias hand over their weapons to the government.
Maritime Security, Pirates and the Coastline
Galmudug, home to a number of well-known pirate hubs, announced its plan to fight pirates in December of last year. Only two months later, it successfully launched its own anti-piracy operations as evidenced in February 2012 when Galmudug security forces attacked Hobyo in a bid to detain some of the pirates who had landed near the coast. Six pirates were arrested and forced other pirate to flee the area. In December 2011, Galmudug opened a prison in Galkayo, one of the region's largest.
The same month, President Alin called on "foreign navies" to assist the Somalia Coast Guard and promised to create a force during a speech at the 50th anniversary of the Somali Navy.
On December 12, 2011 the European Union Naval Force for Somali (EU NAVFOR) approved the concept of "Regional Maritime Capacity Building (RMCB) that would consist of two components addressing two main objectives: to strengthen the sea going maritime capacity of Djibouti, Kenya, Tanzania, and the Seychelles and to train and equip the Coastal Police Force in the Somali regions of Puntland, Somaliland and Galmudug, as well as train and protect judges in the Somali region of Puntland." Currently there is no funding for this program and there is no functioning Coast Guard in the state.
The consensus that an Exclusive Economic Zone (EEZ) be established will benefit Galmudug and the shallow draft port cities, but not until the problem of piracy is resolved.
Land Security and Galkayo
Galkayo, a divided city, is made up of the Majeeteen (Darod) clan in the north under control of Puntland and the Galmudug dominated Sa'ad clan in the south, creating a bed of instability and regular clan clashes.
Greater Galkayo is the most developed city in Galmudug with a wildly fluctuating population due to nomadic history and IDPs. The urban population can vary from just over 200,000 full time residents and around 30,000 IDPs to over 600,000 in times of seasonal migration.
Since 2007, finished goods have increasingly come from Bosaso rather than Mogadishu and Galkayo remains a main trading center for livestock and serving as hub for Bosaso port, Ethiopian and southern nomads. Pastoralists sell their goats, camels and sheep in town for shipment through Bosaso port and then purchase basic goods and foodstuffs for the return journey.
The town is divided into sixteen subsections in four sectors (Israac, Garsoor, Wadajir, and Horumar) and divided east to west between Puntland administering the north (which includes the airport which has on again, off again service from Dubai and Mogadishu) and Galmudug supposedly administering the south. The taxes from the airport are shared between both regions. There are often competing claims that lead to violence.
Water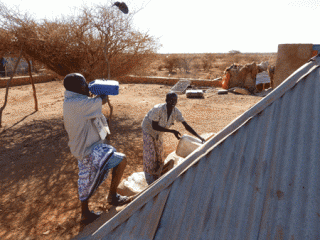 Galmudug is hot (around 30 degrees Celsius year-round) and semi-arid with 158mm of rain per year, making food and water security critical to security. The town of Galkayo was founded due to its access to shallow groundwater and its position on the all season north south road that links Bosaso with Mogadishu. An understanding of the difference between the northern and southern sections is revealed in that 70% of residents in the northern half get their water from a tap, in the south only 35% do. About 80% of the population gets water directly or indirectly from boreholes while the rest 20% get water from un-protected shallow wells which are then purified by bottling companies.
Actors
Puntland
Galmudug's single biggest partner is Puntland which is carving a path for federalism for recognized states, unlike Somaliland, which has until recently ignored the TFG mechanism. Once considered a "piratocracy" ruled by a strong man, Puntland has deftly used the Dual Track, Kampala Accord, Garowe I & II and London Conference to demonstrate that a regional power can generate stability. The key is whether Galmudug, the potential focal point of anti-piracy funds, can follow in Puntland's footsteps. Puntland acts much like Galmudug's big brother entering Galmudug to battle al-Shabaab and end clan disputes.
On December 14, 2011, Puntland administrative officials for Mudug region declared war on Galmudug administration after accusing them of creating of insecurity in Galkayo. Conversely there have been UN initiated efforts to defuse conflict between the two regions.
TFG
The TFG is war over Galmadug's claim to statehood because it would deflect funding and control from Mogadishu. President Alin has been a constant presence at all major international conferences and has pushed his region's claim to legitimacy as equally hard as Puntland and Somaliland.
In September of last year, the TFG and Galmudug officials signed agreements aimed at strengthening relations and safeguarding the lives of Somali citizens as well as the fair distribution of humanitarian aid. The TFG also agreed take responsibility for Galmudug's security, but that appears to have waned. In March 4 of this year, six months later, Galmudug officially asked the TFG to help train its forces to fight pirates and al-Shabaab.
Al-Shabaab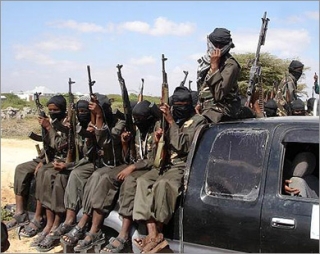 Al-Shabaab territorial losses in southern Somalia as a result of allied advances by the TFG, AMISOM, Kenya and Ethiopia have forced the group to migrate migrated to islands around Kismayo and northwards towards Galmudug and Puntland. Currently Galkayo is a hot spot for expansion with greater presence being seen south of Bosaso and southern Somaliland.
Al-Shabaab has fallen on hard times and will face harder times and their merger with al Qaeda is more of a desperate attempt to get funding and legitimacy. It has also destroyed any chance they had for a place at any political negotiating table. Internal infighting caused by the drone program, the loss of revenue from Kismayo, popular disgust and a general fatigue for fighting has rapidly reduced al-Shabaab's support. Conversely the famine, drought and inability of al-Shabaab to provide any benefit have made the foreign peacekeepers less of a threat.
Al-Shabaab will continue to flee to any area that provides some level of security, and Galmudug's Galkayo is their wild west where they can hide amongst residents and IDPs.
Meanwhile, President Alin complained his security forces were ill-equipped saying, "There are companies who bring weapons to TFG in Mogadishu. Galmudug does not receive its share and there are reports that some of the weapons end up in the hands of terrorists," according to Garowe Online.
ASWJ
This multi clan political unit has a military, political and regional foothold in Galmudug. Although they suffer from their own leadership disputes, the Sufi-cleric led organization has been actively supporting the TFG's fight against al-Shabaab and Galmudug's fight against pirates. ASWJ, while supportive in battle, wants the TFG to leave Galgudud according to its spokesman Mohamed Hussein (Awliyo).
Pirates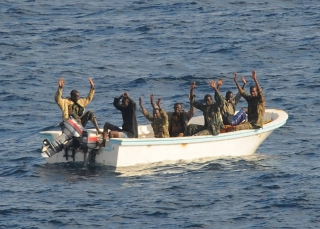 The influence of pirates has been waning but the trend towards land based kidnapping has brought both international action with the rescue by Navy SEALS of two aid workers and the promises of greater assistance for land based anti-piracy programs. Currently the security situation is considered too dangerous for many western NGOs and groups to operate.
Piracy continues to have a major impact on the industry and traffic in the region. Anti-piracy income via security, insurance, surcharges and equipment sales has become a major industry.
Galmudug has stepped up anti-piracy activities resulting the arrest of pirates across the region and locals are increasingly working with police to reject the pirates. Unlike Puntlad which boasts an impressive anti-piracy force, Galmudug's resources are limited. As a result, pirates remain a powerful force in the central coastal region, mostly in Galmadug, Galkayo, Haradeere and Hobyo.
In late February, reports indicated that pirates were readying their boats to take to the water now that the Wajiilo rains have ended. Groups of pirates arrived in Harardhere, Ceel Dhanaane and Dhinooda after waiting three months for the 'Wajiilo' season (monsoon waves and winds) to die down. The four pirate groups are mostly from the Sa'ad and Salebaan clans (two sub-clans of Hawiye) and appear to have succeeded in their plan.
As of April 6, 2012, pirates are currently holding 25 (11 commercial vessels, 14 fishing vessels/dhows) and 329 hostages (304 on vessels, 25 on land). Pirates were particularly active in March of this year, indicating that anti-piracy efforts are not deterring the criminals. In March alone, eight vessels were hijacked, which marks the highest level since December 2010.
Other
Stress caused by drought, reduced remittances, pastoral rights will continue to result in violent acts and tension. The sway of private militias rather than state controlled security units will also lead to large confrontations often lost among the attacks by al-Shabaab and Puntland forces.
Moving Forward
As an internationally recognized state of Somalia, Galmudug is considered a 'player' in Somali politics, however, President Alin has yet to establish a meaningful power base in the region.
This uneven political power was clearly visible at February's Garowe II National Constitutional Conference when Galmudug withdrew (but later recanted) citing the growing influence of Puntland. Much of this dissension and game playing comes from having a lack of authority and seeking attention. In reality Galmudug is impoverished, existing in a harsh environment with much of the focus on the southern half of the country. As al-Shabaab moves north through Galmudug, so too will the focus of the international community.
Galmudug's move to a secure self governing region must begin with security. Locally trained and internationally supported police units to push back against organized crime and terrorism are imperative. Enhancement of basic needs like water, food and aid are also key to bringing stability and turning the desperate away from negative influences, but must begin - again - with security. Enhancement of local governance that includes the nomadic, multi clan nature of the region is also critical to resolve disputes and prevent entry of violent factions to settle scores.
(Editor's Note: Somalia Report is available for special reports and investigative research. Please contact reserach@somaliareport.com for more information.)