Analysis
What is the Galgala Conflict?
A Somalia Report Special Profile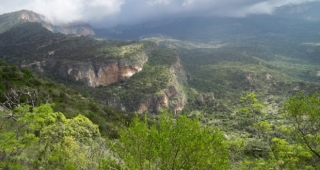 Galgala, a small town in an area of the Bari region of the semi-autonomous state of Puntland in Somalia, is a gateway to the Golis mountain range. The remote town is strategically located 40km south of the port town of Bosaso and the town's western smuggling ports of Ceelayo and Qaw. Its proximity to weapons and foreign fighters in Yemen and small skiff traffic from southern Somalia combined with the increasinag pressure on al-Shabaab indicates that Galgala/Golis Mountains may provide a refuge for terrorists.
The US military and the Transitional Federal Government (TFG) of Somalia have shown their willingness to extend surveillance and air activities to monitor the movement of terrorist groups, and it is expected that Galgala's proximity to the Yemeni coast may create a new nexus.
The origins of the conflict lie in the remoteness of the region, clan conflicts between the Warsangali and the Majerteen clans of Puntland, and even the usual disputes over resources in the region. There have been minor clashes with militia led by the Galgala-born Sheikh Mohammed Atom which have resulted in Puntland forces seizing back control of the town. These clashes are expected to expand in scope and threat as outlined in this report. The UN has identified Atom as an arms supplier to al-Shabaab and he has alternately pledged and denied his group's allegiance to the hardline Islamist group as the timing as suited him. Atom recently returned from Marka, an al-Shabaab stronghold in southern Somalia, where he met with senior leaders of the group who agreed to provide his militia with weapons to carry on the fight in the north.
Key Factors of Change
Within the last three months, the Galgala militia has undergone several fundamental changes including al-Shabaab fighters arriving from the south, as well as internal squabbles over alignment with the Islamist group.
On March 31, 2012 a late night hit-and-run attack on a checkpoint leading into Bosaso from the south was a minor but important incident that showcased the Galgala militia's reach and tested government reactions.
Other key points for the first three months of 2011 include:
Increased recruitment before/after Galgala militia announced merger with al-Shabaab
Plans to cut the road linking Bosaso to the rest of the country
Road blockade could be a diversion as they attack forces elsewhere
Golis Mountains provides a safe haven, but remains difficult to supply
Violence by Galgala militia could prove a pivotal election tool used by both sides
Increased movement, recruitment drive since (a) al Shabaab merged with al-Qaeda, (b) oil drilling commenced, (c) allied troops made advances in southern Somalia
The region is a possible last hideout for al-Shabaab after allies push the militants from their strongholds in the south
Fleeing South and to Yemen
A constant flow of domestic and foreign fighters and families from Mogadishu, Kismayo and the south has been the subject of news and gossip. In recent weeks, charcoal dhows and speedboats have been spotted leaving the south with contingents of armed men, some of which have remained in local islands bear Kismayo while others have made their way north. These armed fighters have been spotted again during refueling stops in Hafun, Bargal, and along the northern coast until they reach Somaliland, where they either disembark or continue northward across the Gulf of Aden to al-Qaeda strongholds in Yemen. Rather than crew themselves to Yemen, the fighters will work with local smuggling groups and blend in, appearing as refugees.
Fleeing into the Mountains
Meanwhile, reports from local media and our sources indicate 'hundreds' of fighters have fled into the mountain ranges for a variety of potential reasons:
To conduct hit-and-run attacks on targets in and around Bosaso
Seek refuge from allied forces in the south
To serve as al-Qaeda and al-Shabaab's base in the north
2012 TIMELINE
January 7, 2012 - SHABAAB FIGHTERS FLEEING NORTH
Initial reports surface of a major exodus of Shabaab fighters to northern Somalia and al-Qaeda-held ports in Yemen. The insurgent group is under great pressure from allied TFG, AMISOM, Kenyan Defence Forces (KDF), and various anti-Shabaab militias loyal to local groups. Military operations have seen al-Shabaab lose more towns and cities in Hiran, Galgaduud, Gedo, Bay and Bakool regions.
While the group stages multiple strategic retreats in southern Somalia, al-Shabaab has been busy strengthening its network in the north. There has been a dramatic increase in Improvised Explosive Devices (IED) attacks against Puntland government targets. Pirate groups continue to deny links with al-Shabaab militants, and speculative claims that they may be providing fleeing fighters with ferrying and re-fueling services have been adamantly denied. Any concession to such a linkage would result in adjustment of anti-piracy efforts becoming tied to anti-terrorism campaigns. The governor of Sanaag region confirmed the exodus of fleeing fighters but the mayor of Qandala conceded that his forces were not able to secure the entire area or note such movements in the remote northern areas. So far, there have been no independent confirmation of cooperation between al-Shabaab and pirate groups in Somalia.
January 10, 2012 – PUNTLAND BLAMES AL-SHABAAB FOR INSECURITY
President Mohamed Farole accused al-Shabaab leaders in southern Somalia of conspiracy and destabilization in Puntland. He urged security forces to tighten security at checkpoints and even demanded that Internally Displaced Persons (IDPs) from southern Somalia be barred from entering Puntland, since the drought had come to an end and feeding centers were operating in Mogadishu. The Puntland administration is aware of a mass exodus of the families of fighters, who pose as IDPs and gain entry into Puntland, and are later followed by their al-Shabaab relatives.
January 11, 2012 – GALGALA MILITIA ATTACKS PUNTLAND FORCES
Galgala militia attacked Puntland forces in Sugure and Laag settlements near Galgala mountains. Puntland officials claimed to have pushed the fighters back into the mountains and suffered no casualties in the skirmishes. Atom militia on the other hand claimed to have killed Puntland forces and seized equipment.
Puntland Minister for Sea and Ports Said Mohamed Raage has stated that the fighters have gained confidence after al-Shabaab fighters from southern Somalia joined them. Sheikh Atom's seemingly independent campaign have increasingly come under the control of al-Shabaab networks from southern Somalia. Minister Raage further explained that the fighters fled to the mountains seeking refuge from airstrikes and to join Atom's group. He urged the international community to do something about this problem. The attack nullified a peace agreement signed seven months ago by the Puntland government and Atom.
February 4, 2012 - GALGALA PREPARING TO ATTACK PUNTLAND
In preparation for a massive attack on Puntland forces, Atom is said to have returned to Galgala from Burao with al-Shabaab foreign fighters joining the preparations. The group planned to attack the main check points near Bosaso and the Puntland Marine Police Force in Qaw. Atom has amassed 700 well-trained fighters, including four prominent foreign fighters. The foreign experts, who are nationals of Yemen, Egypt and Sudan, provide instruction on explosives, ambush tactics, smuggling, military and survival training among foreign fighters.
Local officials in Puntland describe Atom as the 'official representative of al-Shabaab in the region of Northern Somalia'. A local elder expressed his confusion regarding the the ideology of theenigmatic Sheikh Atom. "We have tried many times to know Atom's aims but failed. We don't know anything about him or his militia," said a Warsengeli clan elder.
The editor and conflict analyst at Galgala news explained a shift in fighting by Atom's militia by saying there has been a transformation in Atom's aims from his initial struggles for communal consultation prior to oil exploration, and that his aims to establish an Islamic state in Puntland are easier to discern at this stage.
The Puntland government seemed well aware of the militia's growing presence and blamed the group for increased insecurity in the region. Unfortunately, they did not do enough to prevent planned attacks.
February 14, 2012 - GALGALA MILITIA ATTACKS PUNTLAND FORCES AGAIN
Galgala militia attacks Puntland forces in Sugure, 40km south of the coastal town of Bosaso. Needless to say, Atom's militia kept their end of the bargain. After Puntland forces detained the insurgent leader's brother Ahmed Said Mohamed on the 13th of February, Galgala militia struck again at Sugure checkpoint on the 14th of February. Witnesses described the scene as a bloodbath in which 15 Puntland soldiers were killed in a dawn attack. A witness who spoke to Somalia Report stated that two more soldiers had succumbed to fatal wounds in hospital. Other news sources claimed 20 had died and the Puntland administration remained silent about the incident. Local residents began to flee fearing retaliatory attacks by Puntland forces.
February 19, 2012 - GALGALA DENIES LINKS TO AL-SHABAAB
Sheikh Mohamed Ahmed Abdi, who claimed to be the Galgala militia spokesman, denied that the group was aligned with al-Shabaab. In an exclusive interview with Somalia Report, he categorically denied the following claims: The Galgala militias is in any way linked to al-Shabaab The militias are involved in arms and human smuggling activities Sheikh Atom fled to Kismayo Galgala militias harbour foreign fighters in their midst or are linked to al-Qaeda Galgala militias have nullified a peace agreement by attacking the Sugure checkpoint
The spokesman affirmed the following The Galgala militias intend to overthrow the Puntland administration who are 'enemies of believers in the oneness of God' and to stablish a sharia compliant leadership. The militia consists only of exiled locals who are fighting harassment by the Puntland Intelligence Services (PIS)
The spokesman accused the Puntland administration of arresting innocent people and condemned their detention of Sheikh Atom's brother whom he said is not part of their group. He warned that such antics would endanger the family members of Puntland officials who would in turn be targeted by the group.
February 25, 2012 - COUNTER CLAIM AND DECLARATION OF ALLEGIANCE TO AL-SHABAAB
Self declared Galgala militia spokesman Yasin Khalid Osman (Yasin Kilwe) declared allegiance to al-Shabaab and called his group the 'Golis Mountains Mujahadeen'. Hot on the heels of denied links between al-Shabaab and the Galgala militia, this declaration exposed to the world hidden dissent among the militias. Atom's al-Qaeda leanings were finally brought forth in Yasin Kilwe's grand declaration. Yasin Kilwe who introduced himself as the Amir or leader of the Golis Mountains Mujahideen, declared that they would follow the orders of the al-Shabaab's leader, Sheikh Mukhtar Abu-Zubeyr. This raised questions regarding Atom's authority and leadership over the group. Galgala militas were unhappy about the declaration which resulted in a split.
According to Puntland official, the announcement is not a surprise and will not alter the administration's security plans in the least. Puntland's Interior Minister Abdi Jama expressed concern regarding the declaration which he said was an indication of the growing numbers of the Galgala militia. He described Yasin Kilwe as an associate of al-Shabaab's Somaliland leader, Ahmed Abdi Godane.
Al-Shabaab's spokesman, Sheikh Mohamud Rageh, aptly welcomed the merger. This occurred after al-Qaeda's new leader, Ayman al-Zawahiri, released a video message confirming an al-Shabaab merger with al-Qaeda.
February 26, 2012 – PUNTLAND FORCES SEIZE WEAPONS
Puntland forces also intercepted weapons going into Bosaso. The truckload of weapons went past 10 checkpoints along the road between Bosasso and Galkayo.
February 28, 2012 - PUNTLAND SEIZES SUPPLIES
The Puntland police, with the assistance of Darwish forces, seized a truck with three men on near Galgala Village; the car was carrying some food, soap other supplies for the militia. One of the prisoners, Abdi Ahmed Gurhan stated that he had rented the truck and was driving to Galgala village to deliver supplies to al-Shabaab fighters. He said, "I am not a criminal but a elder who was trying to solve problems."
February 29, 2012 - GALGALA DENIES SHABAAB LINKS AGAIN
Daahir Mohamed Ali, deputy commander of the defense forces in Galgala area, said, "Really, this is propaganda – the Galgala militia do not have any link with al-Shabaab or any other militia group, but there is a small group who break away from us, after we disagreed with joining al-Shabaab or other armed militia in Somalia. They are not a large group, and Yasin Kilwe is their spokesman, not for the Galgala group as a whole."
March 3, 2012 - PUNTLAND FORCES ATTACK GALGALA MILITIA
Puntland forces launched a heavy attack against the al-Shabaab militia in the Galgala mountains after the Shabaab-linked militia attacked a police checkpoint in Bosaso. According to Bosaso residents, the battle spread to the south edge of town, where both sides used heavy weapons and artillery. An al-Shabaab spokesman reported the death of three of their fighters and claimed victory, alleging the deaths of five Puntland soldiers. Gagala militias battles now benefit from pro-al-Shabaab coverage and propaganda.
March 30, 2012 - YOUTHS FLOCK TO GALGALA MILITIA
The pro-al-Shabaab Islamist website claimed that the Islamist youths of Puntland are flocking to Galgala Mountains and noted an intensified movement of the Islamist youth in the recent days. The new recruits aim to seek a hideout in the Galgala mountains and eventually cut the road linking Bosaso city to the rest of the nation. Atom's probable return to Galgala in the coming days was mentioned in this article.
March 30, 2012 – AL-SHABAAB RECRUITING
The Galala milita has been recruiting for several months, even before the group declared their merger with al-Shabaab. The plan of targeting the road that connects Bosaso and the rest of Puntland is likely just a diversion and they may target Qaw instead of the road. This tactical diversion would require Puntland to deploy more troops in the road areas like Kala-beir, Laag, and etc. and this will help the Islamist to run a smooth attack against Qaw and where immediate back-up forces may not make it in time since the road meant to be blocked is seemingly one that connects Qaw and Bosaso.
March 30, 2012 - CUTTING THE ROAD POSSIBLE BUT HIT AND RUN MORE LIKELY
There are two strategic roads connecting Bosaso to other areas in Somalia, Puntland, Laag sector, and El-Dofar sector. If the Galgala militia targets these two roads, they will be able to blockade them, but this is unlikely as they receive their supplies via this road from Bosaso. Last week, they conducted hit-and-run attacks on the checkpoints outside the city. The majority of new recruits are coming from southern Somalia and are not Puntlanders.
Yusuf Jama Dibad, governor of Lasqorey District of Sanaag region told source, "Yes, more youth have joined the Galgala Militias, and now they are regrouping in the far mountains. We get reports from nomads that saw the unidentified armed youth on the mountains."
Also, Bosaso residents believe politicians will use Galgala militias in the fight over Puntland President Farole's one year extension of his rule. One side could exaggerate its power in a bid to step up security, while another could de-emphasize its power to show how 'safe' Bosaso has become.
March 30, 2012 - GALAGALA MILITIA BLOCKS ROAD
The militia temporarily blocked the road to Bosaso by setting up roadblocks between 2 and 3 in the morning local time at various locations, including an area about 30km from Armo police academy on the edge of Eldahir village, and between Laag and Karin villages. They looted civilian cargos in trucks transporting in the road and most of the packages looted were food and water.
March 31, 2012 - SHABAAB ATTACK BOSASO
Al-Shabaab Islamist fighters from Galgala attacked Bosaso central area and injured local security personnel at a police checkpoint.
April 1, 2012 - GALGALA FIGHTERS DEFECT
Since Galgala militias declared their merger with al-Shabaab, many of their fighters defected to Puntland forces. Last week, five defected in Puntland, including one named Abdirashid Hassan Mohamed.
April 2, 2012 - GALGALA MILITIA PLAN TO SEIZE STRATEGIC BRIDGE
Galgala forces are planning to seize or destroy a bridge in Laag village. If successful, they could cut off Puntland commerce from the rest of the region. Two days prior they blocked a road near the city in a possible probing mission to test the reaction of local forces.
April 8, 2012 – PUNTLAND PRESIDENT WARNS AGAINST SUPPORT FOR TERRORIST GROUP IN GOLIS MOUNTAINS
The president said that the radical Islamist group is building bases in Puntland with the greatest concentration of al-Qaeda and al-Shabaab terrorists located in the Golis mountain ranges.
April 9, 2012 – MUJAHIDEEN REACH GOLIS MOUNTAINS
Radio Andalus, a pro-al-Shabaab station, declared that hundred of mujahideen have reached the Golis mountains to help in the fight against the 'pro-infidel administration' of Puntland. This comes amidst President Farole's continued allegations that al-Shabaab have set up bases in the Golis mountains and are largely responsible for the insecurity in the region.
April 9, 2012 – PUNTLAND YOUTH JOINING GALGALA MILITIA
Amiirnur, a pro-al-Shabaab website, stated that an unusually large number of youth are joining the Galgala mujahideen. Reports received from Nugaal and Puntland region confirm that several college-age youth are intent on joining the militia after its merger with al-Shabaab. Puntland's president and authority fear increased attacks, but are solely responsible for the ensuing battles since they have failed to provide proper Islamic leadership to the residents of Puntland.
April 10, 2012 – SENIOR SHABAAB LEADER ARRIVES IN GALGALA
Pro-Shabaab media have announced the arrival of a senior al-Shabaab leader in Galgala mountains. The unnamed leader is alleged to have relocated, along with a unknown number of fighters. A recording of his address which shall confirm that he is in Galgala is to be posted on a pro-al-Shabaab website shortly.
A recorded message from a senior al-Shabaab leader who recently arrived in the Galgala mountains was posted on the pro-Shabaab website. Sheikh Abdiqadir Muumin Hafidullah declared that the Puntland administration is an 'infidel' state which prefers non-Islamic leadership to Sharia law. He warned the Puntland administration and police of that Puntland would be captured by Mujahideen. He declared that the holy war is spreading all over Somalia and Puntland residents must take part in the war for their religion.
The dissenting faction of the Galgala militia have not commented on the current turn of events.
GALGALA REGIONAL BACKGROUND
Militias have often used this mountain range (Al-Madow and Golis) as a hideout and natural redoubt. The Golis range has historically been used as a comfortable base with water, winding trails, tall forests and close proximity to the sea where Yemen is just an overnight speed boat trip away. In the 1900s, Sayid Mohamed Abdalle Hassan, the leader of the Darwish militia, fought from mountain colonies to hide from British aircraft. In 1993, Hassan Dahir Aweys also made a base in Golis mountains after former President Abdullahi Yusuf fought against them. Golis and Galgala will have increasing importance over the next year, and is likely to be the focus of US drone attacks and reconnaissance. The region has also been used to keep hostages including Colin Freeman and his Spanish photographer, who were kidnapped from Bosaso in 2008.
Today, US analysts like to compare the region to Tora Bora, even though there is little similarity historically, geographically or strategically. The Uzbek and Arab units held Tora Bora as an ambush spot for US troops chasing al Qaeda fleeing from Afghanistan to Pakistan, prevented from road travel by air strikes.
KEY LEADERS
The Warsangali have historically seen themselves as an independent force going back to their 17th century sultanate, based on trading in animals from the interior. Sandwiched in between Majerteen Puntland and Isaaq Somaliland, they have explored their self-interest through this historical and ethnic claim. Currently there is division and some discontent with the alliance with al-Shabaab who seeks to exploit conflicts in this region.
Militia
The Galgala militia leader, Mohamed Said Atom, hails from Dubeys sub-clan, a member of the Harti clan of the Warsangali tribe. He is the commander of the Galgala militia who are fighting the Puntland administration. He was previously a law student at the Eastern University of Africa in Bosaso and sold herbal medicine and remedies near Rawda Mosque in the port city.
Although previous evidence indicates a direct relationship with al-Shabaab since 2006, spokesman Yasin Khalid Osman (Yasin Kilwe) said the group officially joined al-Shabaab recently.
The founder of the militia's faction which joined al-Shabaab, Ali Ahmed Hassan (Ali Gamey), is from Tiinle and the Harti clan. On 3rd March 2009, he was sentenced to 15 years in prison by a municipal court in Bosaso together with 5 other men after being linked to al-Shabaab. He was once a Madrasa teacher at the Hamdaan and Imaam Nawawi schools in Bosaso.
Six days before the announcement, Sheikh Mohamed Ahmed Abdi, a spokesman for Sheikh Atom's militia, told our sources that the group was not linked in any way to al-Shabaab and again reaffirmed this after the statement by Yasin. He claimed Yasin broke away from the Galgala militia to join al-Shabaab and they have no relation with one another. There were a number of desertions as fighters refused to join al-Shabaab. Puntland authorities recently seized two vehicles laden with supplies for the Galgala militias, with the drivers claiming they were in fact working with al-Shabaab.
In late March 2012, Atom allegedly met with Shabaab leaders in Kismayo to discuss a merger and to receive weapons and supplies for his militia.
Yasin Kilwa was released from a Somaliland prison after serving six years for robbery. He was initially accused of committing a minor crime during a visit to Somaliland from Bosaso in 2003 and detained in Hargeisa. He was interrogated by American Intelligence agents at Camp Lemonnier and 2006 but sent back to the coastal jail of Berbera due to lack of evidence.
Puntland Government
Puntland has moved from a chaotic strongman run enclave to a democratic federal region of Somalia. Unlike Somaliland which claims statehood, Puntland has remained within the nation of Somalia but will only return as a federal region under acceptable terms. Distrusted and accused of being a criminal state in 2010 by the UN, Puntland President Farole has single-handedly led the effort to bring together the TFG under President Sharif, Speaker Hassan, PM Abdiweli Mohamed and the UN's Special Envoy Augustine Mahiga in 2012. The Roadmap, Kampala Agreement and two meetings in Garowe have facilitated the UN's need to create a cohesive national structure and also reflects the U.S. government's shift to a 'Dual Track' policy that invites local actors, in addition to the dysfunctional TFG concept.
EXTERNAL ACTORS
Several external factors and actors are having a direct effect on the Galgala militia's ability to operate effectively and freely in the mountain region. International navies are focused on anti-piracy efforts, unrest is escalating in key cities like Galkayo and Bosaso, regional mini-states are appearing in Puntand creating conflict with neighboring Somaliland while new oil drilling has sparked interest by a variety of actors all seeking to control what could be billions of dollars for the region.
Anti-Piracy Efforts
Puntland has invited the UN, NATO, EU and AMISOM to meetings in Galkayo and created its own foreign trained 1000 man Puntland Marine Force Police to end piracy. The Gulf of Aden maintains a transit corridor with a small number of foreign warships under the EUNAVFOR and NATO mandate. Djibouti to the west, is a major counter terrorism base and supports two US navy task forces to show presence and assist food delivery to Mogadishu. While an impressive group, their focus remains on piracy, not the Galgala militia giving the group free reign to wreak havoc in the mountain regions and a safe haven for al-Shabaab fighters.
Neither of these groups is expected to be deployed soon and will not be engaged in this conflict. Well-armed and US-trained Puntland Intelligence Agency forces along with barely trained local military forces are used in the Galgala region as an "anti terrorism" force. If AS and AQ elements increase dramatically, foreign intel and military air assets and other assets may be deployed in the Golis Mountains as they are in the South. The most contentious issue in the Galgala region is the discovery and exploitation of potential natural resources.
The recent oil drilling program has given Farole and Puntland leverage and presence that the impoverished south and center has not been able to deliver. Despite the long standing arms embargo Farole has become the ideal conduit for outside donor programs to defeat piracy and is regularly courted by the UN, EU, NATO and security companies who wish to establish anti piracy programs.
Meanwhile al-Shabaab seeks to exploit the border conflict with Somaliland, inflame anti-government sentiments and the use of outsiders to create security programs. The potential to disrupt oil exploration and development is a major threat. The Galgala region may find itself swollen with outside actors like al-Shabaab and al Qaeda fighting domestic and foreign security elements.
Unrest in Key Cities
The threat of violence in Bosaso and major towns increases via assassinations, IED attacks and pressure from al Shabaab or al Qaeda aligned militias. There is great interest in inflaming local disputes and creating safe harbors for training and recruitment as the South continues to become more hostile to al-Shabaab. The north has easy ocean access to Yemen, Eritrea and even Pakistan.
In a positive twist, and as part of the anti-terror campaign, Puntland security officials held and continue to hold regular meetings with local civil society organizations including women, youth networks, businessmen, clan elders and displaced people to solicit their support against al-Shabaab and Atom's militia.
Politician Mosa Ali said the impetus for the meetings came about when Sheikh Ahmed H. Abdi Rahman, a well-known mullah and intellectual, was killed by al-Shabaab in Bosaso on December 4, 2011. As a result, the local community and Puntland authorities agreed to work together to root out al-Shabaab fighters and restore security to the main towns, and it seems to be working.
Conflict Over Oil and Natural Resources
The Galgala region was explored for bauxite and other ores by western companies in the late 1990s and mid-2000s. Oil exploration has been based on surface seeps and an expected continuation of fields that extend geologically from Yemen and out to sea. Puntland may have significant petroleum wealth, which may extend out into the Gulf of Aden and the Indian Ocean. Not coincidentally, the two main fields run from the pirate areas of the west coast along two river valleys up into the Gulf of Aden. During the peaceful post-colonial era of the 1980s, Conoco was one of the first Western companies to explore their assigned blocks. The effort was abandoned due to the collapse of the nation into anarchy.
Canada's Africa Oil Corp., which officially started drilling for oil in Somalia's semi-autonomous region of Puntland after reaching long term agreements with the Puntland and TFG government to exploit the potential of an estimated 300 million of barrels of oil in Dharoor Valley and Nugal Valley in Bari region, marking the first such drilling in Somalia in 20 years. Oil is the property of the Somali people via the government and local government a sharing agreement has been created between the TFG and Puntland but the government of Somalia is expected to be formed in July (along with an impending election in Puntland after Farole's one year extension ends), creating a number of potential problems as power players shift.
Africa Oil Corp, announcing the spudding of the Shabeel-1 well on the Dharoor Block in Puntland, reported that it would take 90 days to reach oil, which is estimated at nearly 300 million of barrels. The second well will be tapped in Nugal Valley.
According to their latest report as of February 25, 2012, Red Emperor Resources (with a 20% stake in the deal) reported that "The Shabeel‐1 exploration well spudded on January 17, 2012 and is currently at a depth of 1,230 meters of a total planned maximum depth of 3,800 meters. Casing has been set in the well to a depth of 1,139 meters and drilling of the 12 ¼ inch section continues as planned. Drilling of the Shabeel‐1 well is expected to be completed during the first quarter of 2012 and testing equipment is currently being mobilized to the site Upon completion of drilling the Shabeel‐1 well, the rig will move to the Shabeel North‐1 well."
Our sources have conducted multiple interviews with people living around the area, and while some expressed anger that they had not been consulted and are concerned about the environmental impact, the majority reported they were consulted and supported the project, so long as some of the profits were reinvested into the local community with development projects.
As of February 27, 2012, our source received confidential information from officials in Puntland's security ministry who claimed al-Shabaab and Atom's militia are planning to attack Africa Oil/Horn Petroleum's operations in Dharoor Valley. Details of their plans remain undisclosed. This would coincide with al-Shabaab's official announcement to nullify any oil contracts in Somalia despite the fact they have no official capacity to implement such orders.
Security for the drilling program is provided by South African company Pathfinder. Previous efforts to drill were met with attacks and violence leading the exploration efforts to be shut down. It is expected that the oil program will face controversy, attacks as infighting along clan, subclan, diaspora, outside actors and local power brokers jostle for potential shares of the oil revenue.
CONCLUSION
Al-Shabaab fighters, who remain in Somalia to continue with the jihad battles rather than flee to Yemen, have sought refuge in the mountainous region of Puntland which remains relatively free of local or international police or military forces. They are publicly declaring their relocation, recruitment drive and intention to oust the 'infidel' government of Puntland.
Meanwhile, the Galgala militia, bolstered by al-Shabaab's men and weapons, will conduct more hit and run attacks against Puntland security forces. They are more visible and less elusive after the merger and interact with local elders as they seek support for their cause. Clan rivalry and opposition to the Farole administration which seeks another year in term will provide adequate opportunities for the militia to exploit. Opposition leaders have sworn not to allow an 'hour' of extension for Farole's administration. The previously dissenting voices among Galgala factions seem to have gone silent as al-Shabaab's unmatched support belittles the unarmed ideals of the previous resource protectors.
Although their ultimate goal is to seize control of the key cities of Galkayo and the lucrative port city of Bosaso, it remains highly unlikely as Puntland and Galmudug forces can defend Galkayo with the Dervish militia, and the PMPF can adequately defend Bosaso.