Background
:
Weekly Security Roundup
Weekly Security Roundup
April 22 - 27, 2012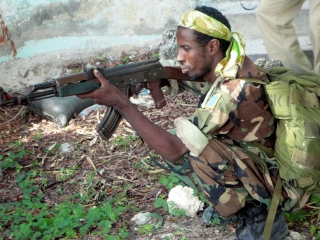 Somalia Report introduces our new Weekly Security Roundup to be published every Friday.
Insecurity across much of southern Somalia this week resulted in the deaths of at least 70 people and more than 100 others were injured. Incidents ranged from al-Shabaab fighting allied forces to pirates fighting one another to Ethiopia and TFG forces executing alleged al-Shabaab fighters. The incidents occurred mainly in the regions of Banadir, Baidao, Galgaduud, Gedo, Hiraan, Lower Jubba, and Mudug.
Total Casualties April 22- 27, 2012
Total Deaths: 71
Total Injured: 111
Total Casualties: 182
BANAADIR: Three Killed in Mogadishu Mortar Attacks
22 April - Mogadishu: Three people have been killed and nine others were injured after two mortars crashed into residential areas in Darkenley district in the restive capital of Mogadishu. The mortar attacks came after the government forces and African Union forces of AMISOM battled against al-Shabaab militants in the area. Most of the casualties were civilians, mainly children and women.
BANAADIR: Four People Injured in an Explosion in Mogadishu
22 April - Mogadishu: Four civilians were injured during a night explosion near Kasa Bal-ballare village in Hodan District of Mogadishu. The injured were rushed to the local clinics for treatment. It is not yet known the nature of the blast, but the targets were government troops patrolling in the streets of Hodan District, according to locals.
BAIDAO: Three People Died in a Car Accident
22 April - Buur-hakaba: Three people died and five others were critically injured in a car accident along the road between Buur-hakaba, 60km southeast of Baidao, and Wanla-weyn, 110km southwest of Mogadishu, in southern Somalia. The Sunday afternoon car accident involved a minibus shuttling passengers from Mogadishu heading to Baidao when one of the tires blew out and forced the driver to lose the control of the van. The bodies of the victims were taken down to Bur-hakaba district, while the injured were rushed to hospitals in Mogadishu for treatment.
BANAADIR: Al-Shabaab Attacks Government Forces
22 April - Mogadishu: At least two government troops were injured after al-Shabaab militant fighters armed with RPGs and machine guns launched hit and run attacks against the Transitional Federal Government forces stationed near SOS Hospital in Huriwaa District. Local residents told Somalia Report that the fighting lasted more than 30 minutes and casualties were rushed to the local clinics.
BANAADIR: Al-Shabaab Kills Defector in Mogadishu
22 April, Mogadishu: Al-Shabaab fighters armed with pistols killed an al-Shabaab defector in Hararyale village of Wardhigley district in Mogadishu, according to the residents. Government forces arrived on the scene, but the perpetrators escaped.
MUDUG: 10 Died After Pirates Fight Over Territorial and Clan Dispute
23 April - Harardere: At least 10 people died and more than 20 others were critically wounded after two different gangs of clan militias from Eyr and Saleban clashed at Dab-galo, 48km north of Harardere, in Mudug region of central Somalia. Most of the victims were both combatants from the rival groups although local civilians were caught up in the crossfire. The victims included the pirate guards of the South Korean hostages, according to local witnesses. Most of the injured sought treatment in Haradere town, a notorious pirate-base in central Somalia.
HIRAAN: Ethiopian Military Forces Kill Three Civilians
23 April - Beletweyne: Ethiopian National Defense Forces (ENDF) in Beletweyne town of central Somalia killed three people after opening fire in response to a Remote Controlled Improvised Explosive Device (IED) in the east of the town. The troops were on foot conducting the daily routine of checking explosive materials in the roads of the town. The casualties include a young man who allegedly planted the bomb, although it's not known whether the Ethiopian forces suffered any casualties following the blast.
HIRAAN: Heavy Rains Kill Two in Central Somalia
23 April - Bula-Burte: Two people were killed on Monday afternoon following a heavy downpour in Aborey village, 30km northeast of Bula-burte district in central Somalia. A freelance journalist based in Beletweyne told Somalia Report those victims, both elderly and disabled persons, died after the heavy downpours in the area destroyed their homes.
GEDO: Government Soldiers Shot Dead a Civilian in Gedo
23 April - Belet-Hawa: Armed TFG militias on patrol shot and killed a young civilian man in Belet Hawa district of Gedo region after the victim reportedly failed to comply with the militia's instructions to stop at their checkpoint.
GEDO: Three Alleged Al-Shabaab Fighters Executed in Gedo Region
24 April - Garbaharey: Three suspected al-Shabaab fighters were executed in Eel-Adde village 60km from the regional headquarters of Garbaharey in Gedo region after being accused of murdering Eel-Adde commissioner Yahye Hussein Timacade who was beheaded earlier this week. Senior Somali government official Diyad Abdi Kalil told Somalia Report that the suspects were hiding in the area. "The three reportedly stormed the home of late commissioner before they beheaded him. He was at his home without guards in that time. They hurled his body outside of his home where we found him later," said the official.
GEDO: Herders Clash with Al-Shabaab Claims Three
24 April - Garbaharey: At least three people were killed and several others were wounded after local herders clashed with al-Shabaab militants on the outskirts of El-Adde village, 60km from Garbaharey. Witnesses said the clash happened after the armed local herders launched an attack against al-Shabaab militants for allegedly illegally impounded their animals. Ahmed Mohamed Moalim, a local herder who spoke to Somalia Report by phone, said they have managed to forcefully reclaim their animals from the militants after a fierce gun-battle.
GALGADUUD: Clashes in El-bur Claims 8
26 April - Elbur: At least eight people were reportedly killed and dozen of others were wounded in overnight fighting on the outskirts of Eel-Bur district in Galgaduud region. A number of key bases of the Ethiopian National Defense Forces (ENDF) and the pro-Somali government militia Ahlu Sunna Waljama (ASWJ) in El-Bur district were targeted by militants loyal to al-Shabaab militants, officials and residents told Somalia Report. "We could not sleep well last night for the sounds of gunfire from the bases of allied forces here in Eel-Bur. Two civilian were killed by stray bullets," a resident Ismail Ahmed told Somalia Report Ahlu Sunna Waljamaa (ASWJ) officials in the area confirmed the fighting and claimed that their troops and Ethiopian forces have killed six al-Shabaab fighters. However no independent sources could confirm the claims made by ASWJ officials.
LOWER JUBBA: Battles in Qoqani Claims Eight
26 April - Qoqani: Eight people died and 15 others were injured after heavy fighting broke out between Kenyan backed TFG forces and al-Shabaab militants in Qoqani and Tabta areas of Lower Jubba region in southern Somalia. The fighting broke out after the al-Shabaab militant fighters attacked a base where the TFG and Kenyan forces were stationed. Locals confirmed the death of the people from both sides. The fighting broke out around (11 am) local time and both sides exchanged of heavy arms and the fighting went on for almost two hours according to Ali Kahin a local resident who spoke to Somalia Report. The al-Shabaab fighters who launched the attack on the TFG and the KDF forces met fierce resistance at the battle field and their mission was failed as they were sent back according to government officials.
GEDO: Heavy Fighting in Gedo Leaves 11 Dead
26 April - Garbaharey: At least 11 people have been killed and more than 15 others injured in heavy fighting that broke out on the outskirts of Garbaharey, the provincial headquarter of Gedo region. The clashes were between Kenyan backed TFG forces battling with al-Shabaab fighters to gain more bases on the ground. The Kenyan military jets took part in the fighting, although the Kenyan military forces were not available to comment these reports.
GALGADUUD: Heavy Rains in Central Somalia Wounds 20
27 April - Herale: Media reports from Galgaduud indicate that more than 20 people have been injured when a heavy rainstorm struck in Mirji'ley area of Herale village that blew off the rooftops of houses in the area, according to residents. Most of the victims suffered serious wounds as they looked for protection and shelter in a Mosque and a hospital in the area. Muna Jim'alle Omar, one of the hospital nurses in the area, told Somalia Report that the casualties are receiving treatment facilities in the hospital. Locals are now calling for immediate humanitarian assistance after they had lost their basic livelihoods and shelter.
HIRAAN: Floods Kill Two Children
27 April - Matabaan: Two children died while others were injured as rains continue to wreak havoc in Matabaan of Hiraan region in central Somalia. Moulid Ahmed Abdullahi, a local elder in the district of Matabaan, told Somalia Report that the children died while others were injured after they were pulled out of mud caused by the heavy rains. With results of the much awaited spring rains that Somalis initially welcomed, it's now leaving trails of death and destruction countrywide particularly southern regions of the country and also livestock was swept away and crops destroyed, according to the residents.
GEDO - TFG/KDF Forces Battle Al-Shabaab in El-Adde
27 April - El Adde: At least 11 people were killed and more than 10 others were injured on Friday morning after fighting erupted between Kenyan backed TFG forces and al-Shabab in El-Adde village, 60km from Garbaharey town of Gedo region. "TFG forces killed 8 al-Shabaab fighters and wounded 10 others. It is a victory for TFG forces to destroy the Al-Qaeda group of Somalia," Mohamed Abdi Kalio TFG chairman in Gedo told Somalia Report. The war erupted when TFG forces attacked bases of al-Shabaab on the outskirts of Garbaharey. "They want to recapture Garbaharey town but this will never happen," Kalil added. Kalil said that TFG also killed two senior officials of al-Shabaab, but he declined to mention the names and or the posts they were representing. The wounded Islamic fighters where taken to Bardhere and Burdhubo, the only stronghold towns in the region which they now control.