Feature
A War in Waiting
Somalia's Disintegration into Mini-States
Somalia Report investigates the impact of the establishment of mini-states on the country's fragile stability.
In many ways, Somalia appears to be slowly recovering from two decades of civil war. One long-standing obstacle to the recovery process has been all but eliminated with the dramatic decline in the popularity of the al-Shabaab terrorist organization. As Somalia makes territorial gains against al-Shabaab and plans for national elections in August, many predict that Somalia is close to returning as a viable state. But for Ahmed Sheikh Ali, a lawyer and a former president of Somalia's Court of Appeal, the country is far from standing on its own two feet. He is skeptical about the increasing semi-state phenomenon, describing it as "a war in waiting."
Mr. Ali, a veteran judge, is extremely frustrated by the increasing development of the system of mini-states in Somalia, which was introduced in the 2004 National Charter of the Somali Transitional Federal Government (TFG). Based on his extensive experience with the Somali cultural and judiciary systems, Sheikh Ali said the union of mini-states cannot bring Somalia peace, offering his opinion that "the mini-state style of government will reignite hidden clan conflagrations."
His observations on this matter have indeed become increasingly clear. At least thirty semi-regional states have been announced in Somalia since 2006. They all have self-nominated presidents mand many go so far as appointing foreign, interior and defense ministers. They are also increasingly creating their own identities, to include flags, state anthems and websites. Former Prime Minister of Somalia Ali Khalif Galaydh said such culture was recently in practice when Somalia President Sheikh Sharif Sheikh Ahmed visited Puntland. According to Mr. Galaydh, "There are often different national anthems, flags, protocols and in some ways, for outside observers, it appears these are two governments, two states that are meeting." The most negative aspect of this development is that the mini-state appears superior to the central government, as in the case of Somalia's TFG and Puntland, semi-autonomous, potentially complicating national reunification.
The mini-state phenomena in Somalia has become a rare window of political opportunity for power-hungry politicians and businessmen and women who organize the establishment of mini-states in as cities across Europe, United States, and in some Arab and African states, though not in Somalia, according to Mr. Ali. The majority of these self-proclaimed mini-state "presidents" are part of various Somali diaspora living internationally though most, unfortunately, cannot return to the areas they claiming to govern. Some of these officials paid their flight ticket back to Somalia with contributions from the Somali communities in the West.
"It could be understood as a shortcut of becoming a president by mobilizing kinsmen," said Mr. Ali. Mohamed Ali, a researcher and analyst in Mogadishu, believes that the increasing phenomena of mini-states in Somalia could jeopardize national unity. "It could even lead to confrontations among Somalia's mini-states and the federal government, particularly among the mini-states themselves who could have confrontations on the borders dividing them," Mohamed Ali told Somalia Report.
"Every single clan and even sub clan will proclaim a mini-state and then may try to claim their share of the resources and power in the federal government. This could be further exacerbated by hundreds of sub-clans," he explained.
Proclaiming a mini-state and then going to Mogadishu is now becoming a way for individuals to quickly appear on the national stage. "Just go to your clan elders and convince them that you are lobbying for your clan's political rights in the federal system and they will accept. The government should stop this practice because it adds more fuel to the ongoing Somali conflict and no one will be able to stop it," he warned.
Dalmar Haji, a Ph.D. candidate in Peace and Conflict Resolution and Somali National Party member, expressed concern about the existence of more than fifty mini-states in a small country like Somalia. He says that it could a big obstacle in bring Somalis together or even under one central government. "It can increase a clan conflict among clans in same region and even border conflict between the mini-states," said Mr. Dalmar.
Despite the warnings, the TFG showed no signs of abandoning the recognition of mini-states. Somali President Sharif Sheikh Ahmed officially recognized the newly formed state of Khatumo, formerly part of the breakaway region of Somaliland. Somaliland, whose forces fought against militias loyal to Khatumo state in Buuhoodle, rejected the offer from the TFG to legitimize Khatumo, accusing President Ahmed of conspiring against "unity of Somaliland."
In Mogadishu this March, TFG security forces disbanded a meeting by the Ex-Banadir state for the establishment of a parliament of the state citing that the meeting was illegal and was not approved by the TFG Interior Ministry. "We have sent the Interior Ministry a request letter for holding the meeting but they replied with refusal and we cannot accept this because all other clans had their own states and nobody discarded it," said Salah Fuleyl, member of the organizers of the meeting.
Hassan Isak, a member of parliament, he said that although the National Charter allows the formation of the mini-states, he disagrees with the interpretation of it. "It was not formed in a good way and could lead to further conflicts. It does not lead to a solid federal system, but to a less fragile one than we imagined," he added. Isak calls for the TFG to end the process of recognizing of the mini-states. "Just as greediness cannot be not be tolerated, the TFG should restrict it," he commented.
The concern is not only about the increasing mini-states, said PhD candidate Dalmar Haji. "It is all about ratifying the draft federal constitution of Somalia because the federal government is not suitable to solve conflicts in Somalia, but instead it refuels the conflict," he said.
Dalmar says power struggle among clans is negatively contributing to the civil war in Somalia. He stated that "now the federal system is immediately and unexpectedly creating and reemerging clan conflicts in the country. Look at what is happening in Galgadud, Hiiraan, Jubba and everywhere in Somalia. Clans within same regions each have a president of their own semi-autonomous state."
Former Prime Minister of Somalia Ali Khalif Galaydh (who also advises for the newly founded Khatumo state), however, sees the increasing number of mini-states as potentially positively because it could produce local credible leadership and also contribute to the reemergence of Somalia. "These are all attempts to get out of the mess. At the same time it is out of frustration when things don't happen in Mogadishu. I mean people are just fed up with the chaos and lack of movement or motion out of the center, the capital," said Mr. Galaydh. "It could be of course more of an obstacle than facilitating or helping the mechanism."
About the draft federal constitution, Mr. Galaydh says it is a technical document that requires the attention of the Somali people. "What was needed and is still needed is for the Somali people to be aware of the draft and to be on board in terms of what it outlines. The Somali input in this whole exercise is not up to the government and the population will be unhappy with their lack of input," he added.
Like Ahmed Sheikh Ali and Dalmar Haji, many Somalis are worrying the increasing number of mini-states in Somalia could be the beginning of land grab in Somalia. "This could be a lose-lose land grab for all Somalis," said Ahmed Sheikh Ali, "If the TFG can't exercise its authority over all the mini-states and clan militias, it could end up with another horrific twenty years and possibly more - a 'war is in waiting' since some mini-states would try to form their militias which could weaken any agendas of rebuilding national army in Somalia," he stated.
The following list is intended to provide an accounting of many of the mini-states located throughout Somalia.
Mini-states in Galmudug
Galmudug, which claims to run a combination of the Mudug and Galgadud regions, was first to test this theory of mini-state in 2006. Since that time, it has become a kind of role model for many mini-states claiming to govern areas over which they actually have they have little or no control.
For detailed report on Galmudug, please see Somalia Report's "What is Galmudug?".
Himan and Heeb was established in 2008 and mainly covers parts of the Galgudud regions. One of the oldest of the regional states proclaimed in Somalia, it is dominated by the Saleeban sub clan of Habar Gidir. Himan and Heeb was presumably a direct answer to the Sa'ad dominated Galmdug administration. The two homogenous clans of Galmudug and Himan and Heeb are the most influential and had some permanent presence in Galkacyo and Addado, and a technical presence beyond these two towns. Officials from both Galmudug and Himan and Heeb made efforts to unite the two administrations but failed as neither leader wanted to lose his government position. Mohamed Abdulahi Ticey serves as president.
Gal-Hiran and Haradhere wants control of Galgudud region and parts of Hiran. Its supporters are mainly part of the Ahlu Sunnah Wal Jaama (ASWJ) and the main cities in this state include Dhusamareeb, Guri-cel, Marer Gur and Haradhere town which are considered to important pirate strongholds. Abdilqadid Mohamed Bahdoon is the president of the state, which is dominated by Ayr, a sub clan of Habargidir. The state was founded on September 23, 2010 and has relations with the TFG.
El-Bur State was created in London on June 5, 2011 to run the El-Bur district in the Galgagud region of Somalia. El-Bur was formerly the capital of the Galgaduud region and once served as a local commercial hub. Abdillahi Malim Asparo is the president of El-Bur state, though al-Shababa and Ahlu Sunna are currently fighting over El-Bur. It is located approximately 375km north of Mogadishu.
Mareeg is a region in Galgadud based on the Ajuuran sultanate in the Middle Ages. It was established in April 2011 and exists in the Galgudud and Mudug regions. Its main administrative area is between Haradhere and Budbud towns and includes approximately 250km of seashore. Dayib Mohamed Sheikh serves as president of Mareeg. Its leaders have called on Somali businessmen to build a new port and roads linking the state with the other parts of Somalia, with the purpose of encouraging regional development.
Somali Central state was established in 2011 and claims control over parts of Galgudud and Mudug regions and has links with Himan and Heeb. The center of the regional state is Abudwak and is dominated by the Mareehan clan. It does not yield much political power and has been overshadowed by disagreements with ASWJ, which is currently the most powerful force in Abdudwak. Mohamed Hashi Abdi is the president. He was arrested in Abdudwaq by ASWJ militia forces.
Galgaduud state was formed in Dubai in April 2011. Its goal is to run the entire Galgadud region, despite the fact that the states of Galmudug, Himan and Heeb, Mareeg, El-Bur, Gal-Hiiran and Somali Central state all intend to run their own regions. Abdirashid Mohamed Dirir is the president of Galgaduud state.
Waax and Waadi was established in Bristol, Britain in March 2011 to govern Harardhere, Mareeg, El-Dher, Masagawa and Galad in Galgadud and the Juba Valley, particularly Turdho and Kowsar. Nor Ali Omar akas Dubad is the president of this administration.
Dooxo state was reportedly established in 2011. Its goal is to govern parts of Galgadud and possibly the Mudug regions. Bashir Abdulahi Abshir is the president of Dooxo. Little is known about this state.
Bila Quban state was created in April 2011. It wants to govern the area from Fah, located 30km from Haradhere district, north to the Hurow, which is located 1km from the Hilawe Gab village in southern Somalia.
Mini-states in Jubba
Azania was established on March 20, 2011 in Kenya and is supported by Kenya, which is interested helping develop a regional administration and establish a buffer zone against threats from al-Shabaab. Azania state is led by Mohamed Abdi Gandhi, a former Somalia defense minister. He is an educated man who has personal contacts with the governments of both Ethiopia and Kenya. The regional state works in Gedo and Lower Jubba regions, and its capital is Bu'aale town.
There are significant disagreements between Gandhi and Ahmed Madobe, leader of the Ras Kamboni group, a pro-government militia supported and trained by Kenya. Ethiopia, however, supports ASWJ and is unhappy about the Azanai initiative. This is due to the possible threat from the Ras Kamboni group dominated by Ogeden fighters who could support Ogaden National Liberation Front (ONLF) fighting against the Ethiopian government over the disputed Ogaden region. President Gandhi enjoys close contact with government military officers since most of the Somali in the area were trained under Gandhi's authorization in Kenya when he was minister of defense.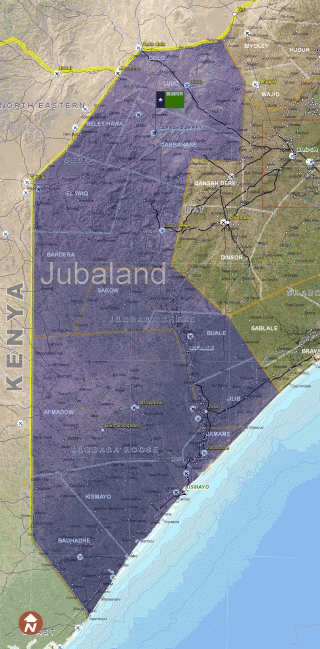 Jubbaland (1) (Jubaland) was established on December 19, 2010 in Minnesota, USA. Its goal is to govern Bay, Bakool, Lower Jubba, Gedo and Middle Jubba regions. Mohamed Rashid Haji Ali is the president of this administration.
Jubbaland (2) (Jubaland) was established in January 2012 is considered a rival regional to the state of Azania. Jubbaland desires to rule Lower Jubba, Gedo and Middle Jubba. Mohamed Farah Du'aaleh is the president, but is not as well known as Mohamed Abdi Gandhi, the leader of Azania, who has links with Ethiopia and Kenya. Jubbaland has no direct contact with these countries who support pro-government militias including the ASWJ and Ras Kamboni fighting against al-Shabaab in lower Jubba and Middle Jubba. Unlike Azania, Jubbaland has the support of the local people in the regions who are reportedly suspicious of Azania's links with Kenya.
Jubba and Shabelle was founded on July 5, 2011. It wants control of the Jubba regions in the south and parts of the Bay region. The supporters of this regional state are the Somali Bantu or Jareerweyne commnunity and those of Digil and Mirifle. Abdi Osman Omar is the president of this regional state.
Jubba-Ras was created January 8, 2011 in Scandinavia. It claims to have a legitimate right to govern the Lower and Middle Jubba regions of Somalia. The supporters of this administration are the Biyo-maal community. Abdi Qadir Mohamud Yusuf is the president of Jubba-Ras state of Somalia. Little is known of Mr. Yusuf other than he is young and calls himself "Engineer" (though it is not known if he has earned this nickname through legitimate academic studies, or if he simply prefers the name).
Jubba-Jasiira's formal founding date is unknown; however, the Nairobi-based community from Shiiqaal held a welcoming party for Jubba-Jasiira's president Abdi Ahmed Osman on January 3, 2011. It wants to administrate the Jubba regions in south Somalia.
Greenland state was founded in Kenya's little Mogadishu district of Eastliegh in Nairobi in November 21, 2010. Like Jubba-Jasiira, Greenland state wants to rule in Jubba regions of Somalia. Dr. Mohamed Ibrahim Afkule is the president of this administration.
Dooxada Cagaaran state was created in Mogadishu in May 8, 2011. Ali Mohamed Ibrahim is the president of this administration, which, like the two states described above, also wants to control Jubba regions of Somalia.
Udubland state was established on February 17, 2011 by President Ibrahim Abdullahi Addo. It claims to represent the communities of Lower Shabelle and the two Jubba regions and wants to govern these three combined regions.
Shabelle-Jubba state was formed in Columbus, Ohio on April 6, 2012 by Dr. Abdikadir Noor Awo. It appears this state wishes to govern more than six regions (Shabeelaha Hoose, Jubada Dhexe, Jubada Hoose, Gedo, Bay and Bakool) though each of these already has its own mini-state.
South West state was initially formed in November 2002 in Baidoa (capital of the South West state) to govern Bay and Bakool regions but it is renewed in April 2011. It currently wants to control the Gedo, Bay, Bakool, Middle Juba, Lower Juba and lower Shabelle regions in southwest Somalia. Sayid Ali Sheikh Mohamed is the president of this administration.
Koofur-Galbeed - During the course of this research, Somalia Report discovered another South West state, called Koofur-Galbeed also claiming to adminster the same area of Sheikh Mohamed's South West state. The president of this administration is Dr. Ali Abdi Baab. It is unclear whether one replaced the other but it is possible they are independent.
Mini-states in Hiran
Hiran (Hiiraan) state was established on August 10, 2010 and seeks to rule the entire Hiran region. This region has a strategic significance as it links southern regions to central Somalia. It is also of strategic importance to Ethiopia, which wants to use the region as a buffer zone to control the movements of the radical Islamists of al-Shabaab and ONLF. Hiran state is led by Mohamed Abdi Gab and is set against Gal-Hiran state and Shabelle Valley Administration (SVA) which also claim to be the legitimate states in the region.
Dooxada Shabelle or Shabelle Valley Administration (SVA) wants control of the central regions and Hiran and maintains an unspecified number of armed militia. It was founded on April 13, 2011, apparently in reaction to the establishment of Hiran state in September 2010, which is dominated by the Hawadle and Jijeele clans, including Gaal Jecel, while some of Gaal Jecel are opposed to this new state. Abdifitah Hassan Afhrah is the president of SVA and recently rejected the TFG's plans for creating an administration in Beledweyne after a bitter disagreement between ASWJ and SVA over the control of Hiran region. This comes after Ethiopian troops backed by SVA forces and ASWJ seized Beledweyne from al-Shabaab forces in December 2011. It should be noted that the Somali government nominated Abdifatah Hassan Afrah to be governor of Hiiran region.
Hiranland state was founded in September 2010. It maintains no armed militia and its influence has been overshadowed by armed conflict and the power struggle between the SVA and ASWJ. The group is led by diaspora including its president Mukhtar Sheikh Abdirisak.
Hiiraan and Midland state was established June 2010 in London. Abdiqadir Adan Abdi is the founder and the president of this administration.
Mini-states in Shabelle and Banadir
Shabeelaha Dhexe state or Middle Shabelle state was formed in January 2009. It wants to manage the Middle Shabelle region in Somalia. Ali Madahey Jawle is the president of this mini-state.
Banadir was established in 2011 and represents the minority Banadiri community, which is made up of mainly Arabs from Oman and Yemen. The supporters of this regional state do not belong to the armed clans and are considered to the "others" group who receive half due the power sharing formula of 4.5. Banadir state could have influence on supporters living mainly in the districts of Hammerwein, Shingani districts of Mogadishu and in Marka and Brava in Lower Shabelle region. Abba Awow Haji is the president of Banadir.
Ex-Banadir state of Somalia was also created in Mogadishu in March 2012 to run the Banaadir, Middle Shabelle, and Lower Shabelle regions. Somalia government soldiers intervened and stopped the formation party of this administration but its president Mohamed Abdirahman Ali claims a legal right to manage the three regions of Somalia. The Banadir region "Mogadishu" has already has a TFG-formed administration. Mogadishu will be the headquarters for the administration.
Jiin-webi was founded on October 1, 2011 and is supported by the Somali Bantu or Jareerweyne communities, a minority group that descended from tribes in East and central Africa. These communities include the Wagosha communities and are discriminated against by tother Somali clans. This group is mainly made up of peasants living Lower Shabelle, Middle Shabelle, Lower Jubba, Middle Jubba and Hiran. They joined with the .5 of the 4.5 clan sharing formula in parliament; therefore, they are not well represented. Mohamed Ahmed Hussein is its president.
Banaadirland was established in Nairobi, Kenya, in December 2011. It wants to run the Lower Shabelle, Middle Shabelle and Banadir regions. Engineer Abdulle Hassan Nurrow is the president of Banaadirland administration. Mogadishu will be headquarters for the administration. Xamar iyo Xamr daye state wants to run Mogadishu's Banadir region and middle Shabelle. This administration is established in Nairobi on May 15, 2011. Jibril Haji Mohamud is the president of this administration.
Wargaadhi State was formed May 2011 in Nairobi. It seeks to run the Middle Shabelle region. Yusuf Hundubay is the president of Wargaadhi State of Somalia.
Hir iyo Maanyo was established in 2011. It wants to administrate the Lower and Middle Shabelle regions of Somalia. Engineer Ahmed Bajuu is the president of this administration.
Abweyn State was formed in September 2011. Its goal is to rule the Banadir, Lower and Middle Shabelle regions of Somalia. Abdullahi Abdi Mohamed is the president of this administration.
Mini-states in Puntland
Ras-Aseyr state was established on April 17, 2011 and is dominated by the Siwaqroon clan in the Bari region of Puntland. It was founded in Bargaal, the capital of Bari region and its president is Mohamed Farah Doxa-joog. This regional state has contacts with Maakhir, Mareeg, ASWJ, the TFG, and Khatumo, but almost has no contact with Puntland authorities. Ras-Aseyr claims they were forced to declare their own state, which lies within Puntland borders, after Puntland failed to develop their area and even neglected the needs of its people. Puntland, furious over its formation, has battled with the group for control of Bargaal, an eastern coastal area of Puntland driven by the Siwaqroon sub clan of the Majerteen.
Karkaar state shares its name with the mountain rage which runs through it and is mainly the southern area of Bari region of Puntland.
Maakhir was established in June 2007 after a dispute with Puntland authorities over a range of issues, including mining and oil resources. The biggest cities in the Maakhir state are Las Qoray, Badhan, Hadaaftimo Hingalol and Erigavo. Maakhir state was established by the Warsengeli sub clan of Darood and is not recognized by the government of Puntland. Jibril Ali Salad is the president of Maakhir state and maintains a parliament and a cabinet of ministers.
Mini-states in Somaliland
Saylac and Lughaye state of Somalia was formed on February 7, 2012 to govern parts of Somaliland as a member of the federal government in Somalia. Mahad Abib Mohamud is the president of this administration, which includes clans from Somaliland, Saylac, and Lughaye located northwestern of Somalia. Somaliland has been controlling itself since its breakaway.
Awdal is clan based division based on a 16th century sultanate in the westernmost region between Somaliland and Djibouti inhabited by Gadabursi subclan of the Dir. Somaliland and Adwalland are vying for control of this region. Awdal State of Somalia wants to be part of a federal government of Somalia. Its second anniversary took place in Switzerland on March, 20, 2012. The closest that Rashid Aw Nor Hirsi, the president of Awdal State of Somalia, can travel is Mogadishu and the areas where Somaliland army have no presence.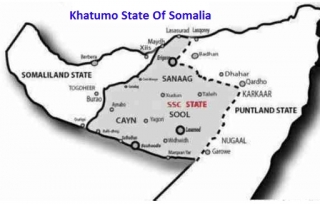 Khaatumo was announced in January 2012 after a meeting in Taleh town of Sool and it comprises the Sool, Sanaag and Eyn regions. Khatumo was established during a conference known as Khatumo2 and supports TFG rather than Somaliland. The Dhulbahante clan, a sub clan of Darod clan, is dominant in the regions of Sool, Sanag and Eyn and has maintains the SSC militia fighters who fought against Somaliland in Buuhoodle. Major politicians including Ali Khalif Galeyr, a former Somali prime minister and lecturer at US universities, backed the conference. The Khatumo state of Somalia will have three presidents, rotating on a six month basis, and a supreme council comprising of three members, and a cabinet of six members. The three routine presidents are: Ahmed Elmi Osman (Amed Karash), Mohmaed Yusuf Jama (Indhasheeel) and Nur Elmi (Biindhe). In March of this year, the TFG officially recognized Khatumo. In March 2012, the TFG recognized the state, but rescinded this few days a later.
For a more detailed look at Khatumo, please see Somalia Report's "What is Khatumo?".
(Editor's Note: Somalia Report would like to update this report on an ongoing basis so please send any comments or changes to content@somaliareport.com.)