Background
:
Weekly Security Roundup
Weekly Security Roundup
April 28 - May 4, 2012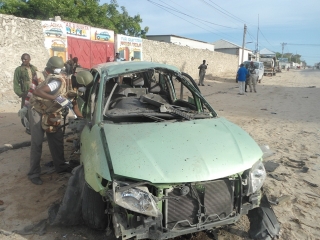 Insecurity across war-torn Somalia this week resulted in the deaths of at least 51 people and more than 53 others were injured. Incidents ranged from the killing of a foreign instructor in Puntland and lawmakers in Galgadud to al-Shabaab executing civilians to a car bomb in Mogadishu. The incidents occurred mainly in the regions of Awdal, Banadir, Gedo, Galgaduud, Mudug, Hiiraan, and Lower Jubba.
Total Casualties between April 28 - May 4, 2012
Total Deaths: 51

Total Injured: 53

Total Casualties: 104
BARI: South African Trainer Killed in Puntland
28 April, Isku-shuban - A South African instructor of a foreign security firm, Sterling Corporate Services (not Saracen as previously reported by other media), was killed during an anti-piracy operation in Isku-shuban district some 160kms east of Bosaso port city in northeastern Somalia. The deceased mentor was a trainer for Puntland Marine Police Forces and was shot dead by one of his Somali guards following a quarrel between them.
BANADIR: Man Shot Dead in Mogadishu
28 April, Mogadishu - Armed men working with al-Shabaab fighters killed a civilian in Hawl-wadaag district of Mogadishu on Saturday evening, according to witnesses. "An elder was killed near Hared Mosque and he was the local resident of the village," Ahmed Abdullahi, a local resident, told Somalia Report. The suspects came to a local café in the village and shot to death the 50 year old man man. Government police forces arrived on the scene, but the perpetrators escaped.
Hiiraan: al-Shabaab Kills Boy in Bula-Burte
28 April, Bula-Burte - The militant group of al-Shabaab executed a teenage boy in a public area of Bula-Burte, 116kms south of Beledweyne in central Somalia, on Friday afternoon. The militants alleged the teenager was spying for the Transitional Federal Government (TFG) forces based in Hiiraan region. Locals told the media that the militants disseminated information about the incident through a vehicle with microphones and loudspeakers that drove in the city.
BANADIR: Grenade Attack in a Cinema Claims Four
28 April, Mogadishu - Four people were killed and more than 11 others wounded in a grenade attack in a local cinema near Tarabunka square in Mogadishu on Saturday night. The attack occurred around 07:40pm local time and most of the victims were teenagers from IDP camps who came the video showroom for entertainment. The assailant hurled two grenades into the video showroom were the teenagers watching Indian films according to one of the teenagers who talked to Somalia Report. Most of the injured people were admitted to Banadir Hospital in Mogadishu. The mother of a victim told Somalia Report that she was at a home next to the cinema when she heard the explosion. "I ran to the cinema, because I knew my children are there and thank Allah my two boys survived while one of them got minor injuries on the right hand.
BANADIR: TFG, al-Shabaab Fight Outside Mogadishu
28 April, Mogadishu - Two people have been killed and nine others injured following a clash between government soldiers and al-Shabaab militants on the outskirts of Mogadishu on Saturday night. The fight broke out after the armed extremist fighters launched an offensive against the military forces of the TFG based in Kahda of Dharkenley district. Ahmed Abdi, an official of the Dharkenley local administration, told Somalia Report that fighters from al-Shabaab attempt to disrupt the ongoing stability in the district and insisted the government soldiers resisted the assailants.
BANADIR: Grenade Attack in Mogadishu Claims One and Injuries Four
28 April, Mogadishu - A grenade attack in Mogadishu killed one civilian and injured four others on Saturday. The victim was an engineer who was building a nearby house in the roundabout of Bakara Market. The attacker hurled the grenade to target government police forces near Bakara Market, although no casualties are reported among the forces.
BANADIR: Three Government Forces Killed in Mogadishu
29 April, Mogadishu - Three government soldiers were killed in Maana-Boolyo village in Shibis district of Mogadishu, according to witnesses. The soldiers were killed by alleged al-Shabaab fighters, while they were patrolling in the village. The bodies of the soldiers were taken to a TFG base in Fagax Junction. Local residents and officials of the TFG forces confirmed to Somalia Report that two men armed with pistols killed the soldiers and managed to escape the scene.
BANADIR: Fighting Erupts Among TFG Forces in Mogadishu
29 April, Mogadishu - A major rift broke out between TFG forces in Hodan district of Mogadishu in which one civilian was killed and five others were injured. Speaking to Somalia Report, Ahmed Abdurahman, a commander of TFG forces based in Tarabunka Square in Mogadishu, expressed his concerns about the incident. The rift comes after when some of the government troops tried to loot a humanitarian food for the internally displaced people in Hodan. The casualties were taken to local hospitals in Mogadishu.
AWDAL: Three People Killed in a Car Accident
29 April, Gabiley - Three people died and two others were wounded in a car accident in Dilla village Awdal region in northern Somalia along the road between Gabiley and Dilla in Awdal region. The injured people were taken to Gabiley local clinics.
BAKOOL: Eight Killed and Dozens Wounded
30 April, Hudur - At least eight people have been killed and 11 others were injured in a battle that broke out in the south-western region of Bakool. The clash erupted when the TFG forces backed by the Ethiopian forces were attacked by al-Shabaab militants in three different directions and the battle continued more than five hours, according to the locals.
LOWER JUBBA: Battles in Badhaadhe Leaves Five Dead
30 April, Badhaadhe - At least five people were dead and three others wounded after heavy fighting broke out between al-Shabaab and TFG forces, supported by Kenyan forces, on the outskirts of Badhaadhe district in southern Somalia. The clash came after the al-Shabaab militants attacked bases of the joint forces in Badhaadhe district, according to Raskamboni officials who spoke to Somalia Report through a telephone.
LOWER SHABELLE: al-Shabaab Executes Civilians in Afgooye
April 30, Afgooye - Al-Shabaab militants in Lower Shabelle region executed two civilians in Afgooye district of southern Somalia, residents said. The bodies were found at Afgooye district, 30kms from Mogadishu, on Monday morning. One of the bodies was found near the checkpoint of Ismael Restaurant, while the other one was slain in the center of the district, according to the residents who spoke to Somalia Report.
BANADIR: Blast in KM4 Kills Four
1 May, Mogadishu - At least four people were killed and ten others were wounded in two separate bomb blasts that rocked in Mogadishu, on Tuesday afternoon. In what appears to be a forced suicide car bomber, the perpetrators detonated a four door sedan in the strategic road that links Mogadishu's main airport and KM4 junction, which is regularly used by TFG and African Union (AMISOM) vehicles. Locals told Somalia Report the man driving the car was a well known businessman, Arafat, who sold cars to the government and was not aligned with al-Shabaab.
BANADIR: Grenade Attack in Bakara Market Claims Two
May 1 Mogadishu - Two people were killed and 10 others were injured after a grenade was thrown into a busy intersection of Bakara market on Tuesday. The victims are mainly civilians, because the attackers hurled the grenade in a very busy bus stop near market, the largest market in the capital.
GALGADUUD: Suicide Blast Kills Lawmakers in Central Somalia
May 1, Dhusamareeb - At least seven people were killed, including two MPs, one bodyguard and four civilians, while seven others were injured in a suicide bomb attack in a restaurant of a hotel in a Dhusamareeb of Central Somalia on Tuesday. The suicide targeted a lunch gathering of high ranking officials of lawmakers and politicians from the central regions of the country. Yussuf Mire Seeraar and Abdiweli Aw Mohamoud were the two lawmakers killed in the blast. The politicians were visiting central Somalia over the last days and very busy to set up a regional administration in central regions of Somalia.
HIRAAN: Government Soldier Kills a Civilian in Beledweyne
May 1, Beledweyne - TFG soldiers killed a civilian in Beledweyne in central Somalia on Tuesday evening following a quarrel. The government soldier who killed the man was not arrested and escaped the scene.
MUDUG: Radio Journalist Shot Dead in Galkayo
May 2, Galkayo - Unknown masked gunmen shot dead a Somali radio reporter in the northern city of Galkayo of Mudug region, the fifth journalist to be killed in Somalia this year alone, colleagues and police confirmed on Thursday. The journalist, Farhan Jeemis Abdulle, who worked for Radio Daljir, was gunned down late on Wednesday as he headed home shortly after leaving the radio station.
HIIRAAN: al-Shabaab Takes Control of Mataban District
May 2, Mataban - At least two civilians have been killed and five others were injured after heavy fighting between al-Shabaab militants and moderate Islamist ASWJ broke out in Mataban district of central Somalia. The victims include two al-Shabaab fighters and three ASWJ soldiers. The attack comes after al-Shabaab fighters attacked and took over control of Mataban district. Most of the residents in the district fled from the stray bullets and automatic machine guns used by the two sides.
BANADIR: Fighting in Mogadishu Claims One
May 3, Mogadishu - At least one person has been killed and one other was injured after unknown gunmen attacked a TFG base in Hamar Jadiid village of Wardhigley district in Mogadishu. The attack occurred on Thursday night, and continued for nearly two hours, according to the locals of Hamar jadiid who spoke to Somalia Report. Al-Shabaab claimed the responsibility for the attack.
BANADIR: Four Government Soldiers Killed in Mogadishu
May 3, Mogadishu - More than four government soldiers were killed in Mogadishu on Thursday evening. The victims were killed in Yaqshid, Kaaran and Shibis districts of Mogadishu and include a senior officer of the TFG forces in Mogadishu.
GALGADUUD: Two Alleged al-Shabaab Fighters Executed in Dhusa-Mareeb
May 4, Dhusa-mareeb - Two suspected al-Shabaab members were executed in Dhusa-mareeb, the provincial headquarter of Galguud region, after being accused of the suicide blast that killed two lawmakers in central Somalia by the ASWJ militia. The alleged men were in the central prison of Dhusa-mareb, although some fighters of ASWJ took them and shot them to death in the outskirts of Dhusa-mareeb, according to ASWJ officials in the region.
MUDUG: Blast in Galkayo Claims Two Lives
May 4, Galkayo - At least two civilians were killed while one other was injured after a landmine explosion occurred in southern Galkayo near the house of the Galmudug President Mohamed Ahmed Aalin on Friday afternoon, according to witnesses. The landmine exploded in the Wadajir village of Galkayo and the injured woman was admitted in the Galkayo Hospital of Mudug region.
(Editor's Note: The TFG, AMISOM, KDF, militias, al-Shabaab and other forces fighting in the country often report conflicting casualty numbers. Somalia Report assembles these weekly reports from a variety of sources and numbers may vary.)