Background
:
Weekly Security Roundup
Weekly Security Roundup
May 5 - May 11, 2012
Insecurity across different regions of Somalia this week resulted in the deaths of at least 75 people and more than 66 others were injured. Incidents ranged from the killing of a prominent al-Shabaab leader in Mogadishu and a businessman in Baidoa to the execution of a Transitional Federal Government (TFG) soldier in Garbaharey. Two men were also shot in Bosaso and a female suicide bomber blew herself up accidentally during explosives training. The incidents occurred mainly in the regions of Banaadir, Bakool, Baay, Bari, Gedo, Galgaduud, Hiiraan, Mudug and Sool.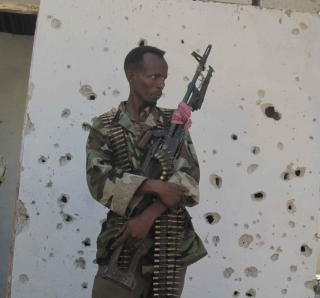 Total Casualties for the week of May 5 - May 11, 2012
Total Deaths: 75
Total Injured: 66
Total Casualties: 141
BANAADIR: TFG Claimed to Killed A Prominent al-Shabaab Leader in Mogadishu
May 5, Beletweyne – Somali National Forces shot and killed a prominent al-Shabaab leader, Abdullahi Ahmed, when he and other militants launched an attack against the TFG forces based in Warta-Nabadda district of Mogadishu. To prove the death, government officials displayed the body of the militant leader.
HIRAAN: Explosion in Beletweyne Injures One
May 5, Beletweyne – At least one civilian was slightly injured after a remote controlled explosive device exploded near the livestock market in west of Beletweyne, targeting the Ethiopian National Defense forces, according to Abdulkadir Osman Rooble, a local businessman.
BANAADIR: Al-Shabaab Attacks Government Forces
May 5, Mogadishu – At least five people including three civilians were injured after al-Shabaab fighters armed with RPG-7s and machine guns attacked government forces based in Heliwaa district. Both sides exchanged gunfire using heavy and light machine guns and the battle lasted more than 30 minutes. Local resident Abdurahman Waceys told Somalia Report that casualties were admitted to local clinics of Mogadishu.
BAAY: Al-Shabaab Launches Offensive Against Joint Forces
May 5, Qansah-Dheere – Al-Shabaab fighters launched multiple attacks against the joint forces of the Ethiopian National Defense Forces and TFG soldiers based Qansah-Dheere district some 120kms southwest of Baidao. Al-Shabaab militants started the attack while the forces were travelling between the districts of Bay Region. Both sides are claimed victories, but independent sources from the ground told Somalia Report that more than six people were killed and more than 11 others were seriously injured; most casualties were admitted to Baidao and Qansah Dheere hospitals. More than 20 individuals were detained after the forces conducted security operations.
GALGADUUD: Battle Erupts in Central Somalia, Claims 10 Lives
May 5, Elbur – 10 people died and more than five others were wounded after heavy fighting between al-Shabaab militants and moderate Islamist of ASWJ broke out on Saturday at Balli-Garasley village some 6kms from Elbur district in Galgaduud region. Abdi Hassan Mohamed, the commander of ASWJ in Elbur district, told the local media that al-Shabaab launched the attack on their bases on the outskirts of Elbur district. He claimed they killed eight al-Shabaab fighters in the field, but clinics in Central Somalia confirmed they had received eight injured fighters although three died after arriving.
HIRAAN: Al-Shabaab Attacks Shabelle Forces in Beletweyne
May 6, Beletweyne – Three Shabelle Valley Forces (SVF) supporting the TFG and two al-Shabaab fighters were injured. The fighting erupted near Buundoweyn of Beletweyne and both sides exchanged heavy and light machine gunfire. SVF casualties were admitted in local hospital at Beletweyne.
BANAADIR: Five Civilians Injured in Mogadishu
May 6, Mogadishu – Five civilians were injured after a hand grenade was hurled at Bakar Junction in Hodan District. The casualties of the grenade explosion were Khat sellers and admitted to Madina Hospital in Mogadishu according to medical officials in the hospital. No group has yet claimed responsibility for the attack.
GEDO: Government Soldier Executed in South-West Somalia
May 6, Garbaharey – A government soldier who killed another TFG soldier on Saturday was publicly executed by the TFG soldiers in Garbaharey of south-west Somalia. The military commanders and local residents confirmed this incident to Somalia Report.
HIRAAN: Deadly Battle in Hiraan Claims 8 and Injuries More
May 6, Beletweyne – Eight people were killed and more than four others were injured after fierce fighting erupted between al-Shabaab fighters and government soldiers in Beledweyne town on Sunday night. The fighting happened when the heavily armed militants attacked the pro-government Shabelle Valley Forces in Hiraan, according to Ahmed Osman, the Deputy Regional Governor of Hiraan.
BAAY: A Businessman Shot Dead in Baidao
May 06, Baidao – Unidentified gunmen armed with pistols killed a businessman in Baidao, the provincial headquarter of Bay region, witnesses said. Abdulkadir Moalim Aden, the victim, was the owner of a local restaurant in Baidao and was killed while he was in his cafetera. Government soldiers arrived on the scene, but the perpetrators escaped, according to local residents and government officials in Baidao who spoke to Somalia Report.
SOOL: A Hand Grenade in Northern Somalia Injuries Two
May 6, Boocane – An unidentified person hurled a hand grenade into a tea shop in Boocane district of Sool region in northern Somalia, injuring two people. The incident occurred while the people were watching TV in a local teashop at the district. The motive of the incident is not clear and no group claimed the responsibility of the attack.
GALGADUUD: Fighting in Central Somalia Kills Eight and Injuries Six
May 7, Elbur – Five al-Shabaab militants and three ASWJ fighters were killed when heavy fighting erupted between al-Shabaab militia ambushed an ASWJ convoy in the outskirts of Waradhuumaaleh in Galgaduud region. The fighting also claims six injuries of the rival groups. Most of the injured people were getting treatment at medical facilities in Elbur District.
BANAADIR: Immigration Officials Killed in Mogadishu
May 7, Mogadishu – Two immigration officials were shot dead in Mogadishu and another immigration security guard was injured in an attack by suspected al-Shabaab fighters armed with pistols. The incident occurred at the Airport Road of Titiinley, Buulo Hubey neighborhood of Wadajir district of the restive capital of Mogadishu. Government soldiers reached the scene, but the perpetrators escaped according to police officials in Wadjir district.
BANAADIR: A Mortar Shell Kills Eight and Injures Six More
May 7, Mogadishu – In Mogadishu, a mortal shell hit a civilian house between Digfeer Hospital and Sona-K area in Hodan District. Hospital officials and residents told Somalia Report that more than eight people died and six others were seriously injured. Most of the injured people were admitted in Madina and Banadir Hospitals in Mogadishu.
GALGADUUD: Rifts Between Clan Militias in Central Somalia Injures Two
May 7, Balanbale – Two local militia were injured after a clash erupted in a central Somalia over grazing land in parts of Balanbale district in Galgaduud region, witnesses said. Local elders told Somalia Report that elders in Balanbale are trying to end the hostilities between the clan militias.
MUDUG: Police Officers Injured Street Fighting in Galkayo
May 8, Galkayo – Four people including two police officers and other two civilians were injured in a brief street fight in the northern Galkayo, the provincial capital of Mudug region on Tuesday. The gun-battle was between Puntland police officers and militia men loyal to the West Puntland State in northern Galkayo. The clash came after militia men loyal to West Puntland State attacked police officers trying to arrest a businessman who allegedly has links with al-Shabaab militants.
BANAADIR: al-shabaab Fighter Blows Himself Up
May 8, Mogadishu – A suspected militant was killed by a remotely detonated bomb that he was allegedly burying along a road in an area between Bar-ubah junction and Black Sea junction in Mogadishu, making him a victim of his own actions.
GALGADUUD: Women Killed During al-Shabaab Suicide Training
May 8, Elbur – A young educated female and prominent al-Shabaab militant died on Tuesday afternoon in El-Abdi Dhere, some 35kms south of Elbur district in Central Somalia. Dahabo Omar (Aga Baruur) who earned a master's degree from Ugandan university died when her explosive jacket went off during suicide bomb training. Soon after the explosion ASWJ soldiers reached the scene and arrested more than six suspected men with links al-Shabaab militants. According to witnesses the six suspects were executed by ASWJ.
BAKOOL: Heavy Fighting in Hudur Leaves 20 Dead
May 9, Hudur – Fierce fighting erupted in the outskirts of south-western city of Hudur and at least 20 people have been killed while others were injured in the gun battle according to witnesses. Ahmed Mukhtar Awil, a resident in Hudur town, told Somalia Report that saw many injured victims who were admitted into local hospitals. Meanwhile a Somali lawmaker confirmed the deaths of 17 fighters of the militant group of al-Shabaab. MP Mohamud Mashru told VOA Somali service that joint forces attacked an al-Shabaab base in Aagab-Beday village near Hudur.
BAY: Islamic Relief Officer Killed in Baidao
May 9, Baidao – Unknown gunmen killed an Islamic relief officer in Baidao, the provincial headquarter of Bay region on Wednesday night. Fanah Haji Mohamud was a staff of the humanitarian organization of Islamic Relief and was shot dead by gunmen armed with pistols. No group claimed the responsibility for the attack.
BANAADIR: Landmine in Mogadishu Injuries Three
May 9, Mogadishu – At least three people including two police officers were injured after a landmine explosion occurred in the Folo-Ronso junction at the Warta-Nabadda District in Mogadishu on Wednesday, according to witnesses.
HIRAAN: Battle in Beletweyne Leaves Five Dead and Injures More
May 9, Beletweyne – At least five people were killed and many others were injured after an explosion targeted with the Ethiopian National Defense Forces occurred at the Liiqliiqato Bridge of Beletweyne town. An Ethiopian military vehicle was exploded and caused death of the Ethiopian forces. The Ethiopian forces fired back to the nearby civilians and killed five people while others were wounded.
BANAADIR: Government Soldier Executed in Mogadishu
May 9, Mogadishu – A TFG soldier was shot dead in Mogadishu after he was trying to rob the local residents in Hurwaa Distric in Mogadishu according to residents and government officials in Mogadishu. The government soldiers of Hurwaa district shot by the soldiers who was hurting the locals according to government officials in Mogadishu.
BARI: Three People Injured in Car Accident
May 10, Qardho – Three people were injured in a car accident on the outskirts of Bari region, 10km north of Qardho, according to witnesses and health officials in the town.
BANAADIR: Two Died and Six Others Injured in a Bomb Explosion
May 10, Mogadishu – At least two TFG forces died and six civilians were wounded when a remote controlled bomb exploded in Bar-ubah Junction at Hawl-wadaag District in Mogadishu. The main targets of the explosion were government forces heading to Arwa-Idka Junction.
BARI: Two Men Killed in Bosaso
May 10, Bosaso – Unknown gunmen armed with pistols killed two men in New Bosaso village in the commercial city of Bosaso in the semi-autonomous region of Puntland on Thursday afternoon. The incident occurred near the compound of Moderate Islamist Rabi'iyaha in Bosaso town. Puntland security forces reached the scene while the perpetrators escaped.
BANAADIR: Gunmen Kill Government Soldier in Mogadishu
May 11, Mogadishu - Men armed with pistols killed a TFG soldier in Yaqshid district of Mogadishu. Some of the residents in Suuq Bacaad village of Yaqshid district who spoke to Somalia Report said gunmen shot to death a government soldier in Suuq Bacaad village. Government soldiers arrived at the scene, but the murders managed to escape. Speaking an al-Shabaab run radio station, the militants claimed the responsibility for the killing.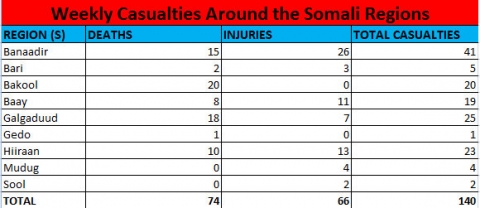 (Editor's Note: The TFG, AMISOM, KDF, militias, al-Shabaab and other forces fighting in the country often report conflicting casualty numbers. Somalia Report assembles these weekly reports from a variety of sources and numbers may vary.)