Background
:
Weekly Security Roundup
Weekly Security Roundup
May 19 - 25, 2012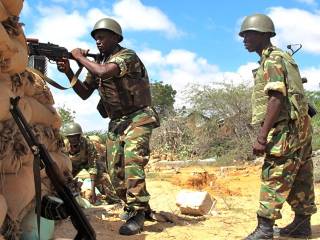 Insecurity across different regions of Somalia this week resulted in the deaths of at least 35 people and 67 others were injured. It has been a chaotic week with a return of heavy fighting between al-Shabaab and the allied forces of the African Union (AMISOM) and Somalia's Transitional Federal Government (TFG). Incidents ranged from the killing of a Turkish businessman in Mogadishu to a young al-Shabaab fighter who was shot and killed in Bakara Market to the murder of a radio journalist in Mogadishu. AMISOM and the TFG claimed to have killed militant commanders and a grenade attack in central Somalia killed two. The incidents occurred mainly in the regions of Banaadir, Baay, Galgaduud, Hiiraan, Lower Jubba, Lower Shabelle and Mudug.
Total Casualties for the week of May 19 - May 25, 2012
Total Deaths: 35
Total Injured: 67
Total Casualties: 102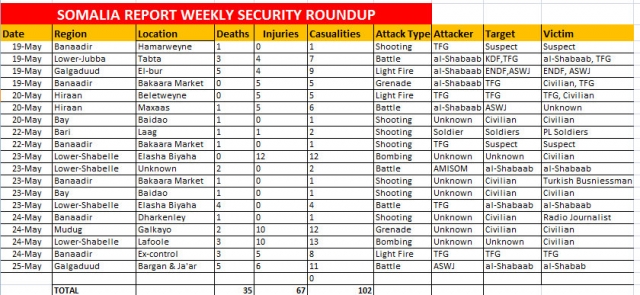 BANAADIR: TFG Soldiers Shot and Killed Suspect in Mogadishu
May 19, Mogadishu – Soldiers from the TFG shot and killed a gunman in Hamarweyne district in Mogadishu, witnesses and residents said. The victim was wearing at TFG uniform, but was confirmed to be a civilian bandit in Mogadishu trying to mug the locals in the streets of Mogadishu, according to police officials and residents in Hamarweyne market.
LOWER-JUBBA: Al-Shabaab Attacked KDF and TFG Forces
May 19, Tabta – At least three people have been killed and three others were injured in mortar and hit and run attacks on the outskirts of Tabta in the Lower Jubba region of Somalia. The casualties came after al-Shabaab militants attacked KDF and TFG bases near Qoqani, according to residents and TFG officials in Tabta village.
GALGADUUD: Fighting in Central Somalia Left Five Dead
May 19, El-bur – Heavy fighting in central Somalia resulted in the deaths of five people and four others were injured. The fighting broke out between ASWJ fighters allied with the Ethiopian National Defense Forces (ENDF) and al-Shabaab militants between Wabxo and El-bur district after al-Shabaab attacked ENDF and ASWJ convoys in the area. Ahmed Moalim Abdi and ASWJ official told Somalia Report that al-Shabaab launched the attack.
BANAADIR: Six People Injured in Twin Grenade Attacks
May 19, Mogadishu – Six TFG forces and local residents were injured in a twin grenade attacks in Mogadishu witnesses said. The attack occurred in Bakara Market, Mogadishu's largest economic hub, and came after unknown perpetrators hurled grenades at TFG forces conducting security operations in the market. Most of the casualties were admitted to Madina Hospital to get medical treatment. The Banaadir Police Department said they have conducted security operations after the incident and detained more than 45 suspects.
HIRAAN: Five People Injured in Central Somalia
May 20, Beletweyne – At least five TFG forces and locals were injured in Beletweyne, the provincial headquarters of Hiraan region in central Somalia, witnesses said. The casualties came after TFG forces clashed over taxes in the Buundaweyn Market in Beletweyne. Ahmed Mohamud Yussuf police commander in Beletweyne told Somalia Report that the forces were taking illegal tax cuts from the locals, causing the fighting. The casualty included an old woman who lost one of her limbs in the light battle between the TFG forces.
HIRAAN: Five People Injured in Maxaas Clash
May 20, Maxaas – At least five people were injured after fierce fighting between TFG forces and al-Shabaab broke out In Adimo village some 16kms from Maxaas district of Hiraan region in central Somalia. Maxaas residents confirmed the incident to Somalia Report and said they have seen the bodies of al-Shabaab fighters at the scene.
BAY: Gunmen Kill Famous Traditional Elder in Baidao
May 20, Baidao – A famous Somali elder was killed by unidentified gunmen on Sunday in Bay's Baidao town in the south-western Somalia, city residents and TFG officials said. Malaaq Abdoow Yoonis was killed by two perpetrators armed with pistols in the Uunaay village of Baidao according to residents and TFG officials who spoke to the media. ENDF forces arrived at the scene and detained many suspects, but the assailants escaped.
BANAADIR:TFG Forces Shot Al-Shabaab Fighter in Mogadishu
May 22, Mogadishu – TFG forces shot and killed a young al-Shabaab fighter armed with grenades in Bakara Market, the main economic hub of Mogadishu, according the local and police commanders of Banaadir region. The body of the victim was displayed by the government forces who said they killed the fighter after he refused orders to stop, according to Gen Abdullahi Hassan Bariise, the commander of Criminal Investigation Department (CID)
BARI: Puntland Soldier Killed Fellow Soldier
May 22, Laag – At least one soldier from the Puntland Security forces died and another was injured after a fellow soldier opened fire on a group of soldiers in Laag village, some 30kms south of Bosaso, Tuesday afternoon witnesses and officials told Somalia Report. The incident came after when a group of Puntland's Security forces in Laag were Chewing khat (a narcotic plant) in Laag village one of their fellow soldier opened fire killing one and injuring another soldier.
LOWER SHABELLE: 12 People Injured in IDP Camps
May 23, Elasha Biyaha – 12 Internally Displaced People (IDPs) have been wounded on Wednesday in a mortar attacks in the IDP camps in Elasha Biyaha, residents and medical officials said. The victims were affected by mortar attacks between al-Shabaab fighters and the allied forces of AMISOM and TFG. The allied forces launched an offensive against al-Shabaab's presence in the Lower Shabelle, one of the two neighbouring regions of the capital.
LOWER SHABELLE: AMISOM Claimed to Have Killed Al-Shabaab Commanders
May 23, Mogadishu – African Union Forces in Mogadishu have claimed to have killed two al-Shabaab senior commanders on Wednesday. AMISOM released a press release but they did not mention the names of the senior al-Shabaab commanders they killed in a security operation between Mogadishu and Afgooye.
BANAADIR: Gunmen Kill Turkish Businessman in Mogadishu
May 23, Mogadishu – Unknown armed men with pistols killed a Turkish citizen in Mogadishu on Wednesday night, security officials and residents said. The victim who was identified as a Turkish businessman died after unknown perpetrators opened fire on him in a hotel in Bakara Market. The assailants escaped the scene before the arrival of security elements. No group has claimed the motive of the attack, although Ahmed Hassan Maalin, the commander of Banaadir's Police forces blamed al-Shabaab were behind the attack.
LOWER SHABELLE: Al-Shabaab Claimed to Have Killed AMISOM Soldier
May 23, Elasha Biyaha – The militant group al-Shabaab claimed on Wednesday they have killed an AMISOM soldier in fighting against AMISOM and the TFG. Sources in Elasha Biyaha told Somalia Report they saw the body of the AMISOM soldier around a Elasha Biyaha residence. Many residents attended the viewing, although AMISOM forces did not comment about this issue.
BAY: Gunmen Murdered Businessman in Baidao
May 23, Baidao – Unknown gunmen shot and killed a prominent businessperson in Baidao on Wednesday night residents and TFG officials said. The victim, Siidow Dheere, was killed by masked gunmen with pistols according to Maadey Abdulkadir, a businessman in Baidao who spoke to Somalia Report on this matter. Security agents arrived on the scene, although the perpetrators escaped earlier.
LOWER SHABELLE: TFG Claimed to Have Killed Al-Shabaab Fighters
May 23, Elasha Biyaha – Somali National Troops have claimed that they killed four al-Shabaab commanders during Wednesday's massive offensive against the militants. Speaking to the local media, Colonel Abdullahi Ali Hurdaaye, a TFG commander, said that they have killed the fighters during the battle between al-Shabaab and allied forces near Elasha Biyaha. Al-Shabaab did not comment on the incident.
BANAADIR: Radio Journalist Gunned Down in Mogadishu
May 24, Mogadishu – A local radio journalist was shot and killed in Mogadishu making him the sixth journalist killed in Somalia since January 2012. Ahmed Addow Anshur who worked Shabelle Media Network was murdered by four gunmen with pistols in Dharkenley district on Wednesday. The motive of the attack is yet unknown and the perpetrators escaped the scene.
MUDUG: Grenade Attack in Galkayo Killed Two and Injured 10
May 24, Galkayo – At least two people died and 10 others were critically wounded after a grenade attack rocked Galkayo city on Thursday night, residents and security officials said. The attack occurred in Israac village near the Salama mosque after unknown assailants hurled grenades. Most of the victims were admitted to the GMC clinic. No group has so far claimed responsibility.
LOWER-SHABELLE: Mortar Attacks Killed Four and Injured Nine
May 24, Lafoole – At least four people have been killed and nine others were wounded in mortar attacks in an IDP camp between Lafoole and Afgooye in Lower Shabelle, region residents and witnesses said. Ahmed Abdullahi, a resident who spoke to Somalia Report, said two mortar attacks hit IDP camp and the injured people were admitted to Afgooye local clinics.
BANAADIR: TFG Soldiers Clashed in Mogadishu
May 24, Mogadishu – Three government soldiers were killed and five others were wounded after clashes between the forces erupted near Ex-Control Afgooye in the neighborhoods of Mogadishu. The clash came after the launch of the African Union and TFG forces offensive against al-Shabaab militants and created fear and among the TFG soldiers, according to Mohamed Abdi TFG commander in Ex-Control checkpoint.
GALGADUUD: Battle in Central Somalia Killed Five
May 25, El-bur – At least five al-Shabaab militants have been killed and dozens were injured on Friday after heavy fighting between al-Shabaab and ASWJ fighters erupted in Bargan and Ja'ar villages in Galgaduud region. Mohamed Abdi, a commander of ASWJ fighters based in El-bur district, told Somalia Report that his warriors seized armed vehicles and light weapons from the militants.
(Editor's Note: The TFG, AMISOM, KDF, ENDF, ASWJ, various militias, al-Shabaab and other forces fighting in the country often report conflicting casualty numbers. Somalia Report assembles these weekly incidents from a variety of sources and numbers may vary.)