Background
:
Weekly Security Roundup
Weekly Security Roundup
May 26 - June 1, 2012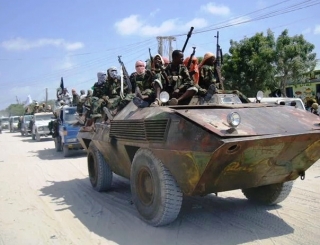 Insecurity across different regions of Somalia this week resulted in the deaths of at least 26 people and 42 others were injured. It has been a week of car accidents with more than 8 killed and 20 others injured. Other incidents ranged from the killing of a young al-Shabaab suspect in Mogadishu to a serious ambush of an AMISOM and TFG convoy with the Somali President resulting in the death of at least one TFG soldier. Other incidents included the murder of a traditional elder in central Somalia and the body of an Ethiopian refugee was found near a small lake in Tog-wajale district. The incidents occurred mainly in the regions of Awdal, Banaadir, Bari, Baay, Bakool, Galgaduud, Gedo Hiiraan, Lower Jubba, Lower Shabelle and Mudug.
Total Casualties for the week of May 26 - June 1, 2012
Total Deaths: 26
Total Injured: 42
Total Casualties: 68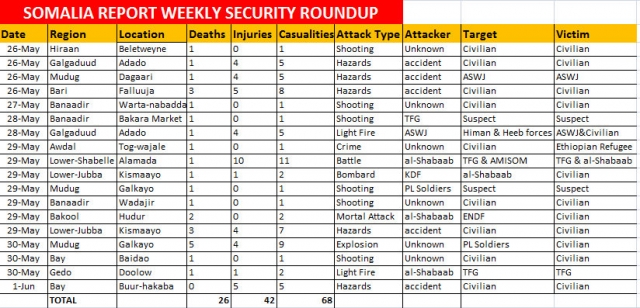 HIRAAN: Gunmen Shot and Killed Traditional Elder in Central Somalia
May 26, Beletweyne – Unknown gunmen with pistols shot and killed a traditional elder in central Somalia on Friday night, according to government officials and witnesses. The victim, Aden Mohamed Ishaaq, was heading to his house after he left the mosque after evening prayers. The culprits escaped as the security forces arrived later.
GALGADUUD: One Dead, 4 Hurt in Car Accident
May 26, Adado – One person has died and at least four others were seriously injured following a car accident near Adado district of Central Somalia, according to Himan & Heeb official and locals in the town. The accident occurred between Godinlabe and Adado districts. The victims included the minister of interior of Himan & Heeb administration in Adado town. The injured people were admitted in local clinics in the town.
MUDUG: Former ASWJ Leader Perishes in Car Accident
May 26, Galkayo – Shiekh Omar Sheikh Mohamed Farah, the former leader of a moderate Islamist group ASWJ, died and other four ASWJ members were injured in a car accident in central Somalia. The leader who was seriously injured the accident was in a hospital in Galkayo when he died. The crash occurred while he was travelling between Dagaari and Galkayo of Mudug region.
BARI: Car Accident in Northern Somalia Killed Three
May 26, Falluuja – At least three people have died and five others were critically injured in a car accident in Falluuja village of Bari region, according to Puntland's Bari local administration and medical officials. Ahmed Osman Yussuf, a medical official of Bosaso General Hospital, told Somalia Report that the victims were admitted in the hospital for medical treatment.
BANAADIR: Gunmen Killed Famous Elder in Mogadishu
May 27, Mogadishu – A famous elder of a local village in of Mogadishu was shot and killed by unknown gunmen, according to witnesses and government officials. The victim, Nur Hashi, was a prominent elder and the chairman of Barwaaqo village in the Warta-nabadda district. He was killed while he was heading to his house on Sunday evening.
BANAADIR: TFG Soldiers Shot and Killed Suspect in Mogadishu
May 28, Mogadishu – TFG forces shot and killed a young man suspected to be an al-Shabaab militant fighter in Bakara Market on Monday afternoon, according to government officials. The commanders of police forces of Banadir region and the head of the criminal investigation department, Gen. Abdulahhio Hassan Barise, said the young boy tried to escape with a bag full of hand grenades when the forces shot him; later his body was displayed the local media.
GALGADUUD: Battle in Central Somalia Left One Dead
May 28, Adado – One person died and another four other were wounded after ASWJ fighters loyal to Himan & Heeb administration fought with a local militia in Adado town, according witnesses and residents. The battle came after ASWJ fighters clashed with the local militias over the control of a checkpoint in the outskirts of the town. A local woman was critically injured in the fighting and receiving her medical treatments in a local clinic in Adado town.
LOWER SHABELLE: Al-Shabaab Ambushed Convoy with Somali President
May 29, Elasha Biyaha - One TFG soldier was killed while other 10 people were injured after al-Shabaab militants ambushed a TFG and AMISOM convoy carrying TFG President Sharif Sheikh Ahmed between Elasha-biyaha and Alamada of Lower Shabelle region. The president was touring in the liberated zones of Elasha-biyaha, Lafoole, Alamada and Afgoye. Mohamed Hussein Awliyo, ASWJ Spokesperson based in Europe, was injured in the ambush.
AWDAL: Ethiopian Refugee Killed in Northern Somalia
May 29, Tog-Wajale – Residents in Tog-wajaalle district of Awdal region confirmed that an Ethiopian refugee was killed on Tuesday, according to locals and Somaliland officials. Mukhtaar Ege, one of the local residents, told Somalia Report that the body was discovered in a small lake near the district. It is not known who was behind the murder.
LOWER-JUBBA: Kenyan Warships Shelled Kismayo, Killing One Civilian
May 29, Kismayo – One civilian was killed and other one was injured in Daw-dhanaan's neighborhood of Kismayo after shells from Kenyan warships hit the provincial headquarters of Lower Jubba region, according to residents and al-Shabaab officials. The port town city is the last major rebel stronghold in the southern Somalia. Al-Shabaab officials confirmed to Somalia Report they had exchanged gunfire with foreign warships in the coast of the town, and the foreign warships returned gun fire killing one civilian and injuring another one.
BAKOOL: Al-Shabaab Shelled ENDF Bases on Outskirts of Hudur
29 May, Hudur – One civilian was slightly injured after al-Shabaab militants has fired mortar shells at an Ethiopian National Defense Forces (ENDF) base on the outskirts of Hudur, the provincial headquarters of Bakool region in the south-western Somalia. The ENDF conducted a security operation immediately and arrested 20 locals, according Mohamed Abdi TFG official in Bakool region.
MUDUG: Puntland Forces Shot and Killed Suspect in Northern Galkayo
May 29, Galkayo – Local security forces in Galkayo's northern section of Puntland shot and killed a suspect handling a Remote Controlled Explosive Device (RCED) on Tuesday night, according to residents and Puntland officials in the city. The local forces confirmed the killing and said the suspect was planning to put explosive device on a public road, although one suspect escaped.
BANAADIR: Taxi Driver Murdered in Mogadishu
May 29, Mogadishu – A prominent taxi driver and a resident of a Nasteho village in Wadajir district of Mogadishu was killed by unknown gunmen armed with pistols, according to the district local administration. The victim, Osman Ali Makaran, was a very familiar man in the village. The motive is not yet clear and the culprits managed to escape from the scene.
LOWER-JUBBA: Car Accident in Kismayo Killed Three
May 29, Kismayo – At least three people have died and four others were injured in a car accident in the port city of Kismayo according locals and witnesses. Mohamed Yassin Kismayo resident told Somalia Report that the accident has occurred the Golol Junction in the Farjano village. The victims were admitted to local clinics.
MUDUG: Roadside Bomb in Galkayo Killed Four
May 30, Galkayo – Four people were killed and seven others, including Puntland security forces, were injured when a remote controlled bomb went off near Ala-amin IDP camp in Garsoor village of the northern Galkayo. The injured people were admitted in local hospitals for treatment.
BAY: Former National Football Player Injured in Baidao
May 30, Baidao – Unknown gunmen shot and injured a former national football player in Baidao the provincial headquarters of Bay region, according to witnesses and government officials. Ali Shambow played with Somali National Football Team in 1980's and was injured in the Isha Baydhabo village after he completed his evening prayers and was heading to his home.
GEDO: Al-Shabaab Killed Government Soldier
May 30, Doolow – Al-Shabaab fighters murdered a government soldier and injured another near Doolow district of Gedo region in southwestern Somalia. The attack occurred Geed-weyne village near Doolow district, according to TFG officials who spoke to Somalia Report.
BAY: Five People Seriously Injured in Car Accident
May 30, Buur-hakaba – At least five people were injured in a grisly car accident between Wanla-weyn and Buur-hakaba districts in southern Somalia, according to locals. The victims were injured while they were travelling between Baidao and Mogadishu and their lorry vehicle crashed near Buur-hakaba district of Bay region.
(Editor's Note: The TFG, AMISOM, KDF, ENDF, ASWJ, various militias, al-Shabaab and other forces fighting in the country often report conflicting casualty numbers. Somalia Report assembles these weekly incidents from a variety of sources and numbers may vary.)