Feature
What is Bandar Beyla?
Somalia Report Visits Fishing Village and Former Pirate Haven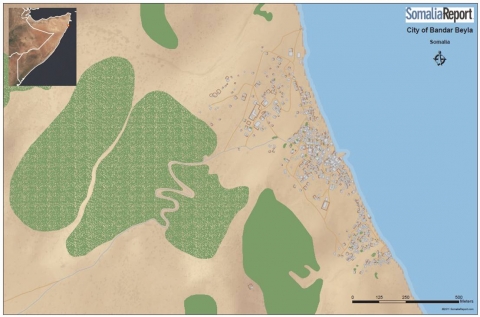 To learn more about the Somali coastal fishing village of Bandar Beyla*, known as a popular pirate hub, Somalia Report sent our correspondent there to speak to the locals, listen to their concerns, and understand their culture. This is his Part One of his story. Part Two will cover the pirate phenomenon and a sit down interview with the mayor of Bandar Beyla.
Report on the Beyla District of Puntland
The road between the port city of Bosaso and the district of Bandar Beyla, both located in the Bari region of Puntland, stretches 450 kilometers through areas notorious for pirates and clan violence. Somalia Report set out with the mayor of Bandar Beyla to meet the non-governmental organizations (NGOs) and community members seeking to turn around a community which has previously been dependent on piracy. Despite encountering checkpoints set up by armed militias along the route from Gardo district, we arrived safely in Beyla on the first of May.
Beyla District
Beyla is an old town along the Indian Ocean coast, known as Beyla or Bander Beyla. In 1962, the districts of Bandar Beyla and Garowe were designated by then-President Abdi Rashid Sharmarke, who was born in Beyla, and the last estimate of the local population in 1974 was 54,000. There are more than nine Somali villages around the district, mostly along the coast. Beyla is mountainous with old buildings, although international NGOs have built two education centers, one health center and a Beyla fishing company has been created. The Beyla region is largely dependent on fishing, while a small number have rural farms. The district of Beyla regularly trades with Yemen, and Somalia Report counted six Yemeni fishing boats on Beyla's seashore.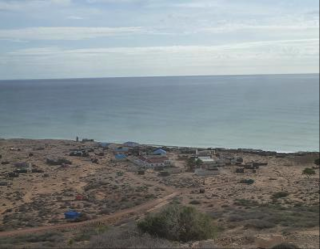 The local residents were very welcoming of me and my cameraman. There are several local NGOs that function without funding from the Somali government, UN agencies or international NGOs in Puntland. The district doesn't have electricity and is dark at night. Some businesses get electricity from two small private companies with their own generators, but this is only available from 6 to 9pm. UNICEF donated an electric generator to the district last year, but it has been damaged.
Local residents told Somalia Report that Beyla is peaceful, and I never saw any disturbances requiring police during my visit. There are no police station or even a jail, but there is a local government compound with four offices, including the mayor's office, a meeting hall for the local council, and offices for clubs for local youth and womens' associations.
Elder Abdulahi Hassan said most of the families in Beyla are poor, and facing such difficulties such as decrease in the fish stocks, the effects of piracy and a lack of government support. Nonetheless, he told Somalia Report that Beyla district has a good administration and community co-operation has improved since 1998, and asked the Somali Transitional Federal Government (TFG) to establish police and funds to establish security throughout Beyla.
Keeping Traditions and Culture Alive
While most Somali people in the interior of the country are losing much of their traditional arts, culture and literature, the community in Beyla have managed to preserve some of the traditions and culture of Somalia, and this is believed to be part of why the district is peaceful without police.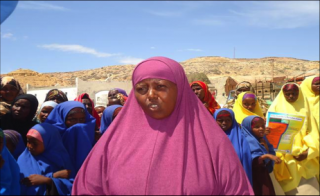 They are excellent hosts, generous towards their guests in every manner, and regularly arrange ceremonies about Somali tradition to welcome every delegation who visit them. The women in Beyla play an important role in establishing peace, small developments on protecting the environment and motivating the community against piracy. They perform a Somali traditional comedy dance called 'Jaan Dheer'. Men and women play together and also there are songs which talk about current situations.
All people in the district, men and women, young and old, come together on the beach of Beyla each Friday night where talented groups compete to create new songs about local developments or problems. As some of them told Somalia Report, many songs have been written about the effects of piracy, which have resulted in kicking the pirates out of the district and convincing a number of the local youth to stop piracy and returned to fishing.
Johra Sa'id, the chairwoman of the Bandar Beyla Womens Organization, said women are often victimized, because dozens of mothers and wives are missing their sons and husbands, of whom all that is known is that they went fishing. Johra Sa'id told Somalia Report that the mothers and wives of those lost have created traditional songs which demonstrate how piracy has impacted the community, especially women.
"The aim of performing such traditional dances with songs is to keep our young generation within our traditional Somali culture, and it all that we can do now, so we are very happy to continue awareness each week without any support from the government and other institutions. However, we are looking forward to continuing our program so as to save our future and generation," said Johra.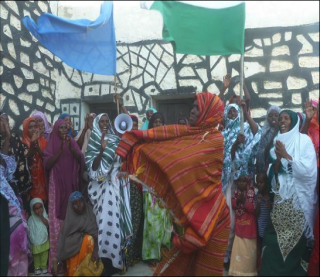 The main objective of this weekly traditional program:
1. To inform the community of damages of piracy and to isolate the pirates

2. To forget clan violence and co-operate towards peace-building

3. To keep young ladies from the pirates, to not allow the pirates any friends in the community

4. Entertainment

5. Provide messages against the pirates and encourage fishing
The lyrics to one of the traditional songs says:
Piracy is not good
And it isn't suitable for you
So don't destroy my dream
Don't lose the time I have been teaching you
What I need for you is to become president, not to be a pirate
Don't make me cry and don't put yourself in a dark place!
That traditional song was written by a mother, Hamdiya, warning her son after she felt his passion towards piracy.
Women developing projects
The Bandar Beyla Womens Organization Center was funded by local NGO DIAKONIA and implemented by WAWA in 2004. 258 female students are learning different subjects in that center and another 60 pupils, including men and women, are receiving basic education from the Womens' center in Beyla.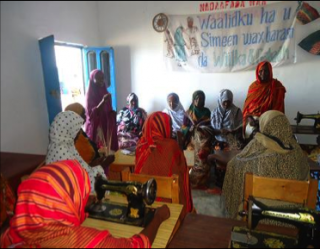 Mahado Adam Yousof, Manager of the Beyla Womens Center, told Somalia Report that the organization had been founded by Mama Fatma in 1993, but she had died one year later. In 2004, the center was re-opened by WAWA and DIAKONIA. Mahado pointed out that over the last five years, they have not received any kind of support from UN agencies, the TFG government or international NGOs. Local women in Beyla decided on a new plan of activity for that organization and the center, and survive on contributions by local women until they can find external support.
Mahado said that nine teachers are working for the center now as volunteers, adding that the center is very important for local women, young and old, because they are trained in different skills to help their poor families, and other women are benefiting from basic courses such as in the writing and reading of the Somali language as well as math. Mahado asked the Puntland government and other agencies and NGOs to help these women. Somalia Report visited some classes during the skill training period. One trainee told me that they don't pay any fees to the center, but that they make some contributions each month as to maintain the center.
Asha Farah is one of the students, and she told me that it is the only womens' place in the district, and it is also one of the most important educational sources in the district. She said that they don't have a market to sell what they produce in their skill-training, and that they would like to have some business opportunity. They are trained to make traditional clothes, housing elements and other useful things. When they produce such things they take mostly to their houses and some others bring to business shops in Beyla and Isku-shuban Districts.
IDPs and Infrastructure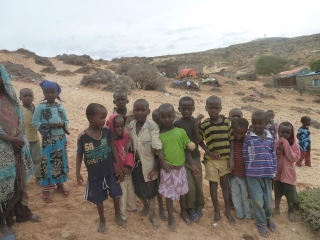 At least 250 families who were displaced from other regions in Somalia are living now in old buildings in the Beyla District. 57 of those IDP families fled from the Somalia capital of Mogadishu between 2004-2008, and another 150 families were evacuated from far villages in the Bari Region affected by droughts by the local youth organization Il-Barwaaqo.
Il-Barwaaqo is one of the most active organizations in Bandar-Beyla and founded by the local youth in 2006. Members of Il-Barwaqo say it is leading the community towards co-operation. Il-Barwaqo doesn't have any international NGOs as partners or funding from other agencies. Abdi Kader, the vice-chairman of Il-Barwaaqo, told Somalia Report that they have campaigned to get help for the IDPs, saying "we began our mission of community contribution towards helping the IDPs in the Mosques inside of the villages, amongst the owners of fishing boats and the small business places in the district."
Local residents told Somalia Report that Save the Children is the only international NGO that has an office and officials operating in Beyla. The World Food Programme has been coordinating a feeding project through a local Puntland NGO, HADO.
The administration and community of Beyla have worked on rebuilding of the local road and acquired funded by IOM on earlier this year. A member of the district council, Hussein Abdulahi, told Somalia Report that the mayor has spent much effort to acquire support for the road-building project.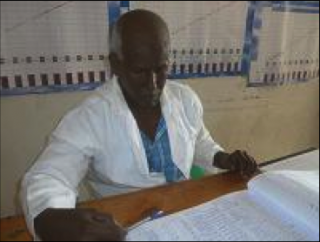 Bandar Beyla has good water sources, and a number of local houses use water pipes, while other locals get water from nine water wells inside the town. The district has one medical centre (MCH), which connects to another seven health centers in the far villages and rural areas such as: Durdura, Bihin, Qoton, Carris, Dhuudo and other villages which surround the Beyla area.
Beyla MCH Director Dr. Osman Omar Ahmed, nicknamed 'Dr. Alluula,' Somalia Report that UNICEF opened the MCH in 2006, and that MCH has support from both UNICEF and Save the Children, which enables MCH to operate for free. Dr. Alluula is the only doctor operating in the MCH and hospital of Bandar Beyla district. There are a number of health nurses are inside the district and other villages, each nurse gets a monthly salary of $90 from Save The Children. He added that women and children have been affected by malnutrition and starvation resulting from recent droughts, but are now receiving health care and feeding in the MCH, although serious cases are transferred to the hospital in Gardo.
The MCH is used to hold health meetings and training of the local health. While there are those wounded from piracy, there are also women and children suffering from malaria and other ailments, mostly from rural areas such as the small village of Caris, which is at least 25km along the Indian Ocean coast from Beyla.
Education in Beyla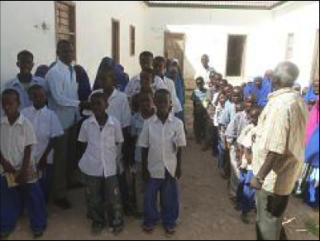 Bandar Beyla has two schools. The first is Al-Rashid Primary School, which consists of six classrooms and one office. It is an old school which was built in 1975 by the former Somali central government of Said Barre. Second, Beyla intermediate school was established and built only recently.
The manager of al-Rashid primary school, Morsal Ahmed Mohamod, told Somalia Report that Save the Children pays the salaries of the teachers at a rate of $50 each month, which isn't enough; the total number of teachers is eight, with six of those being men and two being women.
WFP supplies the students in both schools with food, providing breakfast to nearly 300 students everyday.
(*Editor's Note: Bender Beyla is spelled a variety of ways: Bandarbeyla, Bandar Baila, or just Beyla. For more in our "What is...?" series, please see What is Galmudug? What is the Galgala Conflict?)