Exclusive
What is Alpha Group?
Somalia's Special Forces Operating in Mogadishu
As part of Somalia Report's "What is" series, we investigated Somalia's Alpha Group, a highly trained and specialized unit of the Somali National Army, that operates out of a base within Mogadishu's international airport.

Over the last two years Somalia's Transitional Federal Government (TFG) and its foreign counterparts have been training the Alpha Group, an elite unit of Somalia's national security forces capable of responding to any security crisis in the capital of Mogadishu.
Credible sources in the government told Somalia Report that Somali President Sharif Sheikh Ahmed was behind the idea of creation of this elite unit to beef up the capability of the police and military units in responding to emergency situations, aid the police in special operations and investigations into areas abandoned by the al-Shabaab fighters, and to protect the security of the foreign diplomats coming to the capital.
Some of the 300 forces who are former al-Shabaab fighters can identify the remnants of militants in the areas of Elasha Biyaha, Bakara Market or throughout the capital. Many of its soldiers are also reported to be former Islamists or members of the Islamic Union courts (IUC) and also include some former Somalia's national armed forces with insight into the people of the city.
"The Somali government is moving slowly to recruit special security forces including former al-Shabaab defectors as well as some former Islamist members who were part of Islamic Courts Union's (ICU)," said a former Hisbul Islam fighter who asked to be remained unnamed.
Alpha Group, a well-organized unit based near Aden Adde International Airport, operate to a higher standard and exhibit better discipline than other government soldiers who are often accused of looting the locals. They have sophisticated equipment and their faces remain covered when conducting operations in the capital.
Source close to this Unit told Somalia Report that these forces receive a regular salary from a US government-contracted security company in Mogadishu, although the name of the company remains confidential. Ahmed Mo'alin Fiqi, the director of the Somali National Security Agency, manages the salary of this unit with the consultation of the concerned parties like including the president.
The elite unit also carries out operations involving the detonation and removal of explosives, and searching for weapons and remnants of the al-Shabab fighters in those areas seized by the TFG. After the TFG forces seize land from the al-Shabaab, Alpha Group soldiers step in to ensure the area is safe for residents to return.
In keeping with their secret nature, their commanders are only known to the top officials, but not to regular TFG army officers. They operate without the support of any other TFG forces, and haven't been part of the street fights with the al-Shabaab militia.
These forces were first seen in Mogadishu when United Nations Secretary-General Ban Ki-Moon visited Somalia's capital on December 9th, 2011. When Ban Ki-Moon visited Mogadishu, all major roads in Mogadishu were closed, and many Alpha Group soldiers were seen securing the streets.
Earlier this month, Alpha Group accompanied a delegation led by the head of the Somali police force, Sheriff Sheikuna Maye, and the head of TFG military, General Abdikadir Sheik Ali Dini to Afgoye after it was seized by allied forces. During the operations in Afgoye, Alpha Group arrested many people who were linked with al-Shabaab militia were captured.
Previously the Alpha Group secured the capital during the London Conference in February of this year and during the visit of Turkish Prime Minister Recep Tayyip Erdogan on August 19, 2011.
Ahmed Jamaal, a Somalia police officer who spoke to Somalia Report, confirmed the existence of the Alpha Group saying that they are part of the Somalia national army.
"The Alpha forces do exist, and it is one of the projects the government has undertaken to ensure security is achieved throughout the country. They are working hand in hand with the security forces. The Alpha forces are neither foreign forces nor were they established to harm the citizens, but they are fellow Somalis who are there to protect the people from those factions that would sabotage the peace," Jamaal said.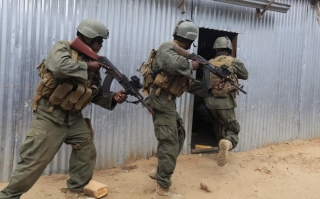 Somalia Report spoke to several local residents in Mogadishu to get their impressions of Alpha Group.
Hassan Farale, a teacher and resident of Hamar Wayne, said the local residents appreciate these forces.
"They are more disciplined and they carry out their duties well. Everyone wants peace and security, so as to reach their goals. This force is working towards achieving that goal, and generally people are happy to see these forces at work. The TFG should make the whole of Somali national forces operate like this special unit. If they are equipped and given enough salary, they can do a lot to bring peace in the country," said the teacher.
"When the Alpha Group is on duty, they don't allow people to approach them and disturb them from their operations. They point guns at those they capture, especially the boys and they immediately instruct the captives to remove their shirts or t-shirts and wrap those around their eyes, and then take them for investigations and questioning," he added.
"They are about 300 soldiers and they are of Somali origin. Most of the people will tell you they are not Somali, but they are definitely Somali. They communicate with each other in Somali language, and during operations they communicate with locals in Somali. They are well-armed and trained. They are feared by civilians and don't intermingle with them, and they are only seen when there is an operation in an area," Hassan told Somalia Report.
Sayyid Adnan, a local resident of KM4, said sometimes the group dresses in civilian clothes but still covers their faces, creating confusion for locals.
"The Alpha forces resemble al-Shabaab in their mode of dress, and many civilians confuse these forces with al-Shabaab militia, who are notorious for covering their faces and are also heavily armed. The only observable difference between the al-Shabaab forces which were ousted out from Mogadishu, and the Alpha Group forces that were recently established, is the color of their masks and the wearing of black sunglasses. Al-Shabaab wear black scarves over their faces, whereas the Alpha Group force wear light-grey scarves, spectacles and heavy helmets. No parts of their body are visible. They are covered with a uniform and even gloves," Sayyid said.
Halima Sadiya, a resident of Hamar Wayne, described their operations in his area.
"The Alpha Group forces are present in Mogadishu. Initially, we didn't know who they were. I thought they are part of the foreign armies. They dress in similar uniforms and are all well armed. When foreign dignitaries visit, they are seen moving in groups of about 15. These forces are very different from the other TFG forces and don't behave like other Somali forces," she told Somalia Report.
Editor's Note: For more in our "What is...?" series, please see:
What is Galmudug?
What is the Galgala Conflict?
What is Bandar Beyla?