Weekly Security Roundup
June 09 - 15, 2012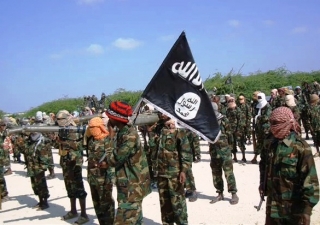 Insecurity across different regions of Somalia this week resulted in the deaths of at least 26 people and 24 others were injured. The incidents ranged from the killing of businessmen in both Bakool and Hiiraan to a young teenage boy who was shot and killed in Mogadishu to the murder of a TFG official in Mogadishu. Unknown gunmen shot and injured local judge in Hargeisa, al-Shabaab militants executed locals in central Somalia, Two locals were injured in a mine explosion in Hargeisa and ASWJ claimed victory over al-Shabaab and killed more fighters in South-western Somalia.The incidents occurred mainly in the regions of Bakool, Banadir, Bay, Galgadud, Gedo, Hiraan, Lower Jubba, Lower-Shabelle, Mudug and Waqooyi-Galbeed.
Total casualties for the week of June 09-15, 2012
Total Deaths: 26
Total Injured: 24
Total Casualties: 50

BAY: Al-Shabaab Battles TFG in Southwestern Somalia
June 10, Qansah-dhere – Four people have been killed and three others were injured after a fierce battle rocked the outskirts of Qansah-dhere district of Bay region according to TFG officials and locals. Aden, one of the TFG commanders, claimed they have killed many al-Shabaab fighters in the battle. Locals confirmed that al-Shabaab militants launched the attack.
SOOL: Gunmen Shot Two Civilian in Northern Somalia
June 10, Mogadishu – Two people were killed on Sunday evening in the village of Karin Dabeyl-weyn, on the outskirts of Las-anod, the provincial headquarters of Sool region, witnesses and locals said. Gunmen fired at the victims shuttle bus. The bandits ambushed the vehicle carrying the passengers travelling to Galkayo and killed two passengers.
GALGADUUD: Al-Shabaab Execute Locals in El-bur
June 10, El-bur – The bodies of two locals who were believed to be executed by al-Shabaab militants in central Somalia were discovered in El-bur district of Galgaduud region, witnesses and locals said. Al-Shabaab militants were believed to have executed the victims after they were accused of having links with ASWJ and Ethiopian Defence Forces who left the district in the beginning of this week.
WAQOOYI-GALBEED: Gunmen Shot and Injured Judge in Northern Somalia
June 11, Hargeysa - Unknown gunmen shot and injured a court judge in northern Somali town of Hargeisa, the provincial of headquarters of Waqooti-galbeed region, according to Somaliland officials and locals. A group of armed culprits attacked the judge, Abdirashid Duran, while on his way to a mosque in a New Hargeisa village to attend morning prayer. The motive of the attack is not clear yet, and the perpetrators fled from the scene before the security forces arrived the scene.
HIRAAN: Gunmen Shot and Killed Businessman in Central Somalia
June 11, Beledweyn – Gunmen with pistols shot and killed a businessman in central Somalia, TFG officials and locals told Somalia Report. The victim, Abdi Ibrahim Idiris, was killed in Hawlwadaag village in Beledweyn. TFG security forces in Beledweyn arrested severl locals, but the culprits fled from the scene.
LOWER-JUBBA: Al-Shabaab Launched Attack Against Allied Forces
June 12, Qoqani – Three people died and two others were critically injured after heavy fighting between TFG forces and al-Shabaab fighters broke out on the outskirts of Qoqani in Lower-Jubba region according to TFG forces and locals. The battle came after al-Shabaab militants launched hit and run atack against TFG base near Qoqani village.
MUDUG: Two Died in A Grisly Accident
June 13, Galkayo - Two civilians have been killed and three others injured in a grisly road accident between Hargo and Ba'adweyn villages of Mudug region. The accident occurred when the minibus was ferrying passengers travelling between Galkayo and Burtinle. The injured people were admitted in local clinics in Galkayo to get medical facilities.
BANAADIR: TFG Official Assassinated in Mogadishu
June 13, Mogadishu – Gunmen shot and killed a local TFG official on Wednesday night in Shibis district of the restive capital of Mogadishu locals and TFG officials said. The victim, Abdurahman Jowle Jima'ale was killed by two gunmen with pistols who fled from the scene before the arrival of Somali Police Forces.
BANAADIR: Two Men Died Assembling IEDs in Mogadishu
June 13, Mogadishu - An accidental explosion in Shanta Geed village of Hawl Wadaag district of Mogadishu killed at least two men who were reportedly al-Shabaab insurgents as they were assembling improvised explosive devices (IEDs) inside a house in the village around 5:30pm local time on Wednesday, according to local officials who spoke to Somalia Report. Two others, including a man and a woman passing nearby the home at the time of the blast, were taken to a local hospital for treatment.
HIRAAN: Explosion in Beledweyn Killed Three
June 14, Beledweyn - A Remote Controlled Explosion (RCE) in Beledweyn of Hiiran region caused death of three people and injured at least five others according to local administration of the region. The explosion was targeting Ethiopian National Forces patrolling the city, although it is not clear the casualties of the ENDF. The neighbouring soldiers conducted security operations after the explosion and arrested many locals for a suspicious links with al-Shabaab.
BANAADIR: Gunmen Shot and Killed Teenager in Mogadishu
June 14, Muqdisho – Unknown gunmen shot and killed a local teenager in Warta-nabadda district of Banaadir region according to the local administration of the district. Two gunmen with pistols killed the young boy at Labo-dhagah village in Warta-nabadda district, and the culprits escaped from the scene.
GEDO: Al-Shabaab Battled TFG in Gedo
June 14, Yurkud – At least two people have been killed while other three fighters of the rival groups were injured in heavy fighting between the allied forces of TFG and ASWJ against al-Shabaab fighters in Yurkud village of Gedo region. The battle lasted more than 40 minutes and caused many pastoralists fled from scene according to locals.
WAQOOYI-GALBEED: Two Locals Injured in Explosion in Hargeisa
June 15, Hargeisa – An explosion in northern Somalia injured two locals according to locals who spoke to Somalia Report. The explosion occurred in Jungal village of Mohamed Moge district. Somaliland's security forces reached the venue to investigate. Locals said the explosion came after locals tried to burn fig trees near one of the residential houses in the village.
BAKOOL: Gunmen Shot and Killed Businessman in Ebon Village
June 15, Ebon – Unknown gunmen shot and killed a local trader in Ebon village of Bakool region in south-western Somalia on Friday. The victim, Aden Yarow, was killed inside his business. Security forces of the region reached the scene although the perpetrators fled.
BANAADIR: TFG Soldier Opens Fire on Civilians
June 15, Lafoole – One civilian was killed and three other locals were injured after TFG soldier opened fire on a van ferrying khat (narcotic plant) between Lafoole and Afgooye of Lower-Shabelle region according residents and government soldiers at Lafoole. The soldier demanded the vehicle to stop and take some khat, but the driver ignored his demand. The soldier escaped from the scene after some TFG forces tried to arrest him.
(Editor's Note: The TFG, AMISOM, KDF, ENDF, ASWJ, various militias, al-Shabaab and other forces fighting in the country often report conflicting casualty numbers. Somalia Report assembles these weekly incidents from a variety of sources and numbers may vary.)