Feature
Part One: What is Lasqoray?
History, Conflict, Clans and Governance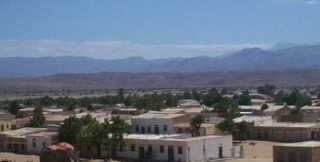 As part of our "What is" series, Somalia Report investigates Lasqoray (Las Qoray, Laasqoray), a seaside town in Somalia's disputed Sanag (Sanaag) region, claimed by both the breakaway region of Somaliland and the semi-autonomous region of Puntland. Part One examines the history, geography, governance, clan structure, and the conflict. Part Two will cover the economy, natural resources and the rebuilding of the port.
Brief Geography and History of Lasqoray
Lasqoray is approximately 120km west of the city of the port Bosaso, which is in the Bari region in the semi-autonomous region of Puntland, and is about 190km west of Erigavo which is the capital city of Sanag region. About 400km to the south is Las Anod, the capital city of Sool, and to the north of Lasqoray, across the Red Sea, lies Yemen and Oman. Lasqoray is also strategically located at the juncture of the Golis and Almadow mountain ranges.
Lasqoray is an historic Red Sea coastal town in the Sanag province of Somalia. As a port town, it was a major route along which traders from Arabia brought the religion of Islam to Somalia 14 centuries ago. The port city was a major port of call for businessmen and seafarers on the Red Sea who used the city to trade goods and products with Arab countries including frankincense, tiger skins, ivory, gold, and diamonds.
"The local people were sophisticated and made business transactions with Arab and other western countries. Lasqoray is located in a good place in terms of the Red Sea. My father said Arabians use to come Lasqoray in order buy livestock, fish, and precious stones. In return, Arabs brought us clothes and building materials," Yusuf Jama, mayor of Lasqoray, told Somalia Report.
It is home to the first and largest fish processing factory in Somalia, and the tribes living there consider Lasqoray the most developed region of the country. Used as a base for the Soviet Union during the time of peace in Somalia, the Soviets re-constructed an ancient jetty which operated until storms destroyed it in 1972; today it is only partially functioning and the residents are determined to rebuild it.
"This ruined jetty was built around 400 years ago by our forefathers. They were well civilized and organized people who had good relationships with neighbouring Arab countries as well as Greeks. They developed this jetty, but in 1972 the strong storms destroyed the jetty and that is why is it not working today. There were several attempt to rebuild the port but all failed. Today rebuilding seems to be the best opportunity for the port and for the people of Lasqoray," Khalif Abulqani an economist in Bosaso, told Somalia Report.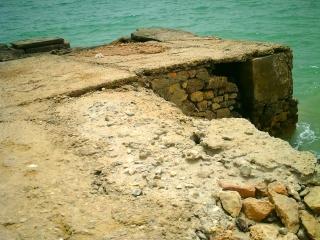 Famous Lasqoray Poem
Hassan Haile, a popular Somalia poet, came to Lasqoray after it is destruction and wrote the following poem, Lasqoray's Complaint:
On the evening I arrived in Lasqoray, it complains to me
I asked, what is the stress and why so furious?
It said to me my closest people are run from me
It says my elders and youth pay no me esteem
It says they send outside my baby children
It says if I am urbanized, I will compensate every price
Only my precious soil doesn't cost millions of cash
The sea offshore and the port will make me higher
Ships with good consignments will turn up soon
It says whites and blacks will come close to me
It says those who are running from me, the well is me.
Today
Today there are approximately 20,000 inhabitants of the city which has two main roads - one which leads east to the port city of Bosaso, and another road heading south through the Sanag region which runs towards Badhan, Hadaftimo, and Erigavo.
The booming coastal city boasts white sand beaches, coral reefs, grasslands, farmlands, and mountain ranges and is determined to become a tourist destination, according to locals and officials who spoke to Somalia Report.
The city also boasts of popular cafes, coffee and khat shops as well as functioning internet.
Warsangeli Tribe
The city also was the biggest base of the Warsangeli Sultanate, which ruled this land 800 years ago. Today Lasqoray is still occupied by the Warsangeli people one of the Somali tribes from Harti group of Darod dynasty, who are consider a peaceful and civilized people and the most educated in Somalia.
Somalia Report spoke to chief Aqil Axmed Saalax in order to learn more about the history of Lasqoray and Warsangeli.
"Lasqoray is where our Sultanate (Warsangeli Sultanate) was based hundreds of years ago, since the founding father of Warsangeli Sultanate Garad Dhidhin. Lasqoray and its surrounding areas including the Almadow mountains, Mash-Haled and Hubera were the bases of our monarchy. In fact, Lasqoray is where the sultanates stayed. Our grandfathers used this holy land as a shield when they clashed with other neighbouring clans. During the summer they usually go out to the sea and up to the mountains for cooler air," Aqil Ahmed Salah told Somalia Report.
"Warsangeli is the son of Mohamud Harti, and we are among Darod dynasty. We are largest tribe. We occupied three regions of Somalia: 92% of Sanaag, 30% of Bari region, and about 15% Lower Juba region of Somalia. We have the oldest monarchy in Somalia which was build about 800 years ago. We have produced many educators, businessmen and diasporas," said the chief.
"Before the collapse of the central government, we were business and were famous for importing and exporting livestock, products, frankincense, and so on. We used the Lasqoray jetty to export livestock as well as fish and farming products. We import all valuable things including building items and other necessities like rice, wheat, sugar, and clothes. All these stocks were delivered to the other parts of Somalia after the collapse of the central government. All sources of the country stopped working and that is why Lasqoray's port is worn out," he added.
"Sanaag region consists of five main districts: Erigavo, Lasqoray, Badhan, Dhahar and El-afweyn, three of them are completely occupied by Warsangeli tribe. We own half of the capital city, Erigavo. The Isaq clan occupies El-afweyn. There are other, smaller tribes that are spread out," the chief told Somalia Report.
Administration of Lasqoray
Maakhir State of Somalia, the area between Lasqoray and Berbera, was announced in mid of 2007 by its new president, Colonel Jibril Ali Salad. His administration covered all parts of Sanag, including Lasqoray, though it ceased governing last year due to lack of finances and pressure from the neighboring countries of Puntland and Somalialand.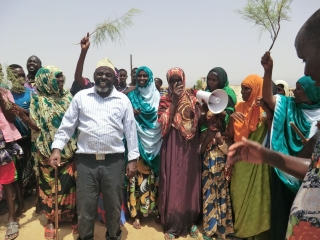 Today Lasqoray operates under a local administration led by the mayor of the city, Haji Yusuf Jamac, and has a functioning administration is also governed by the district mayor and governor. In addition, the city has a police station and a court.
"The city has it is own administration it is led by the Mayor Haji Muse Jama. The law and order of the city is maintained by the people of the town," Eng Feisal Ahmed Hawar, the CEO and president of Maakhir Resources Company, told Somalia Report.
Puntland and Somaliland both claims Lasqoray is their territory and they control the city, but in reality neither side provides any services to the port city.
"There are no external officers here from Puntland or Somaliland. There are only Warsangeli people, the landlords are running the administration of this city. Somaliland intervened us but we gave them a lesson. Puntland has not intervened our development plans," Eng Faisal Hawer told Somalia Report.
Recent Puntland vs Somaliland Conflict in Lasqoray
The most recent conflict between Somaliland and Puntland in Lasqoray was over a development project when Somaliland alleged a ship arrived at the Lasqoray jetty on June 2nd carrying a consignment of 'illegal' mining equipment and foreigners. The business owners and officials, however, said the equipment was to help rebuild the port.
Somaliland Marine Forces (SMF), Puntland said, attacked the shipment and engineers on June 2nd in an attempt to stop the ship.
"According to Deputy Minister of Security Abdijamal Osman Mohamed Somaliland naval forces attacked a crew of engineers who were aboard a ship escorted by Puntland forces on Friday. The engineers were assessing the renovation of the port in the coastal town of Lasqoray. Puntland forces in Lasqoray fended off the attack, there were no casualties," Garowe online reported.
Mohamed Yusuf Otar, the Somaliland Marine Forces commissioner of Sanaag region who was leading the attack, confirmed the incident.
"We were informed that ships are heading to Lasqoray carrying equipment for foreign companies, and they are planning to take mineral resources and valuable material from the mountains of Almadow of Sanag region. Therefore our marines attacked them when they were in Lasa-Surad (50km west of Lasqoray in the sea). The escort ship fought against us with heavy guns and they injured one of our soldiers. We returned back our base to Maydh. We will not allow our territory to be illegally excavated," Mr Yusuf Otar told Somalia Report.
Independent source told Somalia Report that one Somaliland marine died and two were injured.
"One soldier was buried in Maydh, while two others were injured. One of them, a man I know called Nuradin Mohamed, was in serious condition and he was taken to Erigavo for treatment," a reporter in Maydh told Somalia Report on the condition of anonymity.
Puntland later claimed Somaliland again attacked their engineers on June 6th of this year, a claim with Somaliland denied.
Not to be deterred, on June 19th of this year, the Puntland Minister of Ports visited the project and vowed they would keep moving forward.
"We are aware Somaliland is terrorizing our land and our people. I will not accept any further intervention from Somaliland into our land. They attacked the ships of Lasqoray port. If they try to attack or raid our city or shipments, I will be the first one to defend my land and my people," said deputy of the security minister of Puntland Abdi Jamal Osman who is originally from Sanag.
Mohamud Said Nur, the governor of Sanaag region in Puntland, urged Somaliland to keep the peace and living together as neighbors.
"I call upon Somaliland to stop attacking our territory and our properties. We will no longer accept attacks on our land. Please keep the peace and harmony of the people of Sanag. Lasqoray is belongs to Warsangeli people, not Somaliland. It is a Puntland territory. Somaliland is claiming Sanag as their territory and will not allow them to begin any development projects," he told Somalia Report.
Local elders and officials also urged Somaliland to stay away. "These days the Somaliland are tantalizing our territory claiming to close what they call colony borders, which are not exist, if they don't recompense apology the bad and horrific action of piracies that they attacked our ships this will renew hostility and wars and we will give out suitable reply," Aqil Abdulahi Abdi Ibrahim, a prominent elders in Sanaag, told Somalia Report.
Colonel Mohamed Jama Mohamud (Indhayare), a former Somali military officer from Lasqoray, warned Somaliland and it is troops.
"Lasqoray belongs to us. It isn't for those who are in Hargaisa or Buroa and we will not negotiate our territory. We will defend and we will die for our land. I think they (Somaliland) have forgotten the lessons from the civil war of 1990 in Sanaag," said the colonel.
Developments on Land
Meanwhile, as Somaliland forces attacked by sea, the local militias rose up to defend Lasqoray. Residents said hundreds of soldiers from the local militias left Badhan, Hingalol, Dhahar, Elbuh, and Damalhagare, different cities of Sanaag for the port city Lasqoray on June 3, 2012 to prepare against a potential Somaliland attack.
Ahmed Ali, the former speaker of the Puntland parliament, said that the local people started to defend and protect their projects for any external invention.
"We have enough forces to defend and protect our work of building Lasqoray port, we recruited enough soldiers, the people are together, our soldiers are alerted they are in sea and in land, we heard that the Somaliland marines are regrouping in Berbera to attack Lasqoray, there is nothing to wait, they don't' want see us developing," he told Somalia Report.
"The situation is bit calm and the work is going on, but we were alerted that anything can happen. We are not starting the fight but we will defend our territory. We are very suspicious of Somaliland," he added.
Eng Faisal Ahmed Hawar said that they are going to develop the infrastructure of the city and evaluate the resources of Sanaag region.
"The Maakhir Maakhir Resources Company is doing community projects and is supported by the community. After the port, we are going to evaluate the resources of our land so that we can develop our region. We are international and we are not hiding anything," Mr. Hawar told Somalia Report.
As the port development progresses, there is likely to be more conflict over the strategic port city.
Suspect Aircraft
Meanwhile, in recent weeks, farmers and pastoralists of Al-Madow mountains claim helicopters and airplanes have been flying overhead. On April 9th of this year, low flying aircraft was spotted over the city and in early May of this year, planes were spotted over the Galgala mountains, likely doing reconnaissance on Atom's Galala militia.
Other residents believe the planes and helicopters are scouting mining locations since the timing coincides with the arrival of the mining equipment in Lasqoray.
"Small planes from the sea come in the evening and light the whole the mountain in a red light. Once they landed up here in a helicopter and sometimes they dig on the mountain - we can hear it. One night my husband saw a helicopter four white men got out with small guns. He was afraid of them. They stayed at least three to two hours but nobody went close to them," Saynab Ismali Alia a resident of Gacan/Dabayshin area confirmed to Somalia Report.
Part Two will cover the natural resources of the region.
Editor's Note: For more in our "What is...?" series, please see:
What is Alpha Group?
What is Galmudug?
What is the Galgala Conflict?
What is Bandar Beyla?