UPDATE
Al-Shabaab Temporarily Seizes Beled-Hawo
Accounts Vary on Which Group is in Control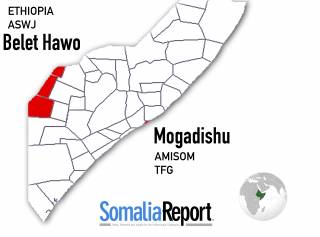 Fighters from the hardline al-Shabaab group earlier today briefly seized Beled-Hawo (Belet-Hawo), a town on the Kenya-Somali border in Somalia's Gedo region, following an hour of fighting between the militants and Somali government soldiers along with its Ahlu Sunna Waljamaa (ASJW) allies.
At least three soldiers from Somalia's Transitional Federal Government (TFG) were killed in the fighting when al-Shabaab attacked at 03.30 local time, according to residents in the Kenyan border town of Mandera close to Beled-Hawo, who spoke to Somalia Report.
"There was a heavy fighting between al-Shabaab and allied troops who were at the front gate of Beled-Hawo's checkpoint on the route from Luq district. So far we know two civilians were wounded in the battle and three government soldiers died," Hassan Dubad, a resident in Mandera, told Somalia Report.
The number of casualties is unknown.
Sheikh Isaakh Hussein Mursal, an ASWJ official in the region, said TFG and ASWJ fighters have left the city, but they are regrouping to retake the town, a claim that was denied by others.
"The combat comes after the militants raided Beled-Hawo and they finally entered into the town, but our troops are close to the town. We are expecting to reorganize and Shabaab will no longer be in the city," he said.
Accounts Vary
Other sources told Somalia Report that TFG and ASWJ were able to defeat al-Shabaab. However initial reports posted on pro-al-Shabaab websites reported that al-Shabaab troops were able to capture the city temporarily.
"It is untrue that al-Shabaab captured the city last night and the fighting was not so heavy, but it was like hit and run," a local aid worker Aden told Somalia Report.
"I do not know about al-Shabaab but one civilian and two TFG soldiers were injured in that clashes and now the situation of the city remains clam and pro-government troops are controlling here now," he added.
Residents and ASWJ officials said that fighters loyal to al-Shabaab are based in area called Gadoondhawe, 55 kilometers southwest of the Beled-Hawo, from where they are conducting hit and run attacks.
The attack in Beled-Hawo, which has been a battleground in recent months, gives al-Shabaab militants a boost in their Jihad against the Somali government, Kenyan, Ethiopian, ASWJ and the African Union forces. In recent weeks, al-Shabaab has been regaining areas lost to the allied forces, including strategic locations in Galgudud region after withdrawing from El-Buur and Mahaas.
This comes as a rift is developing between the TFG and ASWJ allies over the control and administration of towns under the control of ASWJ.