22 June 2012 Daily Media Roundup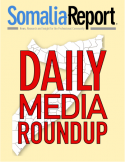 Somalia News Highlights: Somali Leaders Agree on Draft Constitution; UN Envoy Welcomes Agreement on Somalia's Constitution-Making Process; First Direct Somalia-Somaliland Talks End in London; Ethiopia Says Troops to Stay Longer in Somalia; Somali Piracy Death Toll Rises as Violence Worsens; AU Expresses Concern With Conditions of Somali IDPs; Bank Moves Hinder Immigrants; TFG-AMISOM Forces Seized New Lower Shabelle Territories From Al-Shabaab; Somali President Spoke to Somali Traders in Kenya and Pledged to Stabilize Somalia; Al-Shabaab Claimed to Have Killed TFG Soldiers in Mogadishu; TFG Forces Allegedly Killed Driver for Failing to Pay Bribe; the TFG Allegedly Paid $3 Million Ransom for the Release of South African Hostages; Somali President Denied World Bank Corruption Accusations; and a Remote Controlled IED Rocked Bay Military Camp But TFG Denied Attack.
COMMENTARY ON ISLAMIC WEBSITES
Amiir Nuur - The pro-al-Shabaab website claimed the Ethiopian troops vacated Baidoa town and moved to Bardaale area. Eye witnesses stated Ethiopian troops were scared of ambushes against their convoys.Somali Language
POLITICS
Voice Of America - The key stakeholders in Somalia's political transition process have agreed on a draft constitution, a significant step toward establishing a more permanent government. The time for the transition is running out, with less than two months to go before a deadline to elect a parliament and a new president. Somalia inched closer Friday to ending an eight-year long political transition, with the signing of several key measures on the so-called Roadmap. The United Nations Special Representative for Somalia, Augustine Mahiga, hailed the agreement on a new constitution as a significant milestone. "This stage in Nairobi is probably the most critical because it ushers in the accomplishment of one of the major steps to end the transition, and that is the approval of a draft constitution," he said.
UN News Center - The top United Nations political official for Somalia today welcomed the signing of a communiqué agreed on by Somali leaders as a key step in preparing the East African country for the upcoming end of its transitional governing arrangement. "I am most gratified that the signatories have come together in the spirit of cooperation and compromise and have collectively committed to move the process forward," the Secretary-General's Special Representative and head of the UN Political Office for Somalia (UNPOS), Augustine Mahiga, said in a statement. "The transitional period will end in less than 60 days and we have no time to lose," he added.
Voice Of America - Two days of the first-ever formal talks between Somalia and the breakaway region of Somaliland ended near London Thursday. Both sides agreed that the talks should continue. Somali Interior Minister Abdisamad Moalim Mohamud told VOA that both sides agreed to cooperate in the fight against terrorism, piracy, illegal fishing, and dumping toxic wastes. He said they also agreed to avoid anything that will undermine the talks. In his comments to VOA, Somaliland Foreign Minister Mohamed Abdillahi Omar said the two days of meetings were constructive. He said they created the framework for future talks on issues that matter to both sides.
SECURITY/AL-SHABAAB
Reuters - Ethiopia plans to keep its troops in Somalia until the Horn of Africa country ratifies a constitution and its military is able to fend off militant threats on its own, an official said on Friday, signalling a change in policy. Ethiopian officials have said their troops would only be deployed for a brief period to fight Islamist militants who are also fighting thousands of Ugandan and Burundian troops under the African Union Mission in Somalia (AMISOM), as well as Kenyan forces to the south. "It (Ethiopia) will remain in Somalia until the Transitional Government of Somalia has adequately organised itself to fend off any attack from hostile forces," government spokesman Shimeles Kemal told reporters.
MARITIME
Reuters - While solid data on previous years is limited, the total of 35 is seen as by far the highest number of piracy-related fatalities in a single year. "We know these figures are almost certainly an underestimate," project manager Kaija Hurlburt told Reuters. "A lot of the ships now being taken are regional dhows that are often never reported. They might have 12 to 20 people aboard each time." Despite a major naval effort by several nations, hundreds of young Somalis engage in piracy every year in the hope of ransoms that can run to millions of dollars.
HUMANITARIAN/SECURITY
All Africa - Boubacar Gaoussou Diarra, Special Representative of the Chairperson of the African Union Commission (SRCC) for Somalia, has expressed deepest concern at the pathetic conditions in which Internally Displaced Persons (IDPs) are living. Spaeking at a press release that on the occasion of World Refugees Day on Wednesday, the Special Representative, noted with regret that IDPs in Somalia continue to live in very congested centers with poor sanitation and sometimes without access to clean drinking water which he said has been a cause of many diseases within the camps. "With the security situation in Mogadishu and the surrounding districts improving, I wish to appeal to humanitarian organizations to scale up their operations and reach as many displaced persons as possible with the much needed humanitarian assistance," he said.
Wall Street Journal - Efforts by U.S. banks to avoid violating antiterrorism financing laws are crimping the ability of Somalis in the U.S. to send money home, prompting calls for Congress to revisit bank regulations on money transfers. Somalis in the U.S. use money-transfer merchants, informally known as "hawalas," to send about $100 million annually to Somalia, according to the U.S. Treasury Department. The East African country, where there is no formal banking system, has been without a functioning government since 1991, when civil war erupted and forced tens of thousands to flee.
RADIO ROUNDUP
Radio Mogadishu - A pro-government radio station
The Somali National Forces backed by African Union peacekeepers on Friday seized new territories from al-Shabaab in Middle Shabelle region after massive military operations in that area. The forces seized El-Ma'an port, Issilay airport and El-'Adde village as well as other main al-Shabaab bases in the region. A TFG military officer Ali Araaye Osoble told Radio Mogadishu that they killed 11 al-Shabaab militias during the operation and captured three others. Local residents told Radio Mogadishu that they saw al-Shabaab fighters throwing away their weapons and escaping from the area. The residents welcomed the offensives against al-Shabaab militias.
Somali President Sheikh Sharif Sheikh Ahmed declared that his government is set to rebuild the Somali National Forces over the next four years. Speaking at a meeting with Somali traders in Kenya on Thursday night, the president stated that the government is putting more emphasis on the rebuilding of Somali military and police forces. The president urged the traders to support the TFG's efforts of creating full stability in the country.
Radio Andalus - A pro-al-Shabaab radio station
Dozens of pro-infidels militias, including the chief commander of the militias in Elasha-biyaha village Afrah Ali Afrah, were killed and two military vehicles were burned as multiple operations against the enemy took place in between Mogadishu and Afgoye over the last 24 hours. Military sources indicated that the Mujahideen seized the body of Afrah who was an important individual fighting against Islam.
On Friday, the pro-infidels militias shot and killed a driver in Towfiiq Neighborhood of Yaaqshid district in Mogadishu after he refused to pay bribe money, according to an eye witness. The militias refused the family of deceased man to collect the his body from the scene and the body remained the scene over five hours.
Radio Al-Furqaan - A pro-al-Shabaab radio station
Sources close to the Somali pirates indicated that they received an estimated $3 million ransom to release two South African hostages, while the TFG claimed that the hostages were released during a TFG military rescue operation. The TFG defense minister presented the two hostages to the media in Mogadishu on Thursday claiming that they freed them from the "terrorist" group.
Radio Bar-Kulan - An independent radio station
President Sharif Sheikh Ahmed has undermined a report recently issued by the World Bank alleging the discrepancy of about $130m (£85m) which was received by the his government. He dismissed the alleged discrepancy, calling it baseless and unfounded propaganda. He said the alleged money never reached them, adding that his government faces acute shortage of money prompting it to borrow money from individual Somalis. Earlier this month, the World Bank issued a report alleging that large sums of money received by Somalia's interim government have not been accounted for.
Radio Shabelle - An independent radio station
Based on witness and official accounts on Friday, a remote-controlled land mine blast reportedly struck a Somali military base in southern region of Bay, as part of the latest in series attacks against Somali and Ethiopian troops in the region. Conflicting reports are coming out Bay; some claim the attack was foiled by the Somali forces before it detonated according to Somali officials while witnesses said the bomb hit a convoy of military vehicles at Qansah-dheere district. Aden Abdikalil Qooqane, the commissioner of Qansah-dheere district for Somali government, told Shabelle Radio that security forces on Friday defused a land-mine place in the ground near a building housing Somali army officers in the town. Figures on the casualties following the attack are yet to be established.