Roadside Bomb Targets Turks in Mogadishu
One Boy Wounded in Waaberi District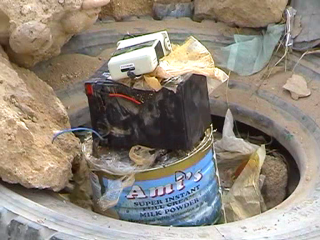 A roadside bomb targeting a Turkish convoy wounded one civilian, a young boy, in Mogadishu's Waaberi district, according to witnesses who spoke to
Somalia Report.
"It was a bomb planted alongside the road. Turkish workers, a convoy and soldiers were passing through the street when the blast detonated. One boy was slightly hurt from the incident but we don't have any more casualties," said Liban Abdullah, a resident who spoke to Somalia Report shortly after the blast.
Another witness, Faduma Mohamed Edban, verified the incident.
"I was on a bus while heading home when we heard the blast of the explosion. Everyone was shocked. The scene near the street was smoking for a few minutes. Luckily there were no casualties and the place was full of government troops after the explosion," Faduma Edban told Somalia Report.
Faduma said the police and soldiers refused to allow personal and commercial vehicles to use the street immediately after the incident, but civilians were able to walk alongside the highway.
No group has yet claimed responsibility for the attack but locals believe al-Shabaab, the hardline Islamist group battling for control of Somalia, likely conducted the attack. The group confirmed they carried out a number of roadside attacks, assassinations and suicide bombings in Mogadishu in recent months.
Other news outlets claimed it was a suicide bombing.
Turkey is one of the foremost donor countries to Somalia since the United Nations declared famine in parts of the Horn of Africa last year. During the last nine months, Somalia has seen a high number of visits by Turkish officials. In August of 2011, the Turkish Prime Minister visited the capital. In March, a high ranking Turkish delegation visited Mogadishu and the ambassador visited Puntland in April. In September of 2011, Turkey funded hundreds of scholarships for Somali students. For more on Turkey's involvement in Somalia, please see Mubark's Musings.
In turn, al-Shabaab has repeatedly accused Turkey of misleading the people of Somalia saying it is working for its own interests rather than those of the Somali people and as a counter-balance to Iran, which is also active in the country.