UPDATE
NRC Hostages Rescued in Somalia
Aid Workers Originally Taken Hostage From Dadaab Refugee Camp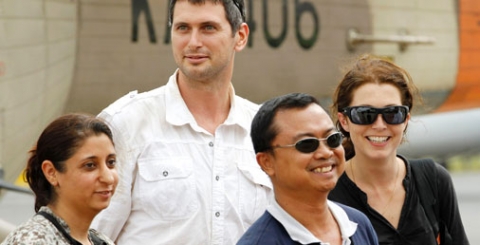 Four aid workers from the Norwegian Refugee Council (NRC) who were taken hostages from Kenya's Dadaab refugee camp last Friday have been rescued unharmed inside Somalia, witnesses and government military commanders have confirmed.
"We are thankful to know that our four colleagues have been found and safely returned to Kenya. This is a day of relief for us and for the families of the abducted," says Elisabeth Rasmusson, Secretary General of the Norwegian Refugee Council in statement.
NRC identified the four as Steven Dennis, 37, Astrid Sehl, 33, Glenn Costes, 40 and Qurat-Ul-Ain Sadazai, 38, as previously reported by Somalia Report.
"We are happy to be alive, we are happy this has ended," Sadazai told AFP.
Somalia's Transitional Federal Government (TFG) Forces, Kenyan Defense Forces (KDF) and Ras Kamboni, a pro government militia, sources have confirmed to Somalia Report that the hostages were rescued in an operation.
TFG army commander in Lower Jubba region, General Ismail Sahardiid, told Somalia Report that they successfully rescued the hostages from kidnappers in Ali Guray village, around 40km north west of Dhobley, a town near the Kenyan Border. He said that they captured three of the kidnappers were taken alive but that a fourth had been killed during the operation.
The commander said that the hostages are in good health and are currently in Dhobley General hospital, but will be transferred to Nairobi in order to reunite them with their co-workers and families in the coming hours. He added that the forces acted on a tip off that the kidnappers had car-jacked a vehicle to take the hostages into the Kismayo, one of al-Shabaab's strongholds.
The Ras Kamboni commander said his forces were responsible for the rescue.
"After we confirmed the workers were there, our forces raided the site called Alibuley early in this morning and killed one of the kidnappers and freed the hostages, ending their ordeal," senior Raskamobi official, Abdinasir Seerar told Somalia Report on Monday.
The Kenyan Defence Forces also confirmed that the NRC hostages were rescued inside Somalia. Colonel Cyrus Oguna, KDF spokesman, said the hostages are all in good health and in the care of KDF forces.
Last Friday unidentified gunmen entered the highly populated Dadaab refugee camp in Northern Kenya. They shot and killed a Kenyan driver and injured two others and in the course of abducting the NRC aid workers from the camp.
A local resident told Somalia Report residents were shocked to see white hostages in their town over the weekend.
"Yesterday (June 30) local residents of Alibuly (30km north east of Doobley) saw four white people whose mouths had been wrapped with pieces of cloth and their hands tied together. Previously when such incidences were seen by the residents it wasn't a big deal but this one was a special one as those who witnessed it were astonished to see white people under the al-Shabaab's claws," said Mr Abdille, a former miraa sales man in territory.