2 July 2012 Daily Media Roundup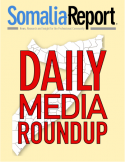 Somalia News Highlights: Somali Constitution Must Defend Religious Freedom; Somalia National Day Celebrated in a Mogadishu Free of Al-Shabaab; Bin Laden Advised Somali Militants on 'Good Governance'; Turkey Accepts 80 Somali Police Recruits; Somalia Continues to Hold Maritime Industry Hostage; UAE Funds Helped Starving Somalis; TFG Forces in Gedo Unfoiled an Attempted Attack in Beled-Hawo; Mogadishu Radio Programs Entirely Focused on 52nd Independence; Gunmen Shot and Killed a Puntland Security Officer; Al-Shabaab Executed a Man in Lower Shabelle for Murder; Heavy Fighting Erupted Between Al-Shabaab and TFG Forces in Mogadishu; Raskamboni Forces Vowed to Expand Operations Throughout Juba Regions; and Al-Shabaab Fighters Attack TFG Military Bases in Bakol Region.
COMMENTARY ON ISLAMIC WEBSITES
Amiir Nuur - The pro-al-Shabaab website claimed that a Somali warlord, Mohamed Siyad Aden, has accused the Kenyan government of using and arming a single Somali clan for the invasion of southern Somalia, especially Juba and Gedo regions. The warlord was allegedly speaking at a security conference organized by the Kenyan government in Nairobi and led by the infidel-supporting warlords of Ahmed Madobe and Professor Gandhi. (Editor's Note: The warlord is referring to Ogaden clan since the two leaders and most of the Kenya trained Somali soldiers are from Ogaden Clan.)Somali Language
POLITICS
AFP - International donors on Monday said Somalia's new constitution must enshrine principles of religious freedom and stressed that the country's political transition should be completed by August 20. Somali leaders at the talks in Rome meanwhile emphasised the importance of bringing aid to areas of the country reconquered from Islamist rebels in recent weeks. They said a new constitutional assembly would be in place by July 12. "We must insist on and ensure that principles of equality and religious freedom are enshrined in the new constitution," said Italian Foreign Minister Giulio Terzi, host of the International Contact Group on Somalia meeting.
Voice Of America - For more than two decades, Mogadishu residents have marked Somalia's independence day under the threat of chaos and violence; but this year is different. Due to security gains and the return of relative stability to the Somali capital, citizens finally have something to celebrate. For twenty-one years anarchy and humanitarian disasters have over-shadowed Somalia's Independence Day. The July 1 holiday commemorates the day Somalia declared independence from Italian colonizers, 52 years ago. This year, Mogadishu residents are breathing in freedom and optimism like never before, following security gains by African Union forces and Somali government fighters against al-Shabab militants.
BBC - Documents found inside Osama Bin Laden's hideout in Pakistan following the US special forces raid that led to his death last year have revealed how the al-Qaeda leader sought to advise an affiliate group in Africa on "good governance". One of the 17 documents recently posted online by the US military's Combating Terrorism Centre (CTC) at West Point - out of a total cache of 6,000 - is a letter addressed to the leader of the Somali Islamist militant group al-Shabaab, Ahmed Abdi aw-Mohamud Godane, also known as Mukhtar Abu Zubair. In the letter, dated 7 August 2010, Bin Laden gave Godane advice on leadership, saying he should "adhere to a noble character", which could be seen in his "forgiveness, justice, patience and good relationship with his citizenry". Christopher Anzalone, a doctoral student studying Islamist movements at McGill University in Canada, believes this "suggests that the late al-Qaeda Central leader viewed Somalia as one of the locations where the 'mujahideen' had the greatest chance of setting up a kind of insurgent-jihadi state with broad territorial control, in this case over much of the country south of Puntland". (Editor's Note: Contrary to Bin Laden's public hate mongering or was he concerned of Somalis revolting against al-Shabaab and Islamists due to their harsh treatments of innocent civlians.)
SECURITY/AL-SHABAAB
Somaliland Press - The transitional federal government of Somalia sent its first unit of police recruits to Turkey on Friday in a move likely to bolster political stability in the Muslim nation. Turkey has accepted 80 cadets from the Somali police force who are set to be trained to become officers and sergeants. The Somali police commissioner, General Sharif S. Una-Maye told local media the trainees were selected based on their individual talents and skills. "They will be flown to Turkey after satisfactorily completing tests," he said. He saw them off at Aden Adde international airport where the Turkish national carrier was waiting for them along with Turkish officials.
MARITIME
Philippines Inquirer News - Jose Brillantes, Philippine foreign affairs undersecretary for special and ocean concerns, meanwhile, said 45 Filipino seafarers and five ships are still held by the Somali pirates in the Gulf of Aden. "The threat posed by maritime piracy to global trade, and to the region's security and economic well-being, continues to be grave," said UAE Foreign Minister Sheikh Bin Zayed Al Nahyan. UAE, which brokered the deal between TFG and Somaliland, pledged $1 million to support Somalia's maritime security-capacity-building efforts in countering the activities of the pirates. "This commitment is made as part of a larger commitment the UAE will make to comprehensively support the development of the Somali Coast Guard, following the 20 August end of the transition and formation of a permanent central government, with a new constitution," said Dr. Anwar Mohammed Gargash, UAE Minister of State for Foreign Affairs.
HUMANITARIAN
The National - Last year, as Somalia faced its worst drought in more than 60 years, the UAE was quick to step in with humanitarian aid. The nation's rulers and residents raised more than Dh162 million in cash through telethons in Abu Dhabi, Dubai and Sharjah, and sent an aid ship carrying more than 400 tonnes of food, clothes and medicines. A mobile UAE clinic was deployed under government directives. The clinic helped treat nearly 1,000 malnourished patients who were suffering from severe anaemia, urinary tract infections and bladder and respiratory diseases. Officials from the Mohammed bin Rashid Al Maktoum Humanitarian and Charity Establishment worked with the Red Crescent Authority and local aid organisations to distribute 900 tonnes of food and dig more than 60 wells.
OP-ED
Garowe Online - The editorial condemns the TFG-Somaliland Conference in Dubai, UAE and it portrays it as a plot against the unity of the Somali people by leaders with vested interests. "The Dubai Statement, signed on 28 June 2012 by TFG President Sharif Sheikh Ahmed and Somaliland leader Mr. Ahmed Mohamed Silanyo, was the wrong approach for Somalia at this critical time."
RADIO ROUNDUP
Radio Mogadishu - A pro-government radio station
The Somali government forces in Beled-hawa district of Gedo region on Sunday foiled an attack which al-Shabaab militias wanted to carry out against independence day ceremonies. The troops killed one al-Shabaab fighter and detained three others with their vehicle, grenades and guns.
The pro-government radio station over the last two days restricted its entire news program to commemorating the independence day of Somalia as the country celebrated its 52th anniversary of independence and the union of southern and northern (Somaliland) regions.
Radio Andalus - A pro-al-Shabaab radio station
Gunmen shot and killed the deputy police chief commander of the pro-infidels administration of Puntland in Garowe, the headquarters of the administration on Monday night. Abdulahi Salah Nodale was shot in the head near Bulshada Hotel and the murders escaped the scene. Nadalo was one of the important officers for fighting against the Mujahideen. He was the chief commander of the Eastern region police before he was appointed the deputy chief commander of Puntland police.
Radio Al-Furqaan - A pro-al-Shabaab radio station
The Islamic administration of Lower Shabelle region on Sunday executed Abdi Mahamud Osman who previously killed two people in that region. The governor of Lower Shabelle region Sheikh Mohamed Abu Abdalla stated that they caught him in Elasha-biya while he was trying to escape. A large number of people came out to witness the execution by Islamic Sharia. The executed man killed two men and robbed their properties years ago before al-Shabaab Mujahideen seized the country.
An unspecified number of foreign troops and TFG soldiers were killed as heavy fighting between al-Shabaab Mujahideens and the allied forces took place in Maslah military camp of Mogadishu on Monday. The fighting erupted when al-Shabaab Mujahideen fighters launched attacks on the camp, which is the largest military base of TFG and foreign troops in northern Mogadishu. Although al-Shabaab Mujahhideen military officials didn't speak about the fighting, local residents told Radio al-Furqaan that the fighting continued more than an hour and both sides used heavy gunfire. Meanwhile heavy explosion targeted a base of TFG troops in Suuqa-Holaha neighborhood of Mogadishu on Monday. The casualties of the explosions remain unknown, since the troops protected the people to reach the scene.
Radio Bar-Kulan - An independent radio station
Allied forces battling al-Shabaab militant fighters in Juba regions of southern Somalia vowed to expand their operations and attack militant held positions in these regions. Speaking to Bar-kulan, the pro-government Raskamboni militia leader Ahmed Mohamed Madobe said plans are now underway to expand their operation against the militant group. Madobe said they will soon capture al-Shabaab positions in these regions, adding that they will make sure the militant group is wiped-out of these regions before the end of the current transitional period in the country.
Radio Shabelle - An independent radio station
Fighters from the Islamist militants of Al-Qaeda-linked of al-Shabaab attacked Somali government soldiers at a base located near Hudur town, the provincial capital of Bakol region, on Monday. Locals said al-Shabaab agents with rocked propelled grenades and automatic guns mounted heavy attacks against Somali soldiers positioned on the outskirts of Hudur town, causing an unconfirmed loss on both warring sides and nearby civilians. "The fighting was so heavy and blazed on for two-hours with both sides exchanged mortar and artillery fire that could be heard across the city," said a local resident, adding that he couldn't confirm the exact casualties. Hassan Ibrahim Hassan, the deputy Bakol governor for Somali government, told Shabelle Radio that the troops had beaten back the assault, and killed several combatants during the clashes. He added that the situation returned into normal and the area is under their control.