3 July 2012 Daily Media Roundup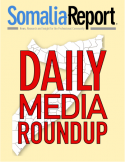 Somalia News Highlights: Kenyan PM, Govt Will Not Relent in Fight Against Terrorism; Somali Aviation Committee Meets With ICAO in Montréal; Puntland's Deputy Police Commissioner Laid to Rest in Garowe; Rescue of Aid Workers in Somalia a Sign of the Times; Controversial Chinese Company Displays Equipment in Somaliland; TFG Forces Arrested Three Al-Shabaab Fighters Dressed As Women; TFG Started Door-To-Door Security Sweep in Elasha-Biyaha; Al-Shabaab Claimed to have Killed 18 Ethiopian Soldiers in Bakol; TFG Officials Accused of Demanding 30% Cut from Bakara Market Shares; Lower Shabelle Traditional Leaders Vowed To Support Al-Shabaab; Kenyan Muslims Accused Al-Shabaab of Igniting Religious Wars Among Kenyans; Al-Shabaab Released 19 People From ASWJ Detention in El-Bur; and TFG Arrested Seven Al-Shabaab Members in Afgoye.
COMMENTARY ON ISLAMIC WEBSITES
Somali Memo - The pro-al-Shabaab website posted a new dual-language (English and Somali) video/documentary titled "Under The Shade Of Shari'a" by Al-Kataib Media Foundation. The documentary highlights how the rule of Shari'a brought peace, stability and unity to Somalis. The documentary projected Shari'a the only way out of chaos and tribalism and how al-Shabaab Islamists succeeded in stabilizing Somalia. It highlighted the constant threats and destabilization maneuvers perpetuated by the infidels nations, especially Ethiopa. The documentary accuses the Western nations and their African allies of spreading Christianity and committing a genocide in Somalia.(Editor's Note: The documentary is simply intended for recruitment purposes at a time al-Shabaab is on the run and lost lot of ground to TFG-AMISOM forces.)Somali Language
POLITICS
UN News Center - At a United Nations-backed meeting in Italy, Somalia's Transitional Federal Government today signed an action plan to end the recruitment and use of children in the East African country's national military. "The signature of the action plan will be critical for the professionalization of the security forces, and will contribute positively to the ongoing stabilisation of Somalia," the Secretary-General's Special Representative and head of the UN Political Office for Somalia (UNPOS), Augustine Mahiga, said in a news release. The action plan, signed at a meeting of the International Contact Group on Somalia, taking place in the Italian capital of Rome, outlines concrete steps to be taken by the Government to ensure a child-free national army. The ICG is composed of representatives of the United Nations and its diplomatic partners in support of efforts to restore peace and stability in Somalia.
Kenya Broadcasting Corporation - The Kenyan government will not pull out the Kenya Defense Forces from Somalia despite the recurring terror attacks in the country. Prime Minister Raila Odinga said Monday recalling the troops would be equivalent to surrendering to the terrorists. Speaking in Garissa where he led a government delegation following Sunday's twin attacks on churches, Odinga called on Kenyans to join the security agents in fighting terrorism by volunteering any information they may have. "We want Somalia to be peaceful so that the 500,000 Somali refugees being hosted in Dadaab refugee camp can go back to their country to relieve Kenya of the burden of hosting them," he said.
Somaliland Press - The 5th conference on Somali Civil Aviation steering committee was held at the International Civil Aviation Organization headquarter in Montreal, Canada from June 28-29, 2012. Members of the committee who participated in the conference were Engineer Mohamed-Kamil A. Olol Diinle, representing the Transitional Federal Government of Somalia (TFG), Ahmed Dalal Farah of Somaliland, Mr. Peter Noad of the International Civil Aviation Organization (ICAO/TCB) also the Director of Civil Aviation Caretaker Authority for Somalia Mr. Kemoitse J. Mosuupoukwa and the head of UNDP for Somalia Mr. David M. Clapp joined the conference over the phone.
SECURITY/AL-SHABAAB
Garowe Online - Puntland Vice President Gen. Abdisamad Ali Shire, Ministers, MPs and military officials gathered to bury Col. Abdullahi Salah (Nadalo) who was laid to rest in a military funeral in Garowe. Following the funeral, Vice President Gen. Shire sent his condolences to the family of Col. Nadalo. "Verily we belong to God, and to God we return; On behalf of the Puntland government I send my regards to Col. Nadalo's family and I pray that there pain is eased in these difficult times," Vice President Shire said. Col. Nadalo was killed while driving his car in Garowe's Westside by two gunmen who shot the colonel four times.
HUMANITARIAN/SECURITY
The Globe and Mail - On Monday, Mr. Dennis and three other kidnapped foreign-aid workers, including fellow Canadian Qurat-Ul-Ain Sadazai, were rescued in Somalia. In a 2009 op-ed piece he penned for The Globe and Mail, Mr. Dennis, 37, grappled with the challenges all aid workers face when confronted with abductions and violence. "The troubles of the world will continue, and my contribution is to be engaged in bringing life-saving aid to individuals in desperate need," he wrote. "I accept a degree of personal risk, because I can't accept standing aside in the face of another person's suffering." Monday's rescue was not just a victory for the humanitarian assistance so desperately needed in the war-ravaged Horn of Africa. It was also, perhaps, a small sign of the times.
SOMALILAND-CHINA/CORRUPTION
Somaliland Press - A Chinese-mining company awarded a contract to upgrade Egal international airport displayed some equipment they said was for the works in Hargeisa. The Chinese mineral explorer, China Hono Group (CHG), signed a controversial deal worth $4,436,000 four months ago with the Somaliland Ministry of Civil Aviation & Air Transportation in Hargeisa. The deal almost derailed efforts to rehabilitate the facility when it was learned that CHG, an unqualified firm, was selected because of political and personal connections to the top leadership in the country. A whistle blower, working for China Roads and Bridge Corporation (CRBC) said Abdi Rasaq Ismail "Omani", representative of CHG, approached him for a secret deal worth $1 million. He claimed they offered to pay him if CRBC carried out the works on their behave.
OP-ED
The Citizen - The author, Rasna Warah, commented about and highlights the limitations of the draft Somali constitution on Somalis with dual citizenship including the current Somali leaders. "Should someone who holds the passport of another country be allowed to run for political office in Somalia? This is one of the contentious issues that the drafters of Somalia's new constitution may have to grapple with as Somalia enters in a new phase of governance with the exit of the Transitional Federal Government in August."
RADIO ROUNDUP
Radio Mogadishu - A pro-government radio station
Somali security forces on Tuesday captured three al-Shabaab fighters dressing as women and carrying weapons in Yaqshid district of Mogadishu. The chairman of Yaqshid, Muhyidiin Hassan Jurus, stated that the police forces captured the men while trying to rob business centers in the district. He urged the local residents and traders to cooperate with the security forces to stop al-Shabaab's 'bad actions' against the Somali people.
Special Somalia security forces, started massive security operations in Garasbaley, Dayniile and Elasha-biyaha neighborhoods near Mogadishu on Tuesday by entering every single house in the area. The head of Banadir security, Kalif Ahmed Ereg, said that the security forces will continue until they secure the amnesty of the Somali people.
Radio Andalus - A pro-al-Shabaab radio station
At least 18 Ethiopian Christian soldiers were killed and dozen others were injured as heavy fights broke out between al-Shabaab Mujahideens and the infidels in Bay and Bakool regions over the last 24 hours. The heaviest fighting took place between Teeda and El-barde districts of Bakool regions, where more than ten Ethiopian soldiers were killed. The Ethiopians were from El-barde and heading to Hudur district. Also four Ethiopian vehicles were burned. Local residents told Radio Andalus that the bodies of the Ethiopians are laying along the streets in between El-barde and Teeda.
The Bakara Market traders of Mogadishu strongly opposed the pro-infidel officers demanding 30% of every business owner's property at the market. Some of the traders who spoke to the media stated that they believe that the demanded money is a form bribe and they are not ready to pay. The traders said that they witness daily looting and robbing from the pro-infidels militias. The pro-infidels leaders want to use the money for their campaign of the upcoming so called presidential elections.
Radio Al-Furqaan - A pro-al-Shabaab radio station
Dozens of traditional elders and tribal leaders are joining the fight against the foreign troops in Lower Shabelle region. A spokesman of the elders in Lower Shabelle, Mohamed Mayow, told Radio al-Furqaan that they will never allow the infidels to capture their region and they will share the bullets with the Mujahideens.
Radio Bar-Kulan - An independent radio station
Muslim leaders in Kenya accused the Somali based al-Shabaab militants of trying to cause a religious war in Kenya. Sheikh Hassan Omar of the Council of Imams and Preachers in Kenya said the terrorists who carried out the recent heinous attacks in Garissa were out to create a Nigerian style of religious chaos in Kenya. He said Kenyans have been living together peacefully for more than 40 years will continue to live as one united citizens.
Al-Shabaab militants in central Somali town of El-bur set free 19 people they detained after regaining control of the town few weeks ago. But three people still remain under detention of the rebel group. The detainees are local elders and religious clerics, according to ASWJ's Wabho security chief Abdishakur Hussein Jabir. It is not yet clear why the al-Shabaab still detains the three remaining people, two businessmen and a religious cleric. But Jabir alleges that militants set free some of the detainees after reports emerged that ASWJ militias and their allied Ethiopian troops were planning to retake control of the town.
Radio Shabelle - An independent radio station
At least seven al-Shabaab suspects were detained in an operation carried out by Somalia's special security forces in the town of Afgoye town of Lower Shabelle region. According to military source, the forces launched house-to-house searches in the town and captured seven youths alleged to have close links or members with Al-Shabab militants. "There has been heavy presence of army from corner to corner in Afgoye this morning, and they were hunting elements of Al-Shabaab hiding themselves in the villages of the town. At least 7 people aged between 18 and 25 years in were detained," said a local resident.