5 July 2012 Daily Media Roundup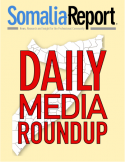 Somalia News Highlights: President Sheikh Sharif Not Coming to Hargeisa, Somaliland; US Hits Al-Shabaab Network with New Sanctions; Impeached Kulmiye Deputy Chairman Returns And Calls For Justice In Somaliland; 700 Police Posted To Northern Kenya; Kenya Denies Forming a Local Administration in Somalia; Aid Group Warns of New Food Crisis in Somalia; Fighting Displaces Thousands in Middle Shabelle; Somali Athletes Dare to Dream of Olympic Success; TFG-AMISOM Forces Seized Hundreds of Al-Shabaab Suspects and Weapons in Mogadishu Security Sweeps; Al-Shabaab Beheaded a Well-Respected Somali Cleric in Galgadud Region; Al-Shabaab Claims To Kill TFG Soldiers Between Mogadishu And Afgoye in a Roadside Bombing; Several TFG Soldiers Are Killed in an IED Blast in Mogadishu; Severe Drought Is Expected To Hit Eastern Parts of Puntland; Kenyan Lawmaker Urges Beefing Up Security in Northeast Kenya After Church Attacks; and Heavy Clashes Between Al-Shabaab and Ethiopian Troops Is Reported at Bakol Region.
COMMENTARY ON ISLAMIC WEBSITES
Somali Memo - The pro-al-Shabaab website stated that Sheekh Abu Yaasir Almaqdishi spoke to the residents of the town of Marka in Lower Shabelle after Friday prayer and Sheikh Almaqdishi claimed that he has wrapped his burial garment (Kafan) and he is "ready to die for Islam." Sheikh Almaqdishi urged the residents to stand up for their religion and Marka people vowed to fight to defend their religion.Somali Language
POLITICS
Somaliland Press - SOMALILAND Opposition Leader Faisal Ali Warabe has rejected claims the leaders have invited Somalia's interim President to Hargeisa for a state visit. A week after meeting President Sheikh Sharif Ahmed in Dubai for the first formal talks in decades, the leader of the UCID Party denied local media reports of a planned visit by the TFG leader. "These reports are fabricated and baseless. Sheikh Sharif has no business in our affairs nor do we have plans to invite the administration there here," he said during a press conference he held in Hargeisa.
AFP - The United States placed sanctions Thursday on six alleged backers of Al-Qaeda-linked al-Shabaab rebels in Somalia, naming them as two Eritrean government officials, a Sudanese national and three Kenyans. The US Treasury said the sanctions, freezing any US-located assets of the six and forbidding any US business or individual from having dealings with them, were aimed at helping halt the conflict in Somalia and efforts to dismantle al-Shabaab. "The United States is determined to target those who are responsible for the ongoing bloodshed and instability in Somalia," said Adam Szubin, director of the Treasury's Office of Foreign Assets Control (OFAC).
Garowe Online - Ousted deputy chairman of Somaliland's Kulmiye party, arrived in Hargeisa on Wednesday after being away for medical reasons, Garowe Online reports. Abdirahman Abdiqadir arrived at the international airport in Hargeisa and held a meeting at Hotel Kaah located in Hargeisa's eastside. At the event to welcome the former chairman, Mr. Abdiqadir spoke about the need for justice and equality in Somaliland. "The Somaliland people are people of good character that need equality and a just government," said Mr. Abdiqadir.
SECURITY/AL-SHABAAB
Daily Nation - A seven hundred strong police contingent has been posted to North Eastern province in the wake of increased terror attacks. Fourteen vehicles have also deployed to help police patrols in new measures to combat terrorism. Acting Internal Security minister Yusuf Haji said Thursday that security will be enhanced during church functions. All taxis and motor cycle operators commonly referred to as boda boda will have to be registered, Mr Haji said. Of the 700 officers, 300 comprise regular police while Administration Police number 100.
All Africa - The deputy speaker of Kenya's parliament Farah Mo'alin declared on Thursday his country's political and military intension towards neighboring Somalia, responding to allegations. In an interview with Shabelle Media, the deputy speaker of Kenyan parliament strongly denied reports that Kenyan is in on the process to set up a semi-autonomous state for Lower and middle Jubba region of Somalia, where the Kenya military are currently operating to help Somali government fight al-Shabaab. "Absolutely, It is baseless and fabricated propaganda that Kenyans are forming a regional state for the Lower and Middle Juba region of Somalia. We are aware that Somalia has now a government that is tasked with the responsibility for making semi-autonomous states," said Farah Mo'alin.
HUMANITARIAN CRISIS
Voice Of America - Save the Children is warning that poor rainfalls and conflict threaten to push hundreds of thousands of Somalis back into hunger, just months after the country recovered from a devastating famine. The organization's spokesperson, Andrew Wander, told VOA poor rains will likely delay the upcoming harvest in south-central Somalia, which was the hardest hit by last year's food crisis. The rains didn't totally fail like they did last year, but they certainly under-performed... Because the rains came late, the harvest is late. And so what we've seen is that there's a gap between the supplies that they have running out, and the next harvest coming in. And that gap is the period we're particularly concerned about."
IRIN News - Hundreds of families from villages in Somalia's Bal'ad District, in Middle Shabelle Region, have been displaced following recent fighting between African Union Mission in Somalia, AMISOM and Transitional Federal Government, TFG forces and al-Shabaab insurgents, say officials. "Our settlements are now the front line between the AMISOM/TFG alliance forces and al-Shabaab and we don't know where to go," Hussein Mayow, a father of six, told IRIN. The displacement followed clashes on June 25 in Bal'ad, about 40km northwest of Mogadishu, with the worst affected areas being the villages of Wala-Moy and Hamar-Daye, said an official with the Ministry of Labour, Social Affairs, Youth and Sport, who preferred anonymity.
SPORTS/SECURITY
The Guardian - As Mogadishu breathes again after ousting Islamists, Somalis compete for two wildcard places at Games. Amal Mohamed Bashiir has risked her life to run. Now the 18-year-old Somali hopes that determination will pay off with a place at the London Olympics. In a cafe outside Mogadishu's airport, she described life as a female athlete when the Islamist rebels of al-Shabaab occupied parts of Somalia's capital. "When al-Shabaab were in Mogadishu, I received many threats, phone calls from people saying they would kill me. I used to train inside a basketball hall and I used a different name," she said, wearing a long black veil with a lace band around her forehead.
RADIO ROUNDUP
Radio Mogadishu - A pro-government radio station
The joint forces of the Somali police, military, security forces and the African Union peacekeepers (AMISOM) have carried out massive security operations in Hiliwa, Yaqshid and Dayniile districts of Mogadishu on Thursday. The TFG-AMISOM forces have captured hundreds of suspected al-Shabaab fighters who were hiding in those Mogadishu districts. The joint forces also seized illegal military equipments and weapons in the operations. The Chief Security Commander of Banadir Region Kalif Ahmed Ereg told the Media that they will interrogate the suspects and eventually release those found as innocent people.
Al-Shabaab militias on Wednesday night beheaded a well known religious leader in Bergaan village of Galgadud region. Sheikh Abdisalam Mohamed Barre who was also Qur'anic teacher was in al-Shabaab custody since the militias recaptured El-bur district last month. The behead body of Sheikh Abdirahman was seen in Bergaan village on Thursday morning and the people of the region were disappointed with the killing innocent cleric. Al-Shabaab militias beheaded at least seven residents since they recaptured El-bur district a month ago.
Radio Andalus - A pro-al-Shabaab radio station
Unspecified numbers of pro-infidels militias were killed and several others injured as the Mujahideens ambushed their convoy in Between Mogadishu and Afgooye town on Thursday. Military sources indicate that the Mujahideens burned military vehicle and seized other. On the other side the Mujahideens attacked a pro-infidels militias' base in Black-sea neighborhood of Mogadishu on Wednesday night and the Mujahideens destroyed the base and chased the enemy from their bases.
Radio Al-Furqaan - A pro-al-Shabaab radio station
At least one TFG soldier was killed and over five were injured as IED was targeted at their base in Towfiq neighborhood of Mogadishu on Thursday noon. An eye witness told Radio al-Furqaan that the pro-infidel militias frantically fired at all direction after the blast hit their convoy, but no civilian casualties were reported. In addition, another heavy explosion was targeted at TFG militias in Gubta village of Mogadishu. The casualties of the incident remain unknown and al-Shabaab Mujahideen did not speak about it.
Radio Bar-Kulan - An independent radio station
A severe drought is being reported from several parts of Bari region, northeastern Somalia. The affected areas include Alula and Bargal districts as well as parts of Dili-didin and Gunbah areas. Bari regional governor Abdisamed Mohamed Galan told Bar-kulan that the area has been badly hit by subsequent droughts that affected both human and livestock. Galan said severe water shortage and the compelling drought situation have forced many pastoralist families to flee their homes in search of water and pasture. He said no deaths have so far been reported due to the drought situation in the region but the situation is getting worse. He however said his administration recently delivered humanitarian assistance to the affected families in the region after going for an assessment trip to witness the impact and the magnitude of the drought situation.
Radio Shabelle - An independent radio station
After twin attacks on churches in Garissa, Kenyan MP Aden Barre Dualle urged the Kenyan government to provide adequate security to protect the lives and property of the residents of the North-eastern which borders the war-torn Somalia. He added that the region is likely to experience more targeted attacks from the weaken Islamist group Al-Shabaab because of its proximity to Somalia. "The mindset our security machinery must be changed now that our country is at war with terrorist group in Somalia," he said.
Heavy fighting in the Somalia's southern region of Bakol between the Islamist insurgents and government forces backed by Ethiopian troops killed scores of people over the last 24-hours, residents and officials said. The latest gun battle broke out on Wednesday night, around 7:00pm local time in different locations in the near Hudur town, where the fighters of Al-Shabaab launched ambush attacks on a convoy of the allied forces, traveling from El-Berde to Hudur town in Bakol region, killing at least Eleven combatants. The sound of the artillery weapons could be heard and rocked the battle zones and mounted concern on the local civilians. Speaking with Shabelle radio, Mohamed Abdi Tall, the governor of Bakol region for Somali government, claimed victory over the attack, saying they have killed at least 11 militants following the offensive. A resident said the fighting was over but sporadic gunfire could be heard.