6 July 2012 Daily Media Roundup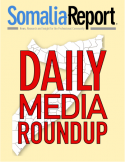 Somalia News Highlights: US Sanctions Eritrean Officials for Aiding Somalia Militants; Somali President Visits Rwanda; Africa Facing Sharp Rise in Islamic Extremism; Kibaki Promises to Hunt Down Agents of Terror; Foreign Minister Seeks UAE's Help to Free Indian Sailors; Somalia Challenges Kenya Over Oil Blocks; UN And Partners To Discuss Resettlement For Over 800,000 Refugees; Zanzibar Refugees Return From Somalia; Al-Shabaab Deserts Strategic Districts in Hiiraan Region; Former Somali Defense Minister Calls For Al-Shabaab's Somali Leaders To Surrender; Al-Shabaab Claims To Have Received Fighters, Weapons and Financial Support from Middle Shabelle; Kenyan Troops Allegedly Suffer Heavy Casualties By Al-Shabaab Mortar Attacks; USAID Donated $600,000 For The Reconstruction of Mogadishu at Municipal Levels; ASWJ Claims that Al-Shabaab Is Defeated; TFG-AMISOM Forces Arrest 10 Suspected Al-Shabaab Members in Bal'ad Areas; and Mogadishu Police Command Pledge Continued Security Sweeps on Al-Shabaab Remnants.
COMMENTARY ON ISLAMIC WEBSITES
Amiir Nuur - The pro-al-Shabaab website claimed that TFG's soldiers have arrested yesterday a large number of innocent people in Mogadishu and al-Shabaab accused the TFG forces for arresting innocent people to extort money. The arrested young men were asked to call their mothers and pay $500 each for their release.Somali Language
POLITICS
Reuters - The United States imposed sanctions on two Eritrean government officials on Thursday, saying they had assisted Islamist militants including the al Qaeda-linked al Shabaab in the lawless neighboring state of Somalia. The U.S. Treasury included the two Eritreans on a list of six people newly placed under sanctions for their role in the Somalian conflict, which U.S. officials see as a growing threat to regional stability across East Africa. "The United States is determined to target those who are responsible for the ongoing bloodshed and instability in Somalia," Adam Szubin, director of the Treasury's Office of Foreign Assets Control, said in a statement. The United Nations Security Council has sanctioned Eritrea for providing support to Somalia's Islamist militants, a charge the Eritrean government has strongly denies.
The New Times - Somali President Sheikh Shariff Sheikh Ahmed arrived in Rwanda yesterday for a two-day working visit just weeks ahead of general elections in his country. On arrival at Kigali International Airport shortly after midday, he was received by Rwanda's Foreign Affairs Minister, Louise Mushikiwabo, before holding talks with his counterpart President Paul Kagame. According to Mushikiwabo, the Heads of State discussed the current security situation in Somalia. Addressing journalists after the meeting of the two Presidents, Minister Mushikiwabo said President Ahmed had requested for Rwanda's continued support to his country."President Sheikh Ahmed was also briefing President Kagame about the political situation in his country considering that Somalia will be holding presidential elections next month," she said.
SECURITY/AL-SHABAAB
Al Arabiya News - From east to west Africa, a rise in Islamic extremism has led to a surge in deadly attacks and kidnappings by groups linked to Al-Qaeda, sparking fears of a new "arc of terror" on the continent. The three main Al-Qaeda-linked groups are Somalia's al-Shabaab in the Horn of Africa; Al-Qaeda in the Islamic Maghreb (AQIM) which is active across the Sahel; and Boko Haram, which has sharply increased its attacks in Nigeria since 2010. "We do have enough evidence of some communication between Boko Haram and AQIM and affiliated groups," a Washington DC-based analyst focused on the Sahel told AFP. However while both Boko Haram and AQIM had claimed support or training from al-Shabaab, this had not been confirmed, he added.
The Standard Media - President Kibaki has issued a stern warning to terrorists. The President said the Government will hunt down those responsible for acts of terror targeting Kenyans. "Let those who seek to harm us be warned that we will hunt them down. We will not relent in our pursuit and we will not be intimidated," Kibaki said. Referring to recent terror attacks in parts of the country, President Kibaki said the Government would mobilise the necessary resources to ensure Kenyans are safe. "The fight we have embarked on is one against agents of terror. We will complete the work we began in stabilising Somalia. We owe it to ourselves and the people of Somalia," the Head of State added.
MARITIME
The Times Of India - Foreign minister S M Krishna on Thursday wrote to his UAE counterpart, Sheikh Abdullah bin Zayed Al-Nahyan, requesting him to secure the release of six Indians on MV Iceberg which has been held in captivity by Somali pirates for over two years. Iceberg, which has now become the longest-held ship by Somali pirates, is owned by UAE nationals. Disheartened family members had earlier appealed to Pakistani human rights activist Ansar Burney to help them out. The six Indian sailors have spent over two years in captivity since March 2010. One of the 24 crew members died on board last year. The crew includes sailors from Yemen, India, Ghana, Pakistan, Sudan and the Philippines. Media reports in Dubai said a breakthrough in negotiations with the Somali pirates was near.
KENYA-SOMALIA/OIL RESOURCE CONFLICT
Reuters - Somalia's government accused Kenya on Friday of awarding offshore oil and gas exploration blocks illegally to multinationals Total and Eni because the concessions lie in waters claimed by Somalia. The spat between Kenya and its war-ruined neighbour could complicate the hunt for resources along a part of the East African coastline, rapidly emerging as one of the world's hottest oil exploration prospects. Somalia's deputy energy minister, Abdullahi Dool, said contracts awarded for four blocks in deep waters were invalid and the government planned to complain to the United Nations, which oversees maritime border laws. "We are concerned about the lease of blocks," Dool told Reuters. "I am sure we will lodge complaints."
HUMANITARIAN CRISIS
UN News Center - The United Nations refugee agency and its partners will meet next week in Geneva to discuss how to help the more than 800,000 refugees who are seeking resettlement. Known as the 18th Annual Tripartite Consultations on Resettlement, the meeting – which will be attended by representatives of resettlement countries, non-governmental organizations and members of the Office of the UN High Commissioner for Refugees (UNHCR) – will look at ways to improve how resettlement works in various countries. "Resettlement is one of three main solutions for refugees," said UNHCR spokesperson Adrian Edwards at a press briefing in Geneva today. "It is an integral part of comprehensive solutions strategies in many UNHCR operations."
SAPA - Refugees from the palm-fringed spice islands of Zanzibar stranded in the war-torn Somali capital Mogadishu prepared to fly home on Friday, more than a decade after fleeing political violence. Thirty-eight refugees lined up to board a United Nations' flight out of Mogadishu - often dubbed the most dangerous city in the world - on the final step of an epic journey back home to Tanzania. "The returning families have been living in Mogadishu for over 10 years and have now decided that it is time for them to return," said Andreas Needham, spokesperson for the UN refugee agency (UNHCR) in Somalia.
RADIO ROUNDUP
Radio Mogadishu - A pro-government radio station
Al-Shabaab militias deserted certain strategic districts of Bulo-burede, Halgan and jalalaqsi in Hiiraan region on Friday, according to local residents. The militias fled when they heard that the Somali National Forces and allied troops are heading to those districts. Al-Shabaab militias, who are allegedly in their last days in Somalia, are tactically opting to vacate bases and not to confront the national forces .
Former Somali Defense Minister Abdihakin Mohamud Haji Fiqi returned home on Friday and called for al-Shabaab's Somali officers to ask Somali people for forgiveness and stop fighting against the government. Fiqi also called for the foreign fighters to leave the Somali nation and stop harassing the Somali people. The minister also urged the traditional elders who are meeting in Mogadishu to make history and elect the right people to approve the draft constitution and elect the upcoming parliament members.
Radio Andalus - A pro-al-Shabaab radio station
Al-Shabaab Mujahideen chairman in Middle Shabelle region Sheikh Yusuf Sheikh Isse Kabo-ku-Tukade on Friday declared that hundreds of voluntary fighters joined the Mujaahideens after he called for the people to join the Jihad early last week, after the infidels and their supporters captured Bal'ad district. The chairman also stated that there are people who donated cash money for the Jihad against the enemy. It is also reported that Tunni and Jiidda clans who reside lower Shabelle region donated a large cache of weapons to the Mujahideens and transferred the weapons to al-Shabaab Mujahideen chairman in Lower Shabelle Sheikh Mohamed bu Abdalla.
Radio Al-Furqaan - A pro-al-Shabaab radio station
Reports from Lower Juba region in southern Somalia indicated that al-Shabaab Mujaideen fighters have shelled the Kenyan military bases in Taabta village on Friday night. Mujahideen military officers told Radio al-Furqaan that the shelling continued for over an hour. The shelling caused heavy casualties on the Kenyan troops since the mortars hit at Kenyan military bases.
Radio Bar-Kulan - An independent radio station
All Mogadishu districts are expected to receive six hundred thousand dollars for developments in infrastructure and other essential public services, according to the city municipal authorities. Speaking to Radio Bar-kulan on Friday, the Mayor of Mogadishu Mohamoud Ahmed Noor Tarsan stated that the money was donated by USAID and all districts are required to submit their proposals. According to the mayor, the money will be used to improve roads, provision of clean water and electricity in the city.
Ahlu Sunnah Wal Jama claimed that the al-Shabaab militant group is politically, militarily and economically weakened. Speaking at a security meeting held in Dhusamareeb today, Chairman of ASWJ's Executive Committee Mohamed Yussuf Hefow said the militant group has been neutralized and weakened in all aspects. Hefow said the militant group has now resorted to forcefully seek supports from local clans in the country by holding series of meetings with clan elders in order to feed them with their wrongful ideology after realizing it was facing an absolute jeopardy in all aspects. He urged Somalis to exercise patience as the group will soon be cleared out of the country, promising that his group will be pursuing militant fighters in their remaining hideouts.
Radio Shabelle - An independent radio station
TFG-AMISOM forces at villages located near Bal'ad town of Middle Shabele region, arrested more than 10 alleged al-Shabaab elements. According to witnesses, the joint security operations continued all over last night and until Friday morning. Osman Mohamed, the district commissioner of Balad for Somalia government, confirmed to Shabelle Radio that the operations carried out by TFG and AMISOM forces in the region. Somali national army backed by the African Union forces in Somalia has pushed al-Shabaab militants out of the outskirts of Mogadishu, seizing several key areas, including Afgoye corridor for the past few months.
On Friday, the Somali police command announced they will step up security operations in Mogadishu, a day after the National Security Agency (NSA) carried out their largest mass arrest yet in the capital. Colonel Abdullah Hassan Barise, Somalia's National Police spokesman, told Shabelle Radio that they are committed to maintain investigations until the government prevails over the armed gangs who carry out the acts of terrorism in Mogadishu. "The main objective of our security operation is to ensure the overall security of the capital and to get rid of the remnants of Al-Shabaab elements in parts of Mogadishu," he said.