Exclusive
Land-Based Anti-Piracy Fallout
Pirates Become Politicians. Poachers Become Wardens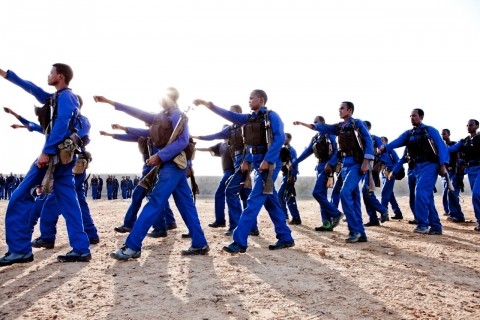 The most talked about, not talked about, story this week is who will replace Sterling Corporate Services as show runner for the UAE-funded, Puntland-based, anti-piracy program. Although the Puntland Marine Police Force still exists as a nominal armed force, the foreign mentors were flown out and the funds suddenly cut off. Three insiders are rushing to meet requirements and outsiders are barely aware that the massive program even existed.
This estimated $50 million dollar a year program appears to have been shut down due to the perfect storm of a UAE based counter piracy program, direct denials by the sponsor that they were funding to the UN, the UN harping on Arms Embargo violations, outside political pressure to reduce Puntland's influence and the upcoming August 20th change from temporary government to official.
Somalia Report has also learned that the UAE has brokered a behind closed door deal with the UN to avoid the threat of sanctions in exchange for shifting the UN's focus to yet to be named individuals previously involved in the program. Despite directly violating the two decade old arms embargo by refusing to notify the security council, the UAE will continue to fund the program after their new contractor could meet certain requirements. First would be notification to the Security Council which would have five days to object. Second would be the new contractor presenting three official letters from the AU, UN and US.
One of the other reasons for the abrupt shutdown is a concern that funds for, or control of, major equipment of the now defunct Saracen is in dispute. One of the accusations made is that businessman Jamal Balassi has or is attempting to steal the three large ocean vessels and an Antonov 26 along with money provided for the purchase of helicopters.
Balazzi's role in the program is covered in depth in the 2011 UN SEMG report but his role is expected to return as a major focal point in the upcoming report. In 2011 the UN wrote:
On 3 March 2010 an offshore company named Saracen International SAL (Société Anonyme Libanaise) was registered in Lebanon by Jamal Muhammad Balassi, a Ukrainian national of Palestinian origin, who serves as both Chairman of the Board of Governors and Managing Director of the company. When questioned by officials from the Lebanese Ministry of Justice, Balassi's partners in Saracen — one Palestinian and one Lebanese partner, both resident in Sidon, Lebanon — claimed to know nothing about the company's activities.
In the meantime the UAE, Somali officials, foreign contractors and even the pirates of Puntland are losing no time in taking advantage of the unexpected shutdown.
Defeat Snatched From The Jaws of Victory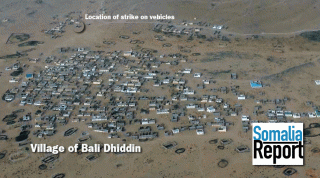 To recap; the PMPF program was abruptly halted after
a June 6th attack on Isse Yulux and a group of technicals after they were discovered in a house on the outskirts of Bali Dhidden
.
Yulux is the kidnapper of 48 mariners and two commercial ships. The crews of the Suezmax tanker Smyrni (26 men) and much smaller chemical tanker Royal Grace (22 men) are currently being ransomed to insurance companies. Yulux has been on the run after the PMPF abruptly rolled in to Hafun on May 27th and arrested his cohorts. The pirates were lectured and released in a bid to show that kidnappers who go straight could remain part of society and those that continued to abuse mariners and populations will be brought to heel.
On June 3rd Yulux's comfortable business model was again rudely interrupted when a PMPF helo magically appeared above the two kidnapped ships off Rasu Bina. Shots were exchanged again with pirates being wounded.
This attack came from a helicopter directed and owned by the Puntland government but operated by a well-known South African pilot of Executive Outcomes fame. Suddenly land-based anti-piracy had taken on a very serious tone. Many of the trainers of the PMPF were former white and black South African Special Forces, police and soldiers. They knew how to train African soldiers in Africa and more importantly how to fight in Africa. Their strategy was to slowly build up resources and skill levels using local troops and then in lightening fashion strike and keep striking their opposition until they surrendered or were killed. After almost two years of buildup the PMPF program kicked into action this spring. There was significant pressure to show results from the Puntland Government before the end of July and the PMPF delivered moving troops into major pirate centers and forging deals with local governments. It was clear in the short term that piracy was no longer business as usual in Puntland even though pirates still flourished in Galmadug.
The Contenders And Contentions
There are three companies rumored to be vying to take over the PMPF project. The main hurdles are approval from the African Union, not violating the UN Arms Embargo and a letter of endorsement from the United States.
Currently there are a handful of contractors operating in Somalia in various capacities: DynCorp, PAE and Bancroft. Currently Bancroft and their work for AMISOM is endorsed by all three entities but doing business in the semi-autonomous and mercurial region of Puntland is quite different than AMISOM/TFG controlled Mogadishu. Whoever meets these politically correct criteria will receive UAE funding but it is not know what the PMPF program will look like. It is clear that fielding a professional police force with full air, land and sea capability can quickly overwhelm pirates but there is no clear indication that long term benefits can solve long standing political division and years of neglect.
The UAE, Puntland and the former PMPF had a very large humanitarian and development angle working closely with a local Puntland Development Group and the local governments. With funding suspended, broken promises and broken deals with pirates may have negative consequences.
July 15th seems to be the target date with the UN SEMG report appearing around the same time.
Meanwhile Somalia Report has tracked other developments as part of the fall-out from the PMPF closure. The actual camp is being watched over by a skeleton crew of mentors and there are PMPF members deployed across the coastal areas of Puntland. Since funding was abrubtly cut and many bills unpaid by the UAE, there are concerns about the morale and viabilty of mainting the troop.
Somalia Reporthas reports of ammunition being sold and moral sinking along with expected infighting within the Puntland government about who ultimately will control the force.
Puntlander's vying for control include, the Minister of Security, Minister of Finance, Minister of Port and Anti Piracy and even the oldest son of the President.
The current political prize is the attempted capture of Isse Yulux which led to a violent incident in Xiriiro that left 3 dead and several civilians wounded.
Funded By Ransom Drops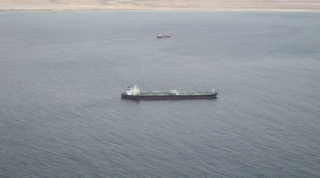 Yulux is still in Calulla awaiting a ransom drop for the Royal Grace. In a startling development Yulux has begun picking up the salaries of some of the PMPF commanders creating the danger of a full scale mutiny as trained and armed anti-piracy troops suddenly join the pirates. Yulux is also eyeing the model that former pirate Booyah, now housed in Bosaso prison, used to get out of jail by "reforming" and leading political groups and elders in Eyl and central Puntland to support now President Farole.
Yulux has used the sudden power vacuum to reinforce Caluula as his new base of operations. An unknown number of militia members and armed pirates have moved in. The pirates are openly using Caluula without fear or reprisal.
Residents of Caluula are against the armed pirates moving in to their area, but are powerless to stop them. They have requested that the Puntland administration remove them from the city. Caluula would have been the next target of the PMPF.
If the oil tanker Smyrni and chemical tanker Royal Grace are ransomed they could bring an estimated $9M and $4M to strengthen the Yuluz group. Pirate sources insist that the ransom drop for the Royal Grace is due late this week, but rumors of ransom drops are frequent and unreliable among pirates.
In effect the delivery of any ransom will exceed any anti-piracy funds reneged on by the UAE. It will also create an ugly dynamic for the new project contractor, if and when they are selected.
Poacher Turned Warden
The most bizarre development must be saved for last. Following meetings last week which Somalia Report exclusively revealed an reported to our Piracy Report subscribers, notorious pirate Abdulkadir Afweyne was apparently selected by the Transitional Federal Government (TFG) to become the TFG's Anti Piracy Commander in the south of the country. Although it may seem odd at first Afweyne has campaigned for this position as revealed in Somalia Report's exclusive interview with him in April of this year. . Afweyne advocates peaceful negotiation not force.
Mogadishu became the hub for the meetings amongst current pirates, retired pirates, TFG officials and elders, according to pirate sources who spoke to Somalia Report.
The TFG, which has spent the last few years fighting al-Shabaab militants and rebuilding Mogadishu, has now turned their eye to piracy, with sources claiming that one of their biggest policies is to hire old pirates to combat the current group of men attacking merchant shipping off Somalia's shores.
The meetings in Mogadishu were between elders from the Hawiye clan, the TFG, current pirates including Mohamed Garfanje and old pirates led by Abdulkadir Afweyne.
The outcome appears to have been that Afweyne agreed to work with the government to fight piracy while Garfanje and others refused to be hired by the TFG.
Pirate sources claim that Afweyne was selected to lead the TFG's anti-piracy operations in Harardhere, Hobyo and southern Somalia. Pirates claim the TFG is not allowed to announce the move immediately and are moving forward in secret. It would important to note that Somalia Report has seen no proof of any "anti-piracy operations" in these regions other than community meetings and the odd shoot out.
The sources added that TFG President, Sharif Sheikh Ahmed, will continue with the anti-piracy stance outlined at the recent counter piracy conference in Dubai. Abdulkadir Afweyne and his 'staff' are apparently waiting to meet the president before moving to their bases in Harardhere.
Somalia Report's pirate sources further suggested that Western countries will assist in training this new anti-piracy force, which is intended to drive pirates out of Harardhere and Hobyo, but refused to name nations or companies which may be involved.
Elders from Hawiye clan in Mogadishu have confirmed the meeting took place. "This meeting was finished already and we are supporting our government as elders and youths. But this is still in process so I can't tell you anything more, until we get permission from the TFG, who will announce these operations when the process begins," Mursal Osman, an elder from Mogadishu, told Somalia Report.
Abdulkadir "Afweyne" is the son of Mr Afweyne (Senior). Afweyne means "big mouth" and is a traditional nick name used by the former pirate. The father and son have not been involved in piracy over the last couple of years, and Afweyne Senior has been working as a peace negotiator after pirates took hostages to the town of Cadaado, Galgadud, where he is based. The Afweyne Senior is also a former graduate of the 1998- 2000 HART program in Bosaso and may be singularly responsible for the technology and skill transfer fear of creating anti-piracy forces that suddenly turn to piracy.
Over the last few months, sources told Somalia Report Adbulkadir had been thinking of trying to work for national or international groups to assist in the release of hostages. He had previously told Somalia Reportthat he saw his role as an "ambassador" for hostages.
The controversy of a successful anti-piracy program is only dwarfed by the possibilities of what might replace it.