Pirate Infighting Leaves Four Dead
Hijackers of NAHAM3 and hijackers of MV Samho Dream fight over ransom debt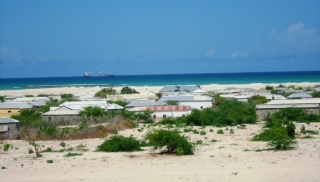 At least four people died after two groups of pirates from different clans clashed in Hobyo this afternoon. The casualties are pirates from both sides, pirate sources and local residents confirmed to
Somalia Report
this evening.
The leaders of the two pirate groups in question are Xayle Hurde and Aadan Low. Sources on the ground added that the pirates fought because of issues arising from the ransoming of the South Korean vessel MV Samho Dream, which pirates released in November last year after a $9.5 million ransom was paid. In 2010, the MV Samho Dream was used as a mother ship by pirates to mount the successful hijacking of the MV Polar.
"First we heard the pirates' noise. They were talking with high sound, someone saying give me my money right now, after more noise again, we heard the gun-shots (for several) minutes. We heard that at least four died from both sides, but I don't who were the pirates, " Ali Mukhtaar, a Hobyo resident, told Somalia Report.
"The city is now cool. There are no more people in the street; (the) residents fearing that gangs can fight again, although elders are trying to stop the fighting before it changes to clan fighting but still we are under fear tonight, " he added.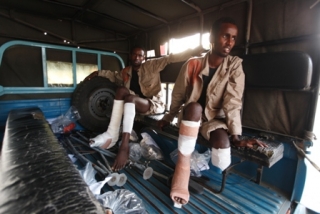 To get more details,
Somalia Report
contacted pirates in the region and asked the groups who was involved in the fight and why. Sources from the pirate gangs confirmed the incident and the claim that at least four died from both sides.
"Yes, it's true. At least four pirates died from both sides after Xayle Hurde's group and Aadan Low's group fight in the city this afternoon," a pirate in Hobyo who asked not to be named told Somalia Report.
"It's related to the ransom of MV Samho Dream, the south Korean one. Xayle Hurde was (one of) the hijackers of that vessel and and Aadan Low gives to Xayle that time a small car and fuel to use as investment and Xayle promised that he will pay back to Aadan Low. But after Xayle Hurde and his group took the ransom he didn't pay anything (back). Aadan Low was waiting his for money (for) months. Mr Aadan Low looking for Mr Xayle and this afternoon they met in the city and Aadan Low began the gunfire," the pirate added.
The pirates told Somalia Report that the amount of ransom which Mr Aadan Low loaned to Xayle is $22,000.
Xayle Hurde is a well known pirate from the Sacad-clan, a sub-clan of Hawiye, while Aadan Low is also another pirate from Saleeban-clan, sub-clan of Hawiye. Both men have powerful clan ties in the region which could change a simple disagreement between pirates into something much larger scale.
Fighting between pirate gangs is, of course, nothing new. In fact, the ransomed Samho Dream was the cause of another gunfight in Hobyo on June 17th this year, when pirates belonging to the Fatxi group fought each other. In that incident, one pirate was killed and two other people, one of them a civilian, wounded.
Aadan Low is currently involved with the Taiwanese vessel NAHAM3 which pirate gang leader Ali Duulaaye's group is holding. Low is one of the investors of this vessel and has 5% stake in the vessel.
Somalia Report will follow this story and update with any new developments.