Breaking News
Shabaab Bomb Blast Kills Lawmaker in Mogadishu
MP Mohamud Abdi Garwayne Killed, 5 Wounded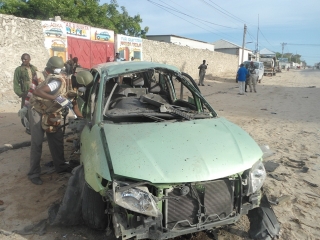 A car bomb killed a Somali lawmaker in Mogadishu's Hamarweyne district on Monday morning and wounded five others, including three of his bodyguards and two civilians, according to government and al-Shabaab officials who spoke to Somalia Report.
Credible sources in the Somali Security Forces told Somalia Report that the bomb was concealed and fixed inside the car and not a suicide attack as earlier reported.
"The death toll remains at one person: MP Mohamud Abdi Garwayne," said government official Warsame Godah.
The victim was a former Islamist and member of the former Islamic Courts Union before he joined the current Transitional Federal Government (TFG) led by President Sharif Sheik Ahmed.
He served as a former minister for trade and industry and was a close friend of the president, according to TFG officials who spoke to Somalia Report.
Initial reports by witnesses suggested that the attack was carried out by suicide bomber, but a senior al-Shabaab official who declined to be named told Somalia Report they masterminded what he described as 'a high profile mission that enabled the death of the lawmaker.'
"It was not a suicide attack but that should be a clear message to other TFG officials and their foreign supporters that al-Shabaab fighters are still active in Mogadishu although the enemy is claiming we were forced to flee the capital," said the al-Shabaab official.
Witnesses, however, believed it was a suicide attack.
"I was here when the car went past at a high rate of speed, passing all the vehicles, but I was did not assume he was a suicide bomber. When the blast hit, I went down at once. When I raised my head, I saw everyone running around me and shouting. I saw three civilians, including a young lady, who were wounded in the attack," said eyewitness Sahra Mo'alim.
Shortly after the incident security forces reached on the scene and blocked the roads, firing gunshots in the air.
The hardline al-Shabaab militant group has been carrying out number of suicide attacks in Mogadishu and other parts of Somalia's southern regions against Somali and African Union troops.
Earlier on Sunday the interior minister of the transitional government, Abdi Samad Moalim, vowed to increase security in the city.
"As we are approaching the holy month of Ramadan, security should be highly tightened all around the country to avoid of further violent attacks by the terrorist groups. We have to be a vigilant," said Abdi Samad.
In the past, al-Shabaab has increased their suicide and guerrilla attacks during Ramadan.