16 July 2012 Daily Media Roundup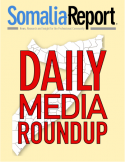 Somalia News Highlights: Somali Government, Elders Agree on New Constitution; UN Report Cites Massive Corruption in Somali Government; Somali MP Slams Kenyan Air Attacks in Somalia; The Hunt for the White Widow; Dramatic Drop in Somali Pirate Attacks; Oil Opens Another Frontline of War in Somalia; Spate of Sicknesses Hit Small Town in Puntland; Malaysia to Help Somalis Get Clean Water Supply; From War-Torn Somalia to the London Olympics; Somali President Nominates New Administration Leaders for Galgadud Region; Al-Shabaab Claimed to Have Killed Former TFG Minister in Car Bomb; AMISOM Soldiers Were Allegedly Killed in Al-Shabaab Ambush; TFG Soldiers Were Accused of Killing and Looting in Afgoye; Three Al-Shabaab Fighters Surrendered to TFG Forces in Afmadow; ASWJ Claimed a Former French Intelligence Agent is Alive and Runs Al-Shabaab Training Camp; and Al-Shabaab Killed a Young Boy Accused in Galgadud.
COMMENTARY ON ISLAMIC WEBSITES
Somali Memo - The pro-al-Shabaab website claimed that al-Shabaab forces are set to soon liberate Galgadud districts which are under the control of the infidel enemy forces. Sheikh Awale Aden of al-Shabaab's Galgadud Administration stated many of the displaced people civilians are returning to their homes, especially districts al-Shabaab liberated from the enemy. The website said al-Shabaab is prepared to liberate the other districts in the hands of the infidel forces.Somali Language
POLITICS
Somaliland Press - The Somali government says it has reached an agreement with traditional elders to move ahead with plans to adopt a draft constitution. A government minister told VOA that a Constituent Assembly will provisionally adopt the measure during an 8-day conference that begins on Saturday. Constitution and Reconciliation Minister Abdirahman Hosh Jibril said leaders set the date during a meeting Sunday. The 825-member assembly was to meet earlier this month. But the gathering was delayed after some elders called for changes in the measure, including the addition of wording that affirms Mogadishu as Somalia's capital. Officials said some elders also have taken issue with a provision allowing women to run for high office.
Associated Press - A scathing report written for the U.N. Security Council says that systematic misappropriation, embezzlement and outright theft of taxpayer funds have become a system of governance in Somalia. The nearly 200-page report lists numerous examples of money intended for Somalia's Transitional Federal Government (TFG) going missing, saying that for every $10 received, $7 never made it into state coffers. The report, written by the U.N. Monitoring Group on Somalia and Eritrea and obtained by The Associated Press Monday, says government revenues aren't even clear: The Ministry of Finance reported revenues of $72 million in fiscal year 2011, while the accountant general reported revenues of $55 million. "Nothing gets done in this government without someone asking the question...'What's in it for me?'" the report quoted a senior government official as saying. (Editor's Note: A detailed analysis and link of the report is published by Somalia Report.)
SECURITY/AL-SHABAAB
All Africa - A lawmaker in Somalia's parliament has strongly condemned Kenya's air raids inside Somali territory, a day after Kenyan fighter jets carried out a deadly aerial attacks in Gedo region, west of Somalia. Mohamed Omar Geedi, the MP said during an interview with Shabelle Media that it will not be tolerable that Kenyan military to continue their air raids and kill innocent civilians of Somalia. "We spoke out in several times over the Kenyan attacks against Al shabab fighters. During the attacks many civilians, mostly herds were killed and others seriously hurt. I call upon Kenyan government to avoid civilian casualties as it carries out shelling against rebel-held villages in south and west of Somalia," he added.
The Telegraph - In the feverish atmosphere of Kenya's war on terror, rumours abound as to the whereabouts of Samantha Lewthwaite, the Muslim convert from Aylesbury who is on the run after a foiled bomb plot. Yet several witnesses who spoke to The Daily Telegraph this week said they saw a woman in Islamic clothing, including a headscarf but not a veil, and several said she was pale-skinned. There are two dangers here. First, there is the possibility that the myth created around her will take on its own life. "The fact is that every young Muslim here sees the double standards of the West," said Sheikh Abubaker. "By accusing us of being terrorists when we are not, that will of course turn us into terrorists, through our anger and frustration. You must beware of what you create." The other danger, more chilling, is that Samantha Lewthwaite is everything that she has been accused of being.
MARITIME
FOX News - Sea piracy fell 54 percent worldwide in the first half of 2012, led by a dramatic drop in Somali piracy, an international maritime watchdog said Monday. The International Maritime Bureau attributed the sharp drop to anti-piracy operations by international navies patrolling in seas off Somalia as well as increased vigilance by ships, including the hiring of private armed guards on board. Attacks off Somalia's coast plunged to 69 in the first six months from 163 a year earlier, it said. Somali pirates were able to seize 13 vessels, down from 21. "The naval actions play an essential role in frustrating the pirates. There is no alternative to their continued presence," said IMB Director Pottengal Mukundan. He warned that Somali pirates remain a serious threat, with 11 vessels and 218 crew members still in their hands as of late June.
OIL EXPLORATIONS/EAST AFRICAN CONFLICT
Oil Price - Kenya has raised the ire of Somalia by awarding offshore oil and gas exploration blocks to multinational companies in contested waters, and while the mainstream Western media glosses over this as a simple irritant for Kenya, Total and ENI, the move will give new impetus to Somali piracy and threatens to open up another frontline in the Somali conflict. Kenya is perhaps being a bit hasty in its excitement over oil, having discovered its very first commercially exploitable oil inland in the Rift Valley earlier this year. While that find is not contested, its decision to award three exploration blocks to Italy's Eni and one to France's Total in coastal waters claimed both by Kenya and Somalia is questionable. "Kenya is clearly holding most of the cards, here, but this is a dangerous game whose timing is a bit off. The transitional Somali government requires as much support from the various influential clans as it can muster in order to defeat al-Shabaab and lessen the chance of any future insurgencies of a nationalist flavor. Kenya's move to sideline Somalia over these oil exploration blocks risks skewing alliances at a pivotal point in the conflict," Michael Bagley, president of Jellyfish Operations, which manages an intelligence network in Somalia, told Oilprice.com.
PUBLIC HEALTH/PUNTLAND
Garowe Online - At least 40 people are suffering from an outbreak in the town of Qol in Haylaan region of Puntland State of Somalia, Garowe Online reports. The symptoms of the sickness include chronic diarrhea and excessive vomiting and have led to over 40 people in the small town of Qol seeking medical treatment. Dr. Adan Mohamed Ali, who is part of the small staff of doctors in Qol, said that the outbreak and the lack of medical services in the town have caused some to seek treatment in Qardo and Garowe. According to sources, out of the 40 plus people who have been suffering from the symptoms, 6 are in critical condition and have been taken to the nearest cities.
HUMANITARIAN CRISIS/PUBLIC HEALTH
New Strait Times - The Perdana Global Peace Foundation (PGPF), is putting together resources to help those in Somalia to have clean water facilities. Foundation trustee Datuk Ahmad A. Talib, who had just returned on Saturday from a six-day trip to Mogadishu, said the people there needed better water facilities. "They are relying on wells for their daily water supply and some of these wells have been around for more than 300 years. But these wells are very deep and need a good pump system. "In our recent visit, we helped to fit new pumps at three wells. We plan to help them to build more wells in Mogadishu when we go back there in three to four months."
VIDEO
CBS Sports - This video showcases the determination of Somali Olympiads to make to the London Olympics 2012, despite all the odds against them. "At this summer's Olympic games, the two Somalis who will be competing know that a medal is beyond their grasp. But just making it there is a dream come true for the two athletes, who have spent their lives running for bullets and a brutal civil war."
RADIO ROUNDUP
Radio Mogadishu - A pro-government radio station
A statement released by the office of Somalia President Sheikh Sharif Sheikh Ahmed announced that the president has appointed a new administration for Galgadud region of central Somalia after certain Galgadud districts were recently liberated al-Shabaab militias. Ahmed Yusuf 'Iyow was nominated to be the governor of Galgadud region, Deputy Governor Saadaaq Sheikh Yuusuf Sheikh Ibraahim, chairman of the capital city, Dhuusamareeb Mo'alim Abdirahmaan Geed-La-Qorow and the chairman of Guri'el district Osman Iise Nuur. "The Galgadud region is suffering a lot of problems, including armed conflict, drought and water shortage, so we are urging the government to help the people of the region," said the new governor.
Radio Andalus - A pro-al-Shabaab radio station
A special operation carried out by al-Shabaab Mujaideen's explosions unit killed the former pro-infidel trade minister and current parliament member Mahamud Abdi Ibrahim Garweyne after his car was hit by explosions in Hamar-weyne district of Mogadishu. The Mujahideens attached an explosive device to the former minister's car. Garweyne also was a member of so-called National Security Council and he was a close friend of the leader of the pro-infidels group, Sharif Sheikh Ahmed. An eye witness told Radio Andalus that the body of Garweyne could not be identified since it was badly burned by the explosion.
At least six pro-infidels militias and several infidels were injured in heavy fighting that broke out between al-Shabaab Mujahideens and the enemy at Elasha Biyaha, Hawo Abdi, Lafole and other villages in the outskirts of Mogadishu. Both fights erupted when the Mujahideens launched attacks at the enemy's military bases in those areas. It is also reported that an AMISOM vehicles was burned in the fighting.
Radio Al-Furqaan - A pro-al-Shabaab radio station
At least six civilians and traders were killed and several others injured by the TFG troops in Afgooye town of Lower Shabelle region over the last 12 hours. Four of the people died after TFG militias fired at minibus in Bar-Ismail checkpoint, where TFG militias extort bribes from the motorists. The TFG militias also have killed a father and his son in their shop in the center of Afgoye and looted all the goods in the shop including 70 mobile phones. Afgoye was safe when the Mujahideens were controlling the town but the insecurity and robbers increased since the TFG and the foreign troops took control of it last month.
Radio Bar-Kulan - An independent radio station
Three alleged al-Shabaab militant fighters on Monday surrendered themselves to the Somali government forces in Lower Juba. Col. Mohamed Abdullahi, a government official in charge of Afmadow, told Radio Bar-kulan that three militant fighters surrendered to the government soldiers in the region together with their weapons. He said two of the militants surrendered to government officials in Hosingow while the third one who sneaked from the militant group handed himself in at Afmadow, the second largest town in the region. Abdullahi stated that the trio will soon be moved to the border town of Dobley where there is a rehabilitation camp for defectors. The defectors decided to denounce their militancy and leave the group after they failed to receive their allowances, exposing them to harsh living condition, according to Abdullahi. Their defection comes six days after a senior al-Shabaab militant leader and his bodyguard surrendered to the allied forces in Garbaharey town of Gedo region.
An ASWJ official in central Somalia has claimed that his group has received evidence that the French national, Denis Allex, who used to work for French intelligence services (DGSE) before he was kidnapped by al-Shabaab militants in Mogadishu in 2009 is alive and has converted to Islam. In an exclusive interview with Bar-kulan, ASWJ's security boss in El-Bur, Abdi Hassan Mohamed, said Allex goes by the name Abu Omar after converting to Islam and he is still in the hands of al-Shabaab. He said Allex now lives in an area called Januni, some 45 kilometres north of El-Bur town where he runs a militant training camp. Mohamed alleged that the former French intelligence services official trains around 900 militant, mainly children. He said they were contacted by parents of some of the "militants to be trainees" handled by Allex himself. Allex was seized in Mogadishu on July 14, 2009, as was another French agent who was held by a different group, Hezb al-Islam, and freed the following month.
Radio Shabelle - An independent radio station
Al Qaeda-affiliated al-Shabaab militants have shot and killed a young boy in the rebel-held restive town of El-Burin Galgadud region, central Somalia. Farah Mohamed Wehliye was killed by the militants on Saturday after being linked to pro-Somali government ASWJ and Ethiopian troops, according to the local residents.