Exclusive
Shabaab Appoints New Leaders for Puntland
Puntland Arrests Yemeni in Boat Carrying Weapons
Since February of this year when Sheikh Mohamed Atom's Galgala militia in northern Somalia officially joined Somalia's al-Shabaab insurgency in the southern and central regions of the country, little information has been available about their leadership structure and operations, based in the remote mountains of Sanaag and Bari regions of the semi-autonomous region of Puntland. That was until Somalia Report received exclusive information that new leaders for the region have officially been named.
Sources told Somalia Report that al-Shabaab's leader Ahmed Abdi Godane (Mukhtar Abu- Zubair) officially appointed Yasin Osman Khalid (Kilwe) as al-Shabaab's new leader in the Golis mountains and Salmaan (only one name given), of the Ogaadeen clan (sub clan of Darood) was named as Yasin's deputy. Abdiqadir Mumin remains in his position as religious leader. The men were notified by phone.
Yasin Osman Kilwe hails from the Dubays clan (subclan of Warsangali). Abdiqadir Mumin, 60 years old, hails from Ali Saleban (sub clan of Majeerten); both are subclans of Darood.
Godane appointed Kilwa to be the group's real representative to Puntland territories because he believes the younger man will abide by Godane's orders and is more easily manipulated than the hardline former Galgala militia leader Atom. In addition, Kilwe is said to be more extreme in his Islamist ideology than Atom making him an ideal choice to lead al-Shabaab in Puntland.
"It is true that Godane appointed Yasin Osman Kilwe as the leader of al-Shabaab fighters in northeast Somalia as well as Salmaan as his deputy. Salmaan is from Somalia's Lower Jubba Region. Abdiqadir Mumin remains in his position as al-Shabaab's religious consultant," Abdiqadir Sharmake, a resident in Galgala, told Somalia Report.
Kilwe was born in Dahar District of Haylaan region in 1981 and hails from Warsangali tribe. He studied at East Africa University in Bosaso. In November 2003 he travelled to Hargiasa, in the breakaway region of Somaliland, but was arrested and jailed after Somaliland police accused him of stealing money from Ethiopia. The charges claimed he stole money from Tog Wajale, a border town between Somaliland and Ethiopia, but he was found not guilty. Somaliland police accused him of being engaged in terrorist activities in 2006.
According to sources who requested anonymity, Kilwe has a previous and close relationship with Godane, and particularly bonded after Somaliland accused both men of stealing money.
Ahmed Salah, a relative of Yasin Kilwe, told Somalia Report that, "Yasin was taken to a US Navy base in Djibouti for questioning, but they returned him to Somaliland after they didn't find him guilty of anything."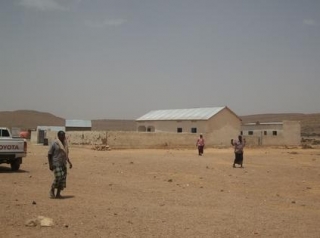 Fighting between the Galgala militia and Puntland forces has escalated over the last year with both sides gaining and losing ground. Although many fighters have surrendered to Puntland, the group still enjoys a power base in the hard-to-reach mountains. And, according to the local sources, al-Shabaab's fighters in Galgala are rapidly gaining power and popularity in the area.
"Al-Shabaab in Galgala area are using opposition in Puntland to their advantage. They are gaining power militarily and financially and more youngsters are joining them including former pirates who fled their bases after the Puntland Marine Police Force (PMPF) chased them from several coastal towns. If Puntland forces don't take immediate and important steps against them now, they will extend their power throughout Puntland," Ahmed Mohamud, a resident in Dahar district, told Somalia Report.
While some towns have been pressured into supporting the militia, other towns are putting up a fight. Locals in Af-Uur, 20km from Galgala, told Somalia Report they are armed and ready to fight if al-Shabaab should the group try and seize their town.
Puntland Arrests Foreigner with Boat, Weapons
Meanwhile, Puntland security troops in Caluula (Alula), a town in eastern Bari region, today seized a small boat loaded with weapons and bomb making equipment and arrested Salah Afiif, a Yemeni national on board. A second man on the boat, a Somali, escaped.
As the vessel sailed near the jetty in Calula local fishermen notified the local police that the boat was suspicious. The police, working with locals, were able to stop the vessel where they found weapons which they turned over to the Bosaso police for processing and investigation.
Salah Afiif was handed over to the Criminal Investigation Division (CID) in Bosaso and police said they are continuing to hunt for the Somali suspect.
"The boat, weapons and the man were held on the jetty of Alula by the police. The equipment seized consists of a small speed boat with two machines guns, five new small and sophisticated pistols which have never been seen in Somalia, 50kg of TNT powder, and two packs of wires and fuses of detonations which are also 50kg each. Puntland troops are conducting operations against insecurity, terror and pirates and this is one of those operations," Bosaso Port Police Commissioner Mohamed Ali Hashi told Somalia Report.
"The pistols are small and heavy and a weapons expert said they are Satte, Jinguwe and, Backro - types of pistols. They can take more bullets than the normal pistols. They also have the muzzle device (silencer). These are unique and most certainly these are the weapons of a terrorist. I want to tell the people of Puntland and the world that the bombs that kill thousands of Somalis are from Yemen," he added.
"We are convinced the weapons belong to the al-Qaeda group of Puntland and were intended to kill innocent and key people of the community," said the police commissioner.