20 July 2012 Daily Media Roundup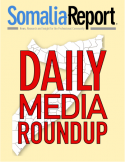 Somalia News Highlights: Somali Parliament Speaker Stands for Re-Election; Somalia in Critical Political Stage, AU; Al-Shabaab 'Threaten to Hit During Ramadhan'; Reports of Abuse by Somali Forces Continue in Afgoye; 20 Somali Permanent Secretaries Graduate at UMI; Somaliland Bottles Its Hopes in Coca-Cola Plant; Where Are Somalia's Missing Millions?; Somali Leaders Wished Best for Somalis With the Start of Ramadan; TFG Captured Ten Al-Shabaab Officers in Bakol; Al-Shabaab Allegedly Killed Three TFG Soldiers in IED Attacks; Al-Shabaab Claimed to Have Garnered the Support of Wa'esle Clan of Galgadud; Garowe Meeting for Somali Women Concluded Today; Al-Shabaab Abandoned Bur-Hakaba Bases in Fear of TFG-Ethiopian Attacks.
POLITICS
Hiiraan Online - The Somali Parliament Speaker Sharif Hassan Aden announced that he will stand re-election as parliament speaker as the TFG's term ends in August 20 of this year. "I am interested in participating the leadership elections but the only remain thing is the time of announcing it officially," said Aden, the current Somali speaker. Speaking to the media, the Somali parliament speaker has also refuted the UN report of accusing the Somali leaders misuse of public funds. Somali Language
New Vision - The African Union Mission in Somalia (AMISOM) has said it is satisfied with the firm commitment demonstrated by leaders of transitional federal institutions to end the transition period and usher in a more representative administration. The Deputy Special Representative of the Chairperson of the African Union Commission (DSRCC), Wafula Wamunyinyi said that there was hope that such momentum will be sustained until when the entire transition, that includes drafting and promulgation of a new constitution, comes to an end. "We have reached a very critical time in Somalia's political history which is very crucial in determining the future of the country," Wamunyinyi told a press conference in Mogadishu on Thursday. "The transitional period must end on the 20th of next month ." "The selection of delegates for the National Constituent Assembly is almost complete and it is expected that the NCA will soon take place," he added.
SECURITY/AL-SHABAAB
Capital News - Police have warned of fresh terror threats from Al Shabaab militants who have warned of massive destruction in Kenya during Ramadhan. Nairobi Provincial Police chief Anthony Kibuchi said they had received intelligence reports that the terrorists plan to hit their targets during the Holy Month of Ramadhan. "Al Shabaab terrorists have issued threats that they will carry out massive destruction during the month of Ramadhan," Kibuchi said and urged the public to remain vigilant. "Let everybody be extra alert," he added.
SABAHI - Four people were injured when two grenades exploded at a barbershop and a hotel in the town of Wajir, the latest in string of attacks in Kenya, police said. Wajir police commanding officer James Mutungi told Sabahi two grenades were hurled at Ralph's Super Cutz barbershop and Roho Safi Hotel, which are about 50 metres apart. "The attacks were co-ordinated as they happened at the same time at about 8:30 pm," he said. "Our investigations show it is the work of al-Shabaab. This is their trademark attack."
Garowe Online - There have been a series of reports of Somali government forces regularly mugging residents of Afgoye, which was recently liberated from Al Shabaab, Garowe Online reports. Residents of Afgoye have been reporting that Somali forces stationed in Afgoye have been abusing and robbing civilians daily. According to local sources in Afgoye, most residents are afraid of reporting abuses committed by Somali forces stationed in Afgoye. Some residents have approached media outlets in Afgoye to shed light on the constant abuses they face, some even reported being robbed in broad daylight. "I'm afraid to even go to the market during the day because security forces will you shakedown you without hesitating," said Muna Ahmed, an Afgoye resident for 12 years.
BUSINESS INVESTMENT/SOMALILAND
The Guardian - A $17m bottling plant in Somaliland is the biggest private investment in a country that desperately needs foreign funds. It is Africa's, if not the world's, most isolated Coca-Cola bottling plant, a large shiny white-and-red hangar-like building in the middle of nowhere, with camels and black-headed sheep as neighbors. Inaugurated in May by Somaliland's president, Ahmed Mahamoud Silanyo, the plant has been described as a diamond in the desert. "I want ice-cold Coke to be at an arm's reach," said Guelleh, who hopes to eventually have a second production line.
NATION BUILDING/AU
New Vision - Uganda Management Institute (UMI) has passed out 20 permanent secretaries from the federal transitional government of Somalia. The graduation was held at the institution's main campus, in Kampala. Of these graduates, 19 are male and one female. They were awarded certificates in Financial Management and accountability. "The civil service of Somalia is broken down. You must use the skills you have just acquired here (UMI) to transform your respective ministries and subsequently rebuild the civil service." Bashir said.
VIDEO
Aljazeera - This is over 25-minute video interview of a Somali presidential candidate and UN's deputy representative for Somalia on the rampant corruption among the Somali leaders based on the newly released UN report. "In this episode of Inside Story we ask: Who is responsible for corruption in Somalia? And is there even the political will for good governance in Somalia in the future?"
RADIO ROUNDUP
Radio Mogadishu - A pro-government radio station
Somali President Sheikh Sharif Sheikh Ahmed sent his best wishes to the Somali people with start of the 'Holy month of Ramadan'. The president asked the rich Muslims people to help the poor people during the Holy Month. The Somali Prime Minister Abdiwali Mohamed Ali also urged the Somali people to forgive each other and take advantage the Holy Month of Ramadan.
The Somali National Forces on Thursday captured ten al-Shabaab officers with their weapons in security operations in Bakool region. The Deputy Defense Minister General Mohamed Ali Atoosh told Radio Mogadishu that they will bring justice to the apprehended men. Mr Ali stated that the national forces will continue the security operations in pursing al-Shabaab elements in the region.
Radio Andalus - A pro-al-Shabaab radio station
At least three pro-infidels militias were killed and over than five others injured in two separate explosions took place in Mogadishu and Afgoye towns. Two pro-infidels militias were confirmed dead and three others injured when gunmen threw a hand grenade at Bar-Isma'il checkpoint were the pro-infidel militias collect bribes from the motorists. Another pro-TFG militia member was killed as explosions targeted the militias in Hamar-jajab district of Mogadishu.
One of the largest clans in Galgadud region, Wa'else clan donated more than 200 million Somali Shillings ($20,000) to the al-Shabaab administration in Galgadud to support the Jihad against the infidels in Somalia. The chairman of Galgadud region Sheikh Awale Mohamed Ali thanked the Somali clans for their support of the Mujahideens. Sheikh Ali urged the people to spare nothing for the liberation the Somali Muslim country from the enemy.
Radio Bar-Kulan - An independent radio station
The meeting of the Somali woman in Garowe on the role of women in the proposed new federal government was concluded today. The Somali women's meeting Participants agreed on nine points to foster their participation in the upcoming government including that all their political issues to be in accordance with Islamic teachings and women to seek their political rights in a single voice. They also agreed that Somali elders meeting in Mogadishu to reaffirm the 30 percent women's seats for the upcoming new government. In the meeting a 13-member committee was formed to make sure that women get their share in politics and oversee women role in rebuilding the country.
Al-Shabaab militias have reportedly fled Bur-Hakaba town on Thursday following reports that TFG troops and their allied Ethiopians were planning an onslaught against the militant group. Bur-Hakaba Locals confirmed to Bar-kulan that militants deserted their military bases and fled to Wanlaweyn town, Lower Shabelle region. Somali and Ethiopian troops left Baidoa town yesterday in effort to attack rebel bases in Bur-Hakaba and eventually to take over the town from the militants.