Zamzam Mohamed: Somalia's Olympic Hopeful
Somalia Sends Two Runners to London Olympics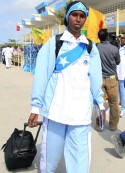 When she hits the track to run for her beloved country of Somalia in the London 2012 Olympic Games this summer, Zamzam Mohamed hopes that her run will symbolize a course for unity in her war torn country. The 20 year old may not be a favourite to win gold in the games but the fact she would represent Somalia at all is a major accomplishment for a country that has been at war for over two decades.
"I am happy that I will represent my home country Somalia in the London Olympics. It is an honour that I will always cherish. After all they have been through in the last 21 years, it's time to bring home joy," Zamzam told Somalia Report.
She may not have had proper training facilities to match her opponents, but Zamzam is determined to come out on top in London.
Training in a city where there is chaos has not being an easy thing, but when Zamzam and her teammate Mohamed Mohamed line up to compete against established names in London's new Olympic stadium, their goal will to compete and go for the gold.
With no working national sports centres, the two athletes have been forced to run through the rubble strewn roads of Mogadishu.
"It has been very hard training in this type of environment which is a conflict prone, but the Almighty has seen through this. It is far from the stadium that I see on television," said Zamzam. "I know that most of my opponents will be big sports names from peaceful countries, but I know I will do all my best since I will be running to represent my home country."
According to Zamzam, her biggest hope is to see Somalia return to the days of tranquility and get itself back on its feet. She believes sports have a role in this.
"Sports can unite people. It can play a big role in bringing together rival clans together. I am optimistic that through sports Somalis can be united. People in Mogadishu have a lot of hopes and normalcy is returning to our city. The people are really behind this team and cheers as we run through the streets of the city," she said.
Somalia is regarded as one of the worst countries to live as woman, but Zamzam determination seems to be proving this wrong.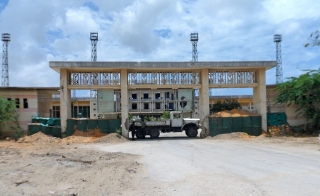 "Things are very difficult in Somalia for women. Since we are born we are faced with many challenges, but does not mean we should give up. We can change this for the better," said Zamzam.
Zamzam who will compete in the women's 400 metres has the support of her parents. In a country like Somalia where women in sports is a rare thing, Zamzam parent are comfortable with her decision.
"I have always loved sports and used to play basketball. My parents are fully supportive and they have wished me all the best in the games," said Zamzam.
Zamzam only teammate, Mohamed Mohamed, who will compete in the 1500 meters is in an equally jovial mood ahead in anticipation of the Olympics.
"I am confident that we will represent Somalia very well. I hope to register good results in the games. This is an opportunity from the Almighty Allah and running for Somalia is an honour for me," he says.
Death of Two Sports Icons
The death of the Somali Olympic committee chief, Aden Yabarow Wiish who was killed alongside the director of the football federation, Mohamed Nur, has affected the morale of Somalia's sporting fraternity.
The two were killed when a female suicide bomber targeted the re-opening of the national theatre in April of this year.
Had he survived, Aden would have been leading the Somali Olympic delegation to London. But his dream will be fulfilled by Abdi Bille, a former Olympic gold medalist who will carry the Somali national flag during the opening ceremony.
"That was a sad loss for Somalia. The two were iconic figures who have carried on with sports despite the years of chaos in Somalia," Mohamed told Somalia Report.
Photo: ©WaryaTV