23 July 2012 Daily Media Roundup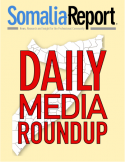 Somalia News Highlights: Somali President 'Very Confident' of New Term; African Union Encourages Somalis to Stay Focused on Transition During Ramadan; White House Targets Somalia Reform Obstructors, Shabaab Charcoal Trade; Somalia Set to Open First Embassy in South Africa; Police Arrest Four Al-Shabaab Terror Suspects in Malindi; Judge Assails Prosecutors in Somali Pirate Case; Disappointment for Range and Red Emperor in Somalia; Somaliland Moves Towards New Banking Era; Al-Shabaab Executed Three Young Men in Marka for Spying; TFG Forces Set to Capture Kismayo; Al-Shabaab Claimed to Have Killed Dozens of TFG Soldiers in Gedo Ambush; Al-Shabaab Carried Out Attacks in Bal'ad and Other Towns; AMISOM Accused of Arresting Clerics and Students in a Mogadishu Mosque; Galmudug Police Nabbed a Hobyo Pirate Wanted for Murder; ASWJ Vowed to Retake Al-Shabaab's Last Stronghold in Galmudug; TFG-AMISOM Forces Seized a Large Cache of Weapons from Al-Shabaab in Gedo; and the Somali Constitutional Assembly Postponed For Third Time.
COMMENTARY ON ISLAMIC WEBSITES
Amiir Nuur - The pro-al-Shabaab website claimed that the infidel-supporting president, Sharif Ahmed, called for talks between al-Shabaab leaders and his government and said al-Shabaab is ready for peace negotiations. Al-Shabaab leaders disapproved of the call and said it was an impossible endeavor by citing a Somali saying, "We are not able to walk but let us try to run."Somali Language
POLITICS
AFP - The head of Somalia's corruption-riddled government said Monday he expects to be re-elected as president of the war-torn Horn of Africa nation when his current mandate expires next month. "I am a strong candidate and I am very confident that I will win," President Sharif Sheikh Ahmed told reporters. Somalia's Western-funded Transitional Federal Government (TFG) ends its mandate next month after years of infighting and minimal political progress.
SABAHI - The African Union extended Ramadan greetings to Somalia in a news release Friday (July 20th), encouraging the Somali people to continue making progress in their transition to permanent government. "This year, Ramadan comes at a momentous period in Somalia's history as the country debates a provisional constitution that will end 12 years of transitional governments and inaugurate a new and more representative political order," said Special Representative of the Chairperson of the African Union Commission for Somalia Boubacar Diarra.
The Wall Street Journal - The White House late Friday issued an executive order targeting those who impede on Somalia's political transition. The executive order on Somalia grants the Treasury Department greater power to impose sanctions on those found misappropriating state assets. It also targets political or military leaders who recruit children as soldiers, and those committing violence against Somali citizens, including sexual or gender-based violence. "By expanding our ability to impose sanctions on those engaged in despicable acts of violence in Somalia, the United States is once again demonstrating its full support for the Somali people," said David Cohen, undersecretary of Treasury for terrorism and financial intelligence, in a statement.
Somaliland Press - Somalia is set to strengthen and reinvigorate its public diplomacy and trade relations with the Republic of South Africa, announcing plans to open an Embassy in Pretoria. This was revealed during a meeting held in Cape Town this weekend by the Somali community in the rainbow nation. They stressed the urgent need to increase Somalia's diplomatic representation in that part of the continent where many Somalis experience racial assault on daily bases. The newly appointed Somali ambassador to South Africa, Sayid Hassan Sharif, has been meeting the Somali community in the Western Cape province since taking up the post at the beginning of this month.
SECURITY/AL-SHABAAB
Coast Week - Kenya's police on Sunday arrested four Al-Shabaab terror suspects in the coastal town of Malindi as the authorities enhanced security across the east African nation. The police said the four Kenyans of Somali origin were arrested in a passenger bus that they had boarded from Tana River town heading to Mombasa city. The suspects were arrested by team detectives from anti- terrorism police unit after they were trailed leading to the recovery of two G-3 rifles, four long knives, and two G3 magazines loaded with two rounds of ammunition. "We are holding them for further interrogation at Malindi police station before arraigning them in court on Monday for various charges them," Divisional police commander, Kipron Langat, told Xinhua by telephone on Sunday.
MARITIME
Associated Press - The federal judge overseeing the case of a Somali man accused of negotiating a ransom payment during a 2008 pirate takeover of a Danish merchant ship told prosecutors they had engaged in "inexcusable behavior," and suggested they will have a hard time winning a conviction. U.S. District Judge Ellen Huvelle was furious when prosecutors told her at a status hearing last week that the alleged pirate, Ali Mohamed Ali, had been in international waters for only 24 to 28 minutes and they can't specify how he facilitated piracy during that time. "It's astounding to me," Huvelle told a prosecutor at Friday's hearing, according to a court transcript. "I have the pleading where they (prosecutors) said this is no problem, you're going to prove that he was on international waters. I didn't know that you'd prove it for less than 24 hours."
OIL EXPLORATION/PUNTLAND
Interactive Investment - Disappointment rained down on Range Resources (RRL) and Red Emperor Resources (RMP) investors on Monday as the companies found water, rather than oil, in their Shabeel North well in Somalia. Shares in both companies dropped as the news sank in. In a brief statement, the partners said: "An open hole Drill Stem Test was conducted over a 50 metre gross interval (1,910 metres - 1,960 metres) which contained several sands in the upper portion of the primary Jesomma Formation which had oil shows. The test recovered fresh water (1,200 parts per million Cl-) without any traces of oil." The news was particularly disconcerting as last week's update on the work said it had "penetrated a 50 metre gross section of upper Jesomma sands with oil shows". It went on: "An open-hole drill stem test is currently underway to determine if this zone is oil or water bearing and should be concluded within the next 24 to 48 hours."
BUSINESS INVESTMENT/SOMALILAND
Somaliland Press - Somaliland is poised to pass a banking law to help the flow of remittances and encourage much-needed foreign investment. Without formal banks, Somaliland lacks cash machines or credit card facilities, obliging visitors to the country to bring in wads of dollars. But that is about to change as the former British protectorate is poised to pass a banking law that will, for the first time, allow companies to operate as formal banks, offering services taken for granted throughout much of the world. Somaliland paved the way for the new banking regime when it passed a law in April formally establishing a central bank.
RADIO ROUNDUP
Radio Mogadishu - A pro-government radio station
Al-Shabaab militias on Sunday afternoon publicly executed three of its own militia members, Yasin Osman Ahmed, Ishak Omar Hashi and Mukhtar Ibrahim Sheikh, in Merka town of Lower Shaelle region, after accusing them of spying for Western intelligence agencies. Al-Shabaab officials blamed for the three young men for the killing of foreign and national terrorist individuals through U.S drones attacks.
Somali National Forces in Gedo region and in Kismayo of Lower Jubba region in southern Somalia are reported to have moved very close to Bardhere and Kismayo city in order to remove Al-Qaeda linked group of al-Shabaab. Jamal Hassan Saney, a TFG officer leading national forces operating in southern Somalia, told Radio Mogadishu that the Somali forces supported by Kenyan troops are positioned close to Bardhere and Kismayo, major strong-holds of the militants. Saney stated that he is hopeful they will conclude the fight to take control of these cities in a short period.
Radio Andalus - A pro-al-Shabaab radio station
Dozens of pro-infidels militias were killed after fighting between al-Shabaab Mujaideens and the militias took place in El-adde village of Gedo region on Monday. The fighting erupted when the Mujahideens ambushed the militias who left from Garbaharrey town and heading to Beled-hawa. Local residents told Radio Andalus that they saw the bodies of the militias lying on the streets. The Mujahideens also seized 'a lot' of weapons from the enemy.
Radio Al-Furqaan - A pro-al-Shabaab radio station
At least two TFG soldiers were killed and several others were injured as two huge explosions rocked a TFG military bases in Bal'ad district of Middle Shabele region on Sunday night. It is also reported that unspecified numbers of TFG soldiers were killed in another heavy explosion targeted at TFG military base in Badoa town. Similar explosions and assassinations against TFG troops and officers took place in Mogadishu.
At least 150 people were detained by the foreign troops of AMISOM in Dharkinlay district of Mogadishu on Monday. Clerics, elders and students were among the detained people, who were learning Islamic religion in Dabaqeyn Mosque of Hosh village. The foreign troops aso detained Qur'an teachers.
Radio Bar-Kulan - An independent radio station
Galmudug security officers successfully nabbed a pirate who was allegedly accused of killing his colleague in Hobyo, a notorious pirate hub in Somalia's Mudug region. Galmudug security officers arrested the fleeing man who killed his colleague over ransom money they received from hijacked vessels and families of hostages. Hobyo's Police Chief Abdiweli Hassan Hirsi told radio Bar-kulan that they are undertaking tough security measures to fight piracy in the region, adding that they will soon embark on security operations to uproot pirates out of the area. The incident comes a week after three pirates were killed and several others were injured when Hobyo pirates fought over ransom money.
ASWJ administration of central Somalia vowed to retake El-bur town from al-Shabaab militants as their forces head towards the rebel stronghold town. ASWJ's Security Chief Farah Mo'allim Ali who spoke to Radio Bar-kulan on Monday claimed that they will soon attack El-bur town, the only rebel held town in Galgadud region. Mr. Ali also stated that the militant group is terrorizing the local populations of the district. Locals in Galgadud were told to fight al-Shabaab militant group in order to liberate themselves from the rebel group. Speaking to Bar-kulan, TFG's newly appointed Guri'el District Commissioner Osman Isse Noor said locals in the region should defend themselves from the militant group, who he said is threat to their lives.
Radio Shabelle - An independent radio station
Four al-Shabaab militants were killed and large cache of weapons and communications equipment recovered as the TFG security forces supported by AMISOM troops attacked a camp for Al‐Qaeda affiliated extremists in southern Somalia on Monday morning. The operation involved troops from AMISOM's Kenyan contingent and targeted an al-Shabaab camp in Tarako village in Gedo region. Eleven AK47 rifles with 550 rounds (7.62mm), 2 PKM guns with 60 rounds of ammunition, 2 Rocket Propelled Grenades (RPG) with 10 shells and 2 hand held radios were recovered. Acting AMISOM Force Commander, Brig. Gen. Audace Nduwumunsi, said the raid was part of AMISOM's continuing effort to degrade the extremists' ability to terrorize the civilian population.
The Somali National Constituent Assembly (NCA) was postponed for its third time, according to Somali Minister of Constitution and Reconciliation Abdirahman Hosh Jibril announcement. The 825-member National Constituent Assembly representing a broad range of Somali political factions was scheduled to meet on Monday in Mogadishu to begin discussions in ratifying the drafted Somali Constitution. "The Somali National Constituent Assembly was scheduled today to convene in Mogadishu, but unfortunately, it has been postponed for technical reasons, because of some selected representatives or delegates from some of the remote regions of Somalia, have not yet arrived at the venue of the meeting in Mogadishu," said Hassan Jim'ale, Somalia's state minister for Constitution and Reconciliation.