24 July 2012 Daily Media Roundup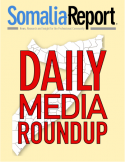 Somalia News Highlights: UN Special Envoy to Somalia Says Coming Parliamentarians Extended; Setbacks Plague Constitutional Vote on Women's Quota; UN Envoy Welcomes Progress Towards Adoption of New Constitution; What It's Like Being Governed by Al-Qaeda in Somalia; Obama's Not-So-Secret Terror War; Judge Orders Alleged Somali Pirate Released to Home Confinement; Mogadishu on High Alert Due to Next Week's Constitutional Conference; Ethiopian Troops Accused of Arresting Two Top Pro-TFG Officials; Puntland Soldiers Allegedly Killed in Clashes With Pirates; ASWJ Claimed Top Senior Al-Shabaab Leaders are in Galgadud; Three TFG Forces Wounded by Roadside Bomb in Bal'ad; and Al-Shabaab Ambush in Gedo Region Kills One.
COMMENTARY ON ISLAMIC WEBSITES
Somali Memo - The pro-al-Shabaab website claimed that al-Shabaab's Benadir Administration Leader Sheikh Abu Abdirahman stated that the Somali elders are mercenaries and they are forced to approve the infidel constitution. Speaking to the Radio Andalus of al-Shabaab, Abu Abdirahman also claimed that the Western nations are striving to forces the so-called Somali elders to approve the infidel constitution. The Somali elders are corrupt and the infidels could make them to approve anything they wish.Somali Language
POLITICS
All Voices - United Nations especial representative to Somali's political affairs, Ambassador Augustine Mahiga has today on Monday revealed that number of the new Somali parliament members were made 275 as suggested by Somali traditional elders in the capital Mogadishu already. Ambassador Augustine, UN special envoy to Somalia, told traditional clan elders that his office and officials of the Somali transitional federal government agreed with increasing parliamentarians counting to 275 while it was 225 only. The outgoing Somali parliament members were 500.
Garowe Online - TFG Prime Minister Abdiweli Mohamed Ali Gaas visited traditional elders stationed in Mogadishu, to plead with the group of elders to submit the list of representatives who will vote. "We need you (elders) to speed the selection process and submit the list of representatives so this process can continue. We also need the elders to not forget the role women have in this process," said Prime Minister Gaas. According to local sources, the elders in Mogadishu who have submitted their selection of representatives had failed to fulfill the quota of women which was agreed on by signatories at previous meetings.
UN News Center - The United Nations envoy for Somalia has welcomed the progress made in the selection of the 825 members of the national body that will convene this week to discuss, vote on and adopt a new provisional constitution for the Horn of Africa nation. "It is encouraging to see that progress is being made," the Secretary-General's Special Representative and head of the UN Political Office for Somalia (UNPOS), Augustine Mahiga, said yesterday. "I urge Somalia's traditional and political leaders to do all that is necessary to complete in a timely manner the tasks that have been entrusted to them by their people to carry Somalia forward to a new political future," he added.
SECURITY/AL-SHABAAB
Global Post - Former residents of Kismayo, which is ruled by al-Shabaab, an Al-Qaeda affiliate in Somalia, offer a rare insight into what it's like to live with Al-Qaeda. The port town of Kismayo on Somalia's southern coast must be among the worst places on the planet to live right now. Not only is it governed by the fanatical Al-Qaeda cousin al-Shabaab, it is also a battleground where a regional coalition of African armies is attempting to fight the extremist group. While African Union officials claim that al-Shabaab will be defeated by next month, residents aren't taking any chances. They are fleeing the city by the thousands. Many of them land here, in the town of Ras Kamboni, about 300 kilometers to the south. And their testimony is providing a rare insight into what it's like to live under Al-Qaeda's rule.
The Daily Beast - The U.S. is breaking a 20-year arms embargo on Somalia by training the country's intelligence agency and deploying special forces without notifying the United Nations, according to a new report. The report says 12 countries, including the U.S., aren't complying with the arms embargo, having failed to inform the U.N. of cargo flights to supply various parties in the Somalia conflict. The country is one of the world's most violent, lacking a functioning central government and overrun by warring militias, Islamist insurgents, and pirates who threaten large parts of the coast. "We are trying to establish a norm of compliance with the sanctions regime on Somalia," said Matthew Bryden, the head of the SEMG. "We can't do that if members of the U.N. Security Council themselves are not compliant."
MARITIME
Associated Press - A judge on Tuesday ordered the release of an alleged Somali pirate to home confinement while the government pursues an appeal that could delay his trial until next year. The trial of Ali Mohamed Ali was scheduled to begin next week. But prosecutors said Tuesday they planned to appeal portions of a pretrial ruling by U.S. District Judge Ellen Huvelle that went against the government, likely delaying the case for months. "Why should I keep him locked up for another year so you can litigate a principle?" she said to prosecutors. Huvelle agreed to have Ali stay under home confinement at a friend's house in nearby Centreville, Va., while his trial is pending. The friend said he knows Ali from "way back in Somalia."
OP-ED
The Christian Science Monitor - The author, Zoe Flood, raises doubts about the capability of the current Somali leaders in meeting the completion of Somali Roadmap within a month's time. "The transition is definitely troubled," says Rashid Abdi, an expert on Somalia and an editor at Kenya's Daily Nation. "It is over-optimistic to believe that everything will work out smoothly and on time."
RADIO ROUNDUP
Radio Mogadishu - A pro-government radio station
Somalia's Internal and National Security Minister Abdisamad Mo'allim Mohamud on Tuesday stated that the government is set to tighten the security of the capital as the country is prepared to convene for the crucial conference for the approval of the professional draft Somali constitution next this week. The special security forces known as Gaashaan are positioned on all the main roads and checkpoints the Somali capital of Mogadishu. Gaashaan, who are are highly equipped with modern weapons, were seen at the main road that links the Presidential Palace to Mogadishu's international airport.
Radio Andalus - A pro-al-Shabaab radio station
Reports from Baidoa town of Bay region indicated that a major political rift broke put between the Ethiopian Christian troops and the town's pro-infidels militia officials. It is reported that the Ethiopians have arrested the so-called chief commander of Bay and Bakol regions, Adan Doodishe, and the police chief of Baidoa town, Aadan Biit. The Ethiopians blamed the officials of not fulfilling their duty since the Mujahideens are attacking their bases every day and night.
Radio Al-Furqaan - A pro-al-Shabaab radio station
At least three Puntland soldiers were killed during a fight between the Somali pirates and Puntland militias which took place in Galkao town of Mudug region on Tuesday. The reason of the fighting remains unknown but the tension is very high in the town. Insecurity is growing in Galkayo while the local militias and Somali pirates are pushing back Puntland's militias operations. (Editor's note: Local officials told Somalia Report one pirate and one policeman were killed.)
Radio Bar-Kulan - An independent radio station
ASWJ officials of Galgadud region disclosed that the top al-Shabaab militant leaders are currently present in certain parts of the region in order to recruit locals. Abdi Hassan Mohamed, an ASWJ official in the region claimed that Al-Shabaab's Mukhtar Robow Ali, Ali Mohamoud Rage and other senior militant leaders today held talks with local elders in El-garas location, some 50 kilometres from Dusamareb town. Mr. Mohamed also alleged militants ordered the local elders attending the meeting to contribute fighters and other material support in order for al-Shabaab militants to seize areas under the control of ASWJ.
Radio Shabelle - An independent radio station
At least three Somali government soldiers were wounded in a roadside bomb in Bal'ad district after their pick-up truck mounted with anti-aircraft gun hit the roadside bomb. An eyewitness stated that battle wagon carrying government soldiers was on way to their military base in the district. "I could see around 11:15a.m. of the local time at least three soldiers bleeding and lying on the ground following the attack," a witness said. No group has claimed responsibility for the attack so far.
An ambush by al-Shabaab militants on military bases for Somali forces in Gedo region killed at least one person, according to officials and local residents. Locals claimed the clashes were sparked after al-Shabaab agents armed with machine-guns and rocked propelled grenades launched overnight ambush attacks at the Somali army along with ASWJ militias while on patrol in some villages in Gedo region. Meanwhile, Sheik Isac Gees-Dheere, ASWJ official told Shabelle Radio that the allied forces warded off the attacking fighters who tried to infiltrate into their bases.