Exclusive
Senior Shabaab Leaders in Galgudud
Sheikh Robow and Sheikh Dhere Demand Residents Give Recruits, Money, Animals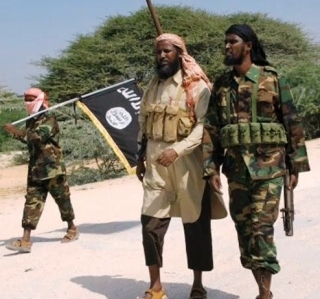 A delegation of senior officials from the al-Shabaab Islamic militant group, headed by their spokesman Sheik Ali Mohamud Rage (Ali Dhere) and Sheikh Mukhtar Robow Ali (Abu Mansur), are in Galgudud, a central region of Somalia, to raise funds and mobilize recruits in their attempt to implement Islamic law across Somalia, according to local officials and sources who spoke to Somalia Report.
The two officials travelled from Marca (Merka) in southern Somalia and have been in Galgudud for at least three weeks on a mission to mobilization Galgudud's community against the allied forces of Somalia, African Union peacekeeping mission (AMISOM), Kenyan Defense Forces (KDF), Ethiopian troops, and the pro-government militia Ahlu Sunna Wal Jamma (ASWJ) which are steadily seizing ground from the militants and are making their way to Kismayo, al-Shabaab's last stronghold in the country.
"It is true that the two sheikhs moved to Galgudud region around 21 days ago. Galgudud is one of the our operational venues for the Mujahidin and is very important for our Muslim brothers and sisters who are in Galgudud to be sensitized and mobilized in the participation of war against the infidels who came to spread their Christianity in Somalia," said an al-Shabaab officials who didn't wanted to be identified due to his position within the group.
"The senior sheikhs are outspoken and charismatic and they were chosen and are appropriate for Dawa (preaching) in these regions so that the Islamic sharia gets stronger and prevails there. We know they started it earlier and it is progressing well. The Galgudud community welcomed the sheikhs and they are supporting their missions," the sheikh told Somalia Report.
ASWJ officials also confirmed the stay of both Ali Dhere and Abu Mansur in Galgudud.
"Yes, the two insurgent leaders are in Galgudud in particular Ceel Buur settlements. We heard their reports, and mainly their motive is to engage the community and mobilize them to fight against ASWJ but what they don't know is that ASWJ will defend their region against attacks. It will be devastating for them since the community is supporting us entirely in this region," ASWJ's Chairman of the Executive Committee, Sheik Mohamed Yussuf Heefow told Somalia Report.
Since the arrival of Shabaab's senior leaders in Galgudud, they have been been busy attempting to engage the locals to support their war against the allied forces. After their pleas went unanswered, the leaders then demanded the locals to donate money, animals and fighters to their jihad. One pastoralist was allegedly today killed after he opposed to give his animals, according to local sources.
A resident who spoke to Somalia Report said al-Shabaab would accuse them of being Christians if they refused to obey the order.
"The arrival of the two mullah (sheikhs) brought tremendous pressure on us. If we don't obey their orders to mobilize, give money or our animals, the punishments are severe. Women are required to give their gold and money. Pastoralists are to give out their animals while business people are required to contribute money. Our youth are required to present themselves and fight against the enemy. So far a lot of wealth has been forcibly contributed. It is very hard because people here are suffering due to the famine and drought in the region," said Abdullahi, a resident in Ceel Buur.
ASWJ's head of security in Ceel Buur, Abdi Hassan Mohamed, who was ousted from the city by the insurgents condemned al-Shabaab's harassment of local citizens. The ASWJ officer vowed to seize the city and "free the oppressed residents" from the militant's grip.
When Somalia Report's correspondent reached a senior al-Shabaab official for a comment on the harassment and mission in Galgaudud, the official grew angry and abruptly ended the call without an official comment.