26 July 2012 Daily Media Roundup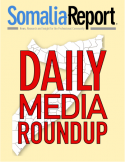 Somalia News Highlights: Somalia Transition at 'Decisive Phase', UN; Bogus Kenyan Doctors to be Deported from Puntland; UK Minister for Africa Welcomes Somalia and Eritrea Monitoring Group Report; Heavy Fighting in Lower Juba Region; UK Troops in Somalia 'Aiding Africa Union Force'; UAE Stresses Full Support to Counter Piracy; Somalia Constitution Allows Abortion to Save Mom; Humanitarian Forum Urges International Humanitarian Community to Take Action for Somalia and Yemen; Mogadishu Residents Took to the Streets in Support of the New Constitution; Somali Lawmaker Hailed Al-Shabaab as the Legitimate Group Defending the Nation; Al-Shabaab Claimed to Have Killed 19 Soldiers Including AMISOM Troops in Mogadishu; 180 New Police Recruits Started Training in Beletweyne; Al-Shabaab Suspects Killed a Prominent Businessman Around Dhusamareb; and Somaliland and Khatumo State Forces Clashed at Buhodle Town.
COMMENTARY ON ISLAMIC WEBSITES
Somali Memo - The pro-al-Shabaab website claimed that the pro-constitution demonstration in Mogadishu was a bogus event organized by the Benadir Administration, especially the mayor of Mogadishu. The demonstrators acting in support of the infidel constitution were poor civilians paid for by the mayor. The entire event was staged by the pro-infidel Somali leaders and the organizers are individuals with vested interest in the process.Somali Language
POLITICS
Voice Of America - The United Nations Security Council says Somalia's transition is at a "decisive phase" and must be completed by August 20. In a statement Wednesday, the Council urged all parties involved in a U.N.-backed roadmap to a permanent government to follow through on their commitments. The statement came as a nine-day conference began in the Somali capital, Mogadishu, where an 825-member assembly is expected to ratify a new constitution.
Garowe Online - Three Kenyan nationals who claimed to be doctors were identified and will be deported after health officials found out that the three were illegally working in Puntland, Garowe Online reports. The Ministry of Health announced on Thursday that the three Kenyan nationals were handed over to security officials after they were made aware that the Kenyans were carrying false qualifications and were not authorized to work in Puntland. "The ministry had found that the three were working as doctors and had been traveling across Puntland working as doctors. The ministry then investigated the three and found in that investigation that they had illegally come to Puntland and that there credentials were false," said Dr. Warsame.
Hiiraan Online - Minister for Africa welcomes the Somalia and Eritrea Monitoring Group report, and emphasises the need to make further progress in promoting transparency in Somalia and in ensuring the Transition is completed on time: Speaking today, the Foreign and Commonwealth Office Minister for Africa, Henry Bellingham said: "I welcome the Somalia & Eritrea Monitoring Group (SEMG) report. The evidence compiled by the group is thorough and well researched."
SECURITY/AL-SHABAAB
Garowe Online - Heavy fighting broke out in the southern town of Bardhere between Al Shabaab and Somali forces backed by African Union troops, Garowe Online reports. The fighting broke out near Bardhere and Kulbiyow town, located in the Lower Jubba region where Al Shabaab has maintained their stronghold. The number of casualties at this time is still unknown. Local sources told GO that the fighting broke out after Al Shabaab agents had ambushed vehicles carrying Kenyan and Somali troops coming from Kulbiyow headed to Bardhere.
BBC Africa - The UK has established a small military presence in Somalia, the British Ministry of Defence has confirmed. A team of 10 military advisers is based at the headquarters of the African Union force in the capital, Mogadishu. They do not have a combat role; their job is to help the AU with planning, communications and medical support. "We have sent a small team of advisers to assist the AU peacekeeping mission. They do not have a combat role," an MoD spokesman said in a statement.
MARITIME
The Gulf Today - The United Arab Emirates has stressed its full support to develop the capacity of Somali national forces, especially its coast guard following the end of the transitional period in August with the aim of countering piracy off the Coast of Somalia. Abdulkhaleq Bin Dhaaer Al Yafei, Minister Plenipotentiary, Permanent Mission of the UAE to the United Nations announced this on Wednesday before the 12th Plenary Meeting of the Contact Group on Piracy off the Coast of Somalia at the UN headquarters in New York. 2012 has been a year of great opportunity for the international community's collective response to piracy off the coast of Somalia. High-level international commitment to achieving a lasting solution to the piracy problem has been repeatedly demonstrated: as leaders from government and industry have come together in meetings in London, Istanbul, Dubai, and this month in Perth, to seek ways to enhance the collective response.
WOMEN RIGHTS/SOMALI CONSTITUTION
Associated Press - Somali leaders are debating a new constitution that protects the right to have an abortion to save the life of the mother, and an international law group says the draft guarantees more fundamental rights than the U.S. Constitution. That's one reason some women are celebrating the document and hardline conservatives are protesting some of its more liberal promises. But some of the rights introduced, such as the right to medical care or clean, potable water, will be hard for the government to guarantee in a country where basic needs like food are not always met. While other elements, such as banning the circumcision of girls, a practice the U.N. says more than 95 percent of women have undergone, will take years to banish.
HUMANITARIAN CRISIS
AlertNet - The humanitarian situation in Yemen and Somalia remains alarming and, if the humanitarian community does not take urgent action then we could see a repeat of the horrors of 2011. Problems must be solved in the home communities, even if access is difficult. In Somalia, 2.3 million people remain reliant on food aid and urgently need support in their home communities. Greater coordination is needed between government, INGOs and NGOs, to ensure that aid gets through to where it is needed most. It is essential to improve humanitarian access in Somalia. A forward-looking, longer term strategy is also needed. The people in Yemen and Somalia need a greater voice and more needs to be done to build the capacity of local NGOs, who have access and ideas but need support.
RADIO ROUNDUP
Radio Mogadishu - A pro-government radio station
A large demonstration organized by the civil society organization in support of the opening of National Constitutional Assembly took place in Mogadishu on Thursday. Hundreds of people demonstrated along the Mogadishu streets and the demonstrators demanded to end the 12-year transitional period. The demonstrators also requested fair elections to be held in Somalia on August.
Radio Al-Furqaan - A pro-al-Shabaab radio station
A TFG parliament member Bood Abdulle Magan on Thursday claimed that al-Shabaab Mujahideen fighters are the only legitimate group in Somalia who are standing to defend the country from the enemy. Lawmaker Megan warned the Somali people about the draft constitution that Somali members are now debating for its approval and he added that the Somali country is under colony and foreign countries have designed the new constitution for their interests.
At least 19 TFG and foreign troops, AMISOM were killed as explosions, assassinations and fighting rocked Mogadishu over the last 24 hours. Seven of those 19 soldiers were killed in Shibis district. Eight soldiers were killed in Yaqshid district after unknown gunmen shot them in different places within Yaqshid district. Three foreign troops were also killed in heavy explosions targeted at Eveco building which a military base for the foreign troops. In addition hit and run attacks were carried out by al-Shabaab Mujahideens in several districts in the capital.
Radio Bar-Kulan - An independent radio station
180 Somali police members have today started a 26-day long training in Beledweyne town. The officers were selected to receive special training to secure the city and also to tackle insecurity in the area. The area Officer Commanding Station (OCS) Ali Abdi Mahad stated that the new recruits will be charge the security of the town as they complete their training. Commander Ali is quite optimistic that the new officers will be able to manage and to bolster security in the area. Turkish military police units will train the inadequately trained and ill-equipped Somali force by teaching them basic skills such as arrest procedures, traffic control and field communications.
Suspected al-Shabaab militants on Thursday shot and killed a businessman at Lebi-Dule, some 25 kilometers east of Dusamareb town, reports indicated. Locals told Radio Bar-kulan that armed Al-Shabaab militants attacked the victim, Hirsi Mohamed Gulleid, a prominent elderly businessman and the suspects also disappeared with unspecified amount of money looted from his store. The incident coincided with a period ASWJ group is conducting security operations targeted at al-Shabaab militants in the entire region.
Radio Shabelle - An independent radio station
Heavy fighting broke out for a second time between Somaliland forces and the newly established Khatumo state army in northern Somalia, causing heavy casualties including loss of lives and property, Officials said on Thursday. Somaliland officials commented about the deadly clashes, saying that the fighting erupted after Somaliland positioned forces close to Buhodle town came under attacks by fighters loyal to Khatumo state. Col. Mohamed Abdullah, a Somaliland official told the media that his forces have managed to fend off the attack and killed several Khatumo fighters. He added that the area is now under the control of Somaliland forces.