Shabaab Flees Parts of Middle Shabelle
TFG and AMISOM Seize Dani, Surrounding Farm Areas Without a Fight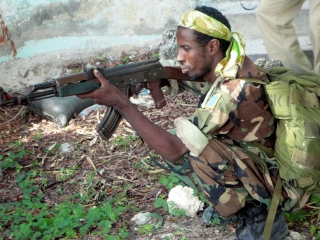 Somalia's Transitional Federal Government (TFG) soldiers, aided by troops from the African Union peacekeeping mission (AMISOM) today seized new areas of Somalia's Middle Shabelle region, including Dani town and surrounding large farming areas that were controlled by the insurgent group of al-Shabaab. Dani is located between Bal'ad town that was seized the allied forces last month and Jowhar town which remains under the control of al-Shabaab.
Ahmed Abdi, a senior TFG official on the frontlines, told Somalia Report the allied forces captured the town and local areas without a fight after the insurgents withdrew before the TFG and AMISOM forces arrived.
"Our soldiers reached Dani without any resistance from the enemy. The enemy knows our strength is much stronger than theirs. They depend on the young people they abducted from schools and madrasas," explained the official.
"The plan to capture Dani town was part of a bigger plan that we set up to capture Jowhar and the rest of the Middle and Lower Shabelle regions, which are under control of the al-Qaeda linked group of al-Shabab. We are going to continue the massive operation against them. We are ready to liberate the people of Jowhar, which is our next target. We want Jowhar to be headquarters of Middle Shabelle. We vow that the rest of the Lower and the Middle Shabelle will be under the control of the TFG before the elections on August 20," he added.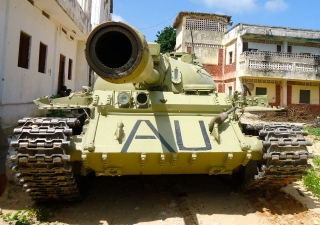 A Dani resident who asked not be named for fear of retribution told Somalia Report locals were pleased to see Somali soldiers in the town early today when they woke up.
"We are very happy to see Somali soldiers to come our town. We are grateful al-Shabaab's oppression of this town and its people has been lifted. This morning we saw many well equipped soldiers flooding the town. At first the residents were scared thinking that al-Shabaab brought in reinforcements, but a few minutes later we noticed 'AU' was written on the back and sides of the tanks so we knew it was AMISOM. They were well disciplined told the resident to go about their normal business. There was no looting which is what normally happens when any group captures the town," said the resident.
"The forces moved from the town into the direction of Jowhar and they settled roughly two kilometers from the town," he added.
Gerey added the insurgent fled the town yesterday with all their equipment in anticipation of the allied advance.