27 July 2012 Daily Media Roundup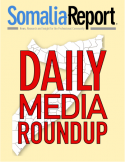 Somalia News Highlights: U.N. Won't Extend Somali Sanctions; Somaliland Suspends Talks With TFG; Bomb Blast Targets Somalia Constitution Meeting Venue in Mogadishu; CECAFA Condemns Somali U-17 Killing in Mogadishu; Somalis Stranded in Mediterranean Off Libya 'Rescued'; TFG-AMISOM Forces Claimed to Have Destroyed Al-Shabaab Bases in Juba Region; Abu Mus'ab of Al-Shabaab Provided Details on Attacks and Assassinations; Al-Shabaab Claimed to Have Attacked Ethiopian Troops Near Baidoa; Al-Shabaab Claimed Responsibility of Constitutional Conference Attacks; TFG Forces Arrested Five Al-Shabaab Suspects in Berdale; Soordo Agency Distributed Live Goats to Needy Families in Galgadud; Luq IDPs Asked to Vacate Former Government Buildings; Four TFG Soldiers Killed in Baidoa Blasts; and Two TFG Officials To Face Charges of Creating Political Rifts in Baidoa.
COMMENTARY ON ISLAMIC WEBSITES
Amiir Nuur - The pro-al-Shabaab website claimed the Islamic Administrations of Bay and Bakool regions started collecting Zakat (obligatory charity) contributions from the business owners and residents of those regions. However, al-Shabaab leaders said they are not able to collect Zakat contributions from Hudur and Baidoa towns since these two towns fell under the control of the infidel forces in Somalia. Somali Language
POLITICS
UPI - The U.N. Security Council extended parts of the mandate for sanctions imposed on Somalia but said the transition period won't go past Aug. 20. The interim Somali government started meetings this week aimed at drafting a constitution. There hasn't been a functioning central government in Somalia since the 1990s and the mandate for the interim administration ends Aug. 20. The U.N. Security Council, in a resolution, called on all parties in the political debate in Somalia to "redouble" efforts to bolster the government, noting the transition period will not be extended.
Somaliland Org - The third phase of talks with Somalia will commence after ongoing political shifts are complete. This was announced by Somaliland's Minister of foreign affairs during a press conference in Hargeisa where he said the temporary cessation has been occasioned by expected change of government in Somalia. Said he, "this is not a withdrawal from the internationally sanctioned talks but a temporary pause to enable the southerners complete their shift from a transitional to a permanent government," he said.
SECURITY/AL-SHABAAB
Kenya Media - A massive explosion has occurred near a former police academy where the Somalia's 825-member National Constituent Assembly (NCA) was debating a new constitution for the African state, Press TV reports. According to the police, the blast took place on Friday when a remote-controlled bomb went off near the meeting venue in the capital city of Mogadishu. "The bomb was planted under a wall near the hall. A civilian car was hit by shrapnel," Farah Omar, a police official told Press TV. Residents around the meeting venue said they heard the explosion followed by a huge smoke cloud.
Raxan-Reeb - The council of east and central Africa football associations (CECAFA) has vehemently condemned the recent killing of Somalia's U 17 first choice goalkeeper Abdulkader Dheere Hussein by unidentified assailants In Mogadishu. In a letter sent to Somali Football Federation on Friday morning the general secretary of CECAFA Nicholas Musonye said that the CECAFA family is mourning with Somalia over the death of the slain young footballer. "This is another sad moment for Somali Football Federation CECAFA takes this opportunity to condole with you (Somalia) and the family of the young footballer. We hope you will do thorough investigations to arrest the culprits," Secretary General Nicholas Musonye said in his condolence message he sent to Somali football federation on Friday morning.
MARITIME
BBC Africa - About 90 Somali migrants stranded on a boat in the Mediterranean Sea for more than four days have been rescued, an Italian news agency and relatives say. One of those on board called the BBC Somali Service on Thursday night to say that the boat's generator had failed and their water supplies had run out. He said they had left the Libyan capital, Tripoli, hoping to reach the Italian coast. "We have been floating out to sea now for four days and we don't know where we are heading or exactly where we are now. All we can see is the dark sea," he told one of the BBC producers who phoned him back.
HUMANITARIAN CRISIS/PUBLIC HEALTH
SABAHI - A cholera epidemic is spreading in southern Somalia, causing an alarming number of children and elderly to travel to Mogadishu for treatment, Banadir Maternity and Children's Hospital (BMCH) officials say. BMCH has been receiving hundreds of cases of cholera from Mogadishu, Kismayo, and towns in the Middle and Lower Shabelle regions in southern Somalia. "People come here for free treatment, which is offered by the state-run Banadir Hospital in collaboration with humanitarian organisations from Kuwait, Germany, Sudan, Saudi Arabia and Turkey," Khalif said.
OP-ED
Hiiraan Online - The author, Abukar Arman, Somalia Special Envoy to the United States, refutes the leaked UN's report accusing the current and former TFG leaders of corruption charges. The envoy leveled similar corruption charges against the UN's Office for Somalia with embezzlement of about a billion dollars a year. "It says nothing about the almost $1 billion per year squandered in Nairobi that the Transitional Federal Government has no say or knowledge as to how, when, and where it is spent."
RADIO ROUNDUP
Radio Mogadishu - A pro-government radio station
A Somali government military officer Colonel Mursal Geedi Ali on Friday declared that the Somali National Forces destroyed al-Shabaab terrorist bases in Lower Juba region over the last several days. Col. Ali stated that al-Shabaab used the military bases to organize their terrorist activities and the national forces succeeded to chase them away from those areas. Col. Ali vowed that the Somali National Forces and their allied troops will soon reach Kismayo, Bu'ale and Jilib towns of Juba regions and eventually free the people from the terrorist group.
Radio Al-Furqaan - A pro-al-Shabaab radio station
Al-Shabaab Mujhaideens military spokesman Sheikh Abdiaziz Abu Mus'ab on Thursday night held a press conference for the Islamic media and provided details on the recent operations against the enemy forces across the country. Abu Mus'ab stated that a number of Kenyan soldiers were killed and their military vehicles were burned as fights and explosions took place in Lower Juba region over the last 24 hours. Abu Mus'ab also claimed that the Mujahideens successfully fulfilled operations in the Somali capital of Mogadishu, killing spies for the foreign countries. He sent the last warning message to the spies who are working in Somalia, reminding them that they will taste the bullet if they didn't stop selling the secrets of the Mujahideens.
Radio Andalus - A pro-al-Shabaab radio station
At least three Ethiopian Christian soldiers were confirmed dead and several others were injured after al-Shabaab Mujahideen fighters clashed with the Christian troops in Gof-gadud-Shabelo village, 30 kilometers west of Baidoa on Friday. The fighting erupted when heavily armed al-Shabaab Mujahideen fighters launched attacks at the Ethiopian military bases in the village. Another fight between the Mujahideens and the Ethiopian infidels took place in Qansah-dhere district of Bay region after the Mujahideens attacked the district on Thursday night.
The pro-infidel elders tasked to approve the infidels' constitution, who were holding a meeting in Mogadishu, fled the conference hall after the Mujahideens attacked the conference hall with mortars over the last 24 hours and the meeting was postponed. TFG Constitution Minister Abdirahman Hosh Jibril confirmed to the local media that number of mortars hit the scene. Similar explosions also took place near the conference hall which terrified the enemy.
Radio Bar-Kulan - An independent radio station
Government forces in Berdale town, Bay region, on Friday arrested five suspected militants after conducting a security operation targeting militants and their sympathisers in the area. The District Commissioner Yunis Ali Dareen confirmed the arrest of the suspected militants that TFG officers conducted the crackdown of suspected militant hideouts in several neighbourhoods in Berdale town. Commissioner Dareen stated that the suspects, all youths, were plotting to commit criminal offenses in the area after recently arriving in the town with the intent of committing crimes. Dareen stated that the suspects are now undergoing intensive interrogations and all of them will soon be transferred to Baidoa to face charges if investigations reveal their connections with the militants.
A local aid agency in Galgadud region distributed close to a thousand goats to needy families in Dusamareb and Guri'el districts. The agency, Soordo, distributed the goats which were donated by the UN's Refugee Agency (UNHCR) in support of needy families in the region. Soordo's Galgadud head officer Abdirashid Daud Dimbil told Bar-kulan that they have already distributed 615 goats to destitute families in these districts.
District authorities in Luq town, Gedo region, have ordered people illegally occupying government buildings to immediately move out in order for government use. The District Commissioner Ahmed Bulle Anjeh ordered all squatters in former government buildings to vacate immediately without any other conditions.
Radio Shabelle - An independent radio station
At least four TFG soldiers were killed and several civilians sustained various injuries as two bomb blasts hit Somalia's third largest city of Baidoa. "Huge explosions were heard and smoke plumes rose across the city's sky following twin blasts planted near a Somali army checkpoint, killing at least 4 soldiers," a witness said. Later on, Hassan Mo'allin Bikole, the district commissioner of Baidoa under TFG, told the media that the security forces have foiled other explosive devices aimed to detonate government installations in the city.
The local administration of Baidoa proclaimed that it would put under trial two alleged influential officials who are being held at the central prison in Baidoa town of Bay region. The two, Chief of Police in Bay region, Adan Dodishe, and Chief of Police for Baidoa, Adan Biid, were accused of fueling a disagreement among the local officials of Bay regional administration for Somali government. "We are going to bring soon the accused men into a fair court and face justice over their wrongdoing if they are found guilty during the investigations by the police," said Abdifatah Geesey, the governor of Bay region. Ethiopian forces arrested the men on Wednesday after reportedly released prisoners that were being held in Baidoa central station.