Breaking News
Former Colonel, Brother Assassinated in Galkayo
Col. Abdulahi Mohamed Hassan (Fara) Gunned Down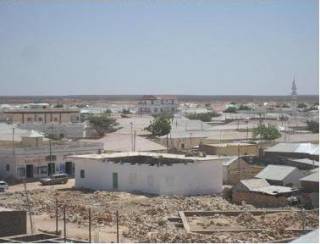 Unknown gunmen shot and killed a well-known elder, Colonel Abdulahi Mohamed Hassan (Faray), and his brother this evening in Galka'ayo (Galkayo), located in Somalia's semi-autonomous region of Puntland, according to an eyewitness who spoke to Somalia Report.
"Unknown gunmen armed with pistols killed Colonel Abdulahi Mohamed Hassan 'Faray' and his brother, Osman Mohamed Hassan, as they were both both returning home for iftar (breaking the fast) from the Al-Taqwa mosque in Israac-village. The criminals fled the area before the people and police arrived,'' Mustaf Hassan, an eyewitness told Somalia Report.
Sources from Galka'ayo added that police are investigating this case.
"After the incident a lot of police arrived in Israac village, particularly the area near the mosque, and began investigations and asking the people a lot of questions. Most of the residents went to their homes early because of the security operations," Khaliif Osman, a resident in Galka'ayo told Somalia Report.
Col. Abdulahi Mohamed Hassan - popularly known as 'Faray' - was an officer in Somalia's military in the central government led by Mohamed Said Barre. After the country collapsed, Faray became a well-known businessman in the Mudug region of the country.
Faray was a member Galka'ayo's council from 2009 to 2010, and became a well-known elder who worked hard to develop social affairs in the region.
Puntland's security officials have not yet commented on the death of the two brothers and Somalia Report's efforts to contact Mudug officials went unanswered.
This incident comes within a week of a massive security operation conducted by Puntland's administration in Galka'ayo. In the holy month of Ramadan last year, gunmen killed Hassan Wallore, a well-known elder.
Galka'ayo is a city divided in half with Galmudug controlling the southern side and Puntland controlling the northern side.
Galka'ayo has been a hotbed of violence and the site of at least three kidnapping cases: two Danish Demining Group employees, one American journalist, and two Kenyan aid workers.