Breaking News
Pirates Release 7 Pakistani Crew of MV Albedo
$1.2 Ransom Paid, Pakistanis En-Route to Nairobi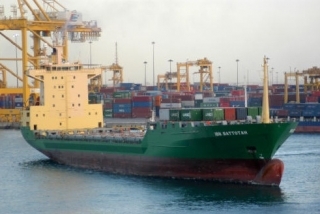 Seven Pakistani hostages from the Malaysian-flagged container ship, MV ALBEDO, were released today after more than 20 months in captivity following a ransom payment of $1.2 million, according to pirates who spoke to Somalia Report late Tuesday evening.
Pirates who are so close to Guushaaye and his group holding the hostages told Somalia Report that the seven were transferred to Himan and Heeb Administration and then passed to Galmudug officials who are taking them to Galka'ayo to catch a flight to Nairobi, Kenya.
The $1.2 million ransom arrived in Cadaado two days where pirates counted the money. They have since moved to Ceel-Huur village to divide the money among themselves and their investors.
Himan and Heeb administration refused to confirm the handover while Glamudug and Puntland officials both denied involvement in the negotiation. Pirates and officials from the Ahlu Sunna Wal Jamaa militia in Cadaado confirmed the release.
MV ALBEDO, IMO number 9041162 and built in 1993 with a dry weight of 15566 t, is owned by Malaysia-based Enrich Shipping, and was attacked by pirates on November 26, 2010 while underway from Mombasa to Jebel Ali, 293 miles west of the Maldives on the Indian Ocean.
In July 2011, the Malaysian owners told Somalia Report that negotiations to release the vessel had halted, due to the company's inability to raise the $3.4 million ransom demanded by pirates at the time. Captain Ismail Mohammad stated that the company had even been forced to lay off some employees due to the economic situation the shipping industry was in. "We are currently operating with a skeleton staff," he told Somalia Report.
The 23 crew members are comprised of Bangladeshi, Iranian, Pakistani and Sri Lankan nationals and there have been several campaigns in recent months in Pakistan petitioning for their release. After increased pressure on the Pakistani government, Pakistani businessman and Chairman of Bahria Town, Malik Riaz, announced that he would be topping up the ransom fund in order to release the vessel and its crew. After an initial ransom demand of $8 million, which the owners were unable to pay, the hijackers reduced the ransom.
Sources told Somalia Report pirates holding the vessel were pushing heavily for a ransom of $5.5 million and are in fear of anti-piracy operations. Isse Yulux, pirate leader, decided to release the vessel after capturing a second ship, the UAE-owned, chemical products tanker, MT Royal Grace, hijacked on March 2nd of this year. Due to financial pressures, the ransom was set at $5.5 million, but his fellow pirates rejected that sum, blaming Yulux for the break in negotiations. Meanwhile, another source close to the pirates claims that they are threatening the hostages in order to speed up the delivery of the agreed ransom.
The vessel has been the subject of numerous false ransom stories in recent months.
Somalia Report is working to independently verify the report and will continue to monitor the situation.