31 July 2012 Daily Media Roundup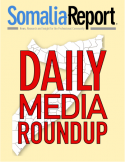 Somalia News Highlights: SRSG Warns Against Intimidation in the Selection of the MPs; Somalia's Cause is Ireland's Cause, Says Tánaiste on Visit; Somalia's Puntland Says 53 Terror and Piracy Suspects Arrested; 365 Cadets Join the Somaliland Law Enforcement Units; US Drive Against Al-Shabaab Pressures Somali-Americans Money Transfers; TFG's Defense Minister Denied Presence of UK Soldiers in Somalia; TFG Soldiers Were Accused of Looting Businesses in Afgoye; Al-Shabaab Claimed to Have Killed Three TFG Soldiers in IED Attack; Al-Shabaab Claimed Responsibility for Kenyan Border Attacks; Somali PM Urged Youths to Play Greater Role in Nation-Building; TFG Constitutional Minister Expressed Optimism Over Constitutional Conference; Governor of Galgadud Pledged to Uproot Al-Shabaab; and Somali PM Pledged Revival of National Naval Forces.
COMMENTARY ON ISLAMIC WEBSITES
Somali Memo - The pro-al-Shabaab website published a commentary claiming that President Obama commented about the death of the Ethiopian Prime Minister Meles Zenawi in Belgium and expressed a great sadness. The Islamist website cited The New York Times has as the source. (Editor's Note: The International Crisis Group has denied the death of PM Meles based on online Ethiopian newspaper rumors.)Somali Language
POLITICS
UNPOS - Today is day 6 of the National Constituent Assembly and the anticipation and excitement of tomorrow's voting day is evident. Now we enter a difficult period. The new Federal Parliament will be the real basis of good governance that we are all looking forward to. There have been disturbing reports of undue influence from aspiring politicians in current and former positions. This influence takes many forms including exchange and demands for favors, bribery and intimidation. We should not allow Parliamentary seats to become commodities for sale or items for auction to the highest bidders at a time when we are seeking to reclaim the true stature of a dignified and respected Somali nation.
Irish Times - TWENTY YEARS after Mary Robinson shed tears at the plight of Somalis caught up in a devastating famine, another senior Irish politician has witnessed at first hand the realities of this ravaged country. Tánaiste and Minister for Foreign Affairs Eamon Gilmore flew into the country's capital, Mogadishu, yesterday for a surprise and secret visit. The fraught security situation, namely the continuing threat posed by the extreme Islamist group al-Shabaab, meant the visit was not made public until it had happened. "I will make sure it does not slip from the agenda. There is an obligation on the international community to address the crisis here.This cause in Somalia is Ireland's cause and I will provide a voice for that in the meeting halls of the EU and the UN," he said.
SECURITY/AL-SHABAAB
Garowe Online - Government forces have arrested 53 persons suspected of links to terrorism and piracy crimes in Puntland State of Somalia, according to a statement from Puntland Ministry of Security, Garowe Online reports. The Ministry's press release stated that the operation is "part of an extensive security campaign" and that the suspects arrested included Al Shabaab terror group members, piracy financiers, and suspected associates of notorious pirate kingpin Isse Yuluh, wanted by Puntland authorities. The statement indicated that Puntland's government has "intensified security operations since the 11 July 2012 kidnapping of three Kenyan aid workers near Galkayo," Puntland's second largest city located at the state's boundary with erstwhile chaotic regions in south-central Somalia.
Somaliland Press - 365 cadets were met with cheers and clapping on Monday during a graduation ceremony held at the Mandera Police Academy, about 56 miles (90-km) north-west of the capital Hargeisa. The Somaliland vice president Abdirahman A. Ismael presented a certificate of training to each police candidate, who will land jobs in different law enforcement sections. With intentions to establish a professional civilian police force, the cadets received professional training in self-defence, non-violent disarmament, community policing, physical fitness, human rights, Somaliland law and constitution, marksmanship and information technology.
DIASPORAS/TERROR ACTIVITIES
Associated Press - Two Somali identical twins living in London have pleaded guilty to raising funds to support terrorism in their war-torn homeland. The 25-year-old brothers, Mohammed Shabir Ali and Mohammed Shafiq Ali, accepted a plea-bargain deal Tuesday and will be sentenced Wednesday. They were originally charged with assisting others to commit acts of terror abroad and faced a potential life sentence if convicted. By pleading guilty instead to raising money to fund terrorism abroad, a lesser charge, they face a maximum sentence of 14 years.
Reuters - A Chicago man pleaded guilty on Monday to planning to join an Al-Qaeda-linked group in Somalia, the latest U.S. prosecution in a crackdown that has made it harder for Somali-Americans to send money to the war-torn country. Shaker Masri, 28, was arrested in August 2010 as he prepared to leave the United States and agreed to serve nearly 10 years in prison, the U.S. Justice Department said. The prosecutions of Masri and others since the Sept 11, 2001, attacks are designed to stop support to al-Shabaab, a militant group the United States says has ties to Al-Qaeda.
OP-ED
Somaliland Sun - The author, Nama Nasser Al-Aboodi comments about the withering sovereignty through interventions including Islamists coupled with internal dysfunctions, but proposes cooperation among Somalis. "Through dialogue and commitment, Somalia needs to reach political stability in order to develop its capacity to provide security for its citizens, engage in political decision-making, integrate into the world economy, and deal with the challenges facing the country. Commitment and cooperation are needed from all angles to save Somalia's sovereignty."
RADIO ROUNDUP
Radio Mogadishu - A pro-government radio station
The Defense Minister of the Somali Transitional Federal Government, Hussein Arab Isse on Tuesday denied that soldiers from British government are operating in Somalia, in particular the capital of Mogadishu. The minister confirmed that there is only a group of expert advisors from England in Mogadishu giving recommendations to the Somali national forces.
Radio Al-Furqaan - A pro-al-Shabaab radio station
The TFG militias on Monday night robbed and looted most of the shops and business centers in Afgoye town of Lower Shabelle region. "The robbery was planned by the militias and we lost our goods," said a resident who requested anonymity. Since the TFG militias and the foreign troops seized Afgoye town months ago, the elders and residents of Afgoye were complaining of looting by the TFG militias.
Radio Andalus - A pro-al-Shabaab radio station
At least three pro-infidels militias were killed and more than ten injured as a huge explosion hit their vehicle in Hiliwa district of Mogadishu on Tuesday morning. An eye witness told Radio Andalus that they saw the explosion and the vehicle was completely destroyed. The pro-infidels militias have completely closed Warshadaha Street where many explosions targeted them over the last several days.
Al-Shabaab Mujahideen movement claimed the responsibility of an attack that took place in north-eastern province of Kenya which killed at least five Kenyan infidels' police officers. Al-Shabaab military spokesman Sheikh Abdiaziz Abu Mus'ab stated that the attack is a part of series attacks which al-Shabaab Mujahidens want to liberate the North-Eastern region.
Radio Bar-Kulan - An independent radio station
The Somali Prime Minister Abdiweli Mohamed Ali and his Deputy Hussein Arab Isse have called on youths to play a vital role in rebuilding the country as it emerges from the ashes of two decades of civil strife. The PM said youths are the central nerve of any development in any given country, urging Somali youths to take on the lion's share in rebuilding the country. Deputy Prime Minister Isse also appealed to youths to closely work with security agents in order to bolster security in the entire country. He said youths are very important in rebuilding any country in the world. Isse who is also the defense minister however cautioned youths from making deadly trips to abroad in effort to get better life and urged them instead to stay in their country and take part in rebuilding the country.
Constitution and Federal Affairs Minister Abdirahman Hosh Jibril expressed optimism that the ongoing National Constituent Assembly (NCA) will be fruitful and he is satisfied with the ongoing process. Mr. Jibril says critics of the NCA who have been spreading rumors that the 825-member assembly will not agree to adopt the draft constitution has been proved wrong. The minister said that delegates are now even coming closer to settle and agree on contentious issues in the constitution.
The Galgadud government promised to clear al-Shabaab militants from Galgadud region, especially a few areas still under the control of the militant group. In an exclusive interview with Bar-kulan, Galgadud Governor Ahmed Yussuf Hassan said that, "They will soon liberate areas in the region still under the militant group and once the existing militant rule in some areas is ousted, they will establish local administrations that will come under the Somali government." The governor, however, revealed that they are intending to establish all security organs including the police, the national security services as well as the correctional forces.
Radio Shabelle - An independent radio station
Prime Minister of Somalia Abdiweli Mohamed Ali announced Tuesday that his government is set to form the National Naval Forces in a bid to secure the overall security of the country's territorial waters. "Somali government wants to establish well-trained maritime forces that will be in charged to patrol the coast and put a stop to the foreign countries and companies from taking Somalia's resources illegitimately," Ali said, while speaking reporters in the capital. Finally, the PM stated that he asked the international community in several conferences he attended for help to build high-quality Somali marine forces, with speed boats and warships to secure the country's coast and make it more reliable and protected.