3 August 2012 Daily Media Roundup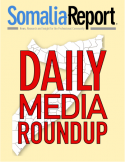 Somalia News Highlights: Clinton to Urge Somali Leaders to Complete Transition on Time; Somali War Linked to Brewing Oil Dispute; Fighting To The Last Dumb, Broke Teenager; Somali Pirates Offered Amnesty If They Agree to Stop Terrorizing East African Seas; Pakistan Welcomes Hostages Freed by Somali Pirates; Somali President Says The Future is Promising; Shabaab Claims They Battled 'Infidel' Troops in Three Cities; TFG Constitutional Delegate Gunned Down in Mogadishu; Suicide Bomber Hits Air Force Base in Nairobi; UN Urges Elders to Quickly Choose Parliament Members; PM Abdiweli Listed His Achievements in Office; Sool Regional Administration Employee Murdered in Las Anod; and Al-Shabaab and AMISOM Troops Clashed in Lower Jubba Region.
POLITICS
Voice Of America - U.S. Secretary of State Hillary Clinton visits Kenya's capital, Nairobi, Saturday to urge Somali leaders to complete a political transition to a new government on schedule. Clinton has previously threatened that the U.S. will impose sanctions on anyone seeking to sabotage the process. Secretary Clinton's visit comes as Somalia enters the final stages of a political transition due to end August 20 when the United Nations mandate for the existing transitional government expires. In a statement Thursday, following Somalia's adoption of a new provisional constitution, Clinton urged Somali leaders to complete the remaining tasks "quickly and transparently" so the country is "able to usher in a new era of governance that is more responsive, representative, and accountable."
SECURITY/AL-SHABAAB
UPI - The military offensive by Kenyan and Ethiopian forces against Islamic al-Shabaab fighters is gearing up for an assault on the Indian Ocean port of Kismayo that's increasingly seen as a key element in a brewing dispute over oil and natural gas. But the strategic value of the city, one of Somalia's three deep-water ports, has swelled in recent months because of the huge oil and gas discoveries off East Africa. Kenya made its first big strike in March and the discoveries, all the way south to Mozambique, are piling up. Even South Africa is undertaking major seismic testing, hoping to join the region's growing energy boom. The oil and gas strikes, including some in neighboring Ethiopia, a U.S. ally that's played a prominent role in the 6-year-old war against the Somali Islamists, have raised the strategic context of the conflict to a new level.
Strategy Page - Al-Shabaab continues to fade. The terror attacks are sloppier and less effective. Most al-Shabaab gunmen have retreated to the southwest (Gedo) and the southeastern port of Kismayo. Attempts to keep peacekeepers and pro-government gunmen out of Gedo have failed, with lots of al-Shabaab casualties. Terror attacks in Mogadishu and elsewhere have failed. Al Shabaab is running out of money, recruits, technical experts, and much else. But the Islamic radical group is still popular with many Somalis, especially very poor young men who are uneducated and have few prospects. These inexperienced teenage gunmen comprise most of the al-Shabaab dead these days.
MARITIME
The Telegraph - Somalia's pirates could be granted an amnesty if they release hostages and return captured vessels to their owners, according to transitional president Sheikh Sharif Sheikh Ahmed. The head of Somalia's corruption-riddled government, whose current mandate expires next month, said he was prepared to let off the 2,000 pirates thought to be operating off the troubled nation's coast in comments published in Friday's Times. "Those who leave behind what they have done will be forgiven," he said, after campaigning in Balad, 25 miles north of Mogadishu.
India Daily News - Seven Pakistan sailors were released from captivity by Somalian pirates after $1.1 million ransom was paid for their freedom. The Pakistanis were crew on a Malaysian ship and were captured in the Gulf of Eden in November 2010. Families and government officials in Karachi welcomed home Thursday seven Pakistani crews members released by Somali pirates following a $1.1 million ransom payment after being held hostage for 20 months. The Pakistani crew along with 14 other South Asians and an Iranian on a Malaysia-registered ship were captured by the pirates in the Gulf of Eden in November 2010. The 15 other crew members--included seven Sri Lankans, six Bangladeshis and one each from India and Iran--are still in captivity. "The pirates had initially demanded over 10 million dollars -- our team negotiated through intermediaries and settled for over a million dollars," Ishratul Ibad Khan, governor of Sindh province, told reporters.
BOOK REVIEW
African Arguments - This is a lengthy review of the Memoir of late Somali President Abdullahi Yusuf by Mohamed Haji Ingriis. "This reviewer wishes the Colonel had enumerated his mistakes and past record of warlordism straight. Such an account would undoubtedly offer aspiring warlords and would-be-Somali-warriors a lesson that might prevent them becoming ruthless dictators in attaining their ambitions through the mantra and the method of the end justifying the means. The memoir is recommended reading for Af-Maxaa Somali speakers wishing to glimpse the era of Somali warlordism and the 'politics of the belly' in Somalia from 1969 onwards."
RADIO ROUNDUP
Radio Mogadishu - A pro-government radio station
Somali President Sheikh Sharif Sheikh Ahmed on Friday said that the TFG succeeded to improve the security and the politics of the country. The president stated that a good future awaits Somalia since the country ended the transition period and approved new constitution. He urged all the Somali people to go forward and keep the peace in their country.
Radio Al-Furqaan - A pro-al-Shabaab radio station
A TFG constitution committee member and one of his guards was shot and killed in Mogadishu on Thursday night. An eye witness told Radio Andalus that unknown men armed with pistols fulfilled the assassination and escaped from the scene. Also the TFG chairman in Hamar-jadiid neighborhood was killed in Mogadishu.
At least two people were killed and more than ten injured an explosion took place in Kenyan capital of Nairobi on Friday. The head of Kenyan police in Nairobi told the local media that suspected suicide bomber fulfilled the attack using a hand grenade. Some reports indicate that Kenyan air force soldiers were among the casualties since the blast took place near the air force base in Nairobi.
Radio Andalus - A pro-al-Shabaab radio station
A number of pro-infidels militias, the infidels, and Kenyan Christian troops were killed as three separate fights between al-Shabaab Mujahideen and the enemy took place in Af-madow, Elasha Biyaha and Aliyale districts of Lower Jubba, Lower Shabelle and Middle Shabelle regions respectively on Thursday night. According to the Mujahideen military sources, fighting erupted when the Mujahideena launched attacks on the enemy's bases in that area. The heaviest fighting took place in Af-madow of Lower Jubba as the Mujahideen collided with the enemy and the fighting continued more than two hours.
Radio Bar-Kulan - An independent radio station
The Special Representative of the UN Secretary-General for Somalia, Dr. Augustine P. Mahiga called on Somali elders to immediately select the new parliament which will elect its speaker and the president. Speaking at the official closure of the Constituent Assembly in Mogadishu on Thursday, the SRSG said elders are required to select the proposed 275 new members of parliament within a week in order to complete the remaining tasks on time. He stated that the new parliament will elect its speaker and two deputies before electing the new president. Somali elders are expected to submit the list of the new parliament the soonest possible to meet the August 20 deadline for ending the transition.
Prime Minister Abdiweli Mohamed Ali praised the government formed under his tenure "for coming up with tangible achievements and making changes in the country." The PM made the remarks on Thursday night in a dinner held in Mogadishu where he hosted cabinet ministers, MPs, and civil society groups to "celebrate" his government's achievements. The stabilization of several regions in the country, adoption of new constitution, and winding up of the transitional period were among major issues the PM listed in his government's score chart.
Unknown gangs last night gunned down a Sool regional administration employee in Las Anod town under unclear circumstances. Three armed men dressed in army uniforms attacked the victim, Abdi Awil Hassan, who was recently employed by the regional administration and killed him on the spot before fleeing the scene of the crime, according to eyewitnesses. Police officers who arrived at the scene of the incident conducted a search operation and arrested an unspecified number of people in connection with the killings. The town has in the recent past seen an upsurge of organised crimes targeting local administration employees. The incident comes just a day after unidentified gunmen attacked the area district commissioner with hand grenades.
Radio Shabelle - An independent radio station
Kenyan troops serving under AMISOM clashed on Friday with Al Qaeda affiliated al-Shabaab militants in southern Somalia. Locals said the battle erupted after al-Shabaab fighters attacked Kenyan military bases located in Lower Jubba region, with both sides using heavy artillery and mortar shells during the attack. Figures of the casualties on both warring sides and civilians in the combat area could not be independently verified.