Exclusive
One Year Since Al-Shabaab Fled Mogadishu
Anniversary Marks Extreme Highs and Lows for Somalia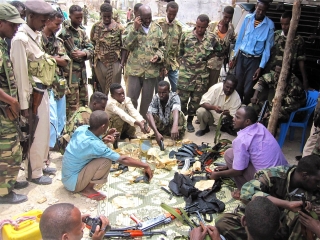 August 6th marks one year since Somalia's Transitional Federal Government (TFG) Forces and African Union Mission in Somalia (AMISOM) soldiers forced al-Shabaab Islamic militants to flee the capital of Mogadishu, ending their three year grip on the port city. To mark this historic anniversary, Somalia Report looks back at the past year of highs and lows.
In an effort to maintain Mogadishu and secure other areas of the country, TFG and AMISOM forces, supported by local militias and Ethiopia, have pushed the militants further out of the southern and central regions, with Kismayo, the last al-Shabaab stronghold, slated to be the final target, which the government promises to size within three weeks.
In addition to significant military gains, Somalia has seen a number of positive developments in the last year including delegates approving the new constitution, elections have been scheduled for the 20th of this month, businesses are thriving, and the Diaspora is returning in record numbers to help rebuild the country.
While these are all positive developments, Somalia has suffered greatly in the last year from famine, drought, massive displacement, hit-and-run attacks by insurgents, rampant piracy and ship hijackings, drone strikes, human smuggling, the rise of the Galgala militia, the emergence of countless ministates, and countless suicide bombs and assassinations throughout the country.
One year ago today, residents told Somalia Report they were shocked by al-Shabab's spokesman Sheikh Ali Mohmud Rageh aka (Ali Dheere) announcement that the group had no choice but to vacate Mogadishu as part of a 'tactical retreat,' and vowed to launch guerilla warefare throughout the capital.
"This past year has been a tremendous challenge," said Mahad Sheikh Ali (Ibaar), the head of an International Coordination for the Democratic Party of Somalia (DPS) which is chaired by the former president Mohamed Siad Barre's son, Maslah Mohamed.
"Since August of last year, we have been progressing toward peace and development. But this last year has also brought a string of suicide bombings, and assassination attacks. Security has been the biggest challenge for Mogadishu," Mahad told Somalia Report.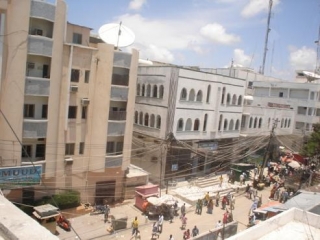 Construction has been booming in the city, according to Halima Ahmed, a 63 year old grandmother who spent most of her life in Mogadishu and spoke to Somalia Report.
"I'm a witness of Somalia's 21 years of volatility from the civil war to the Islamist revolution in 2006. I'm now a member of my older son's family here. Previously we had lived in CC village in Karan district, but in 2010 we moved to Dharkenley district west of the capital," she explained.
"Many of my neighbors fled but we stayed. What I have noticed has changed over the last year is we have seen an incredible atmosphere towards and enthusiasm for peace, development, and hope. The Somali people got tired of the bloody violence during al-Shabaab's control of the city," added Halima.
"It was terrifying to live under their control. The beheadings, forced recruitment without regard for age or gender, and influence was so hard and unpredictable. It is so much better now," Halima told Somalia Report.
Local residents appreciate their newfound freedoms, particularly in Mogadishu, but each day is tempered by the on-going threat of al-Shabaab infiltrators lurking throughout the city, she added.
Key Events: Aug - Dec 2011
--On August 6th al-Shabaab vacated Mogadishu.

--On August 19 the Turkish prime minister became the first western leader to visit Mogadishu in recent years and his tour paved the way for other international dignitaries.

--Judith Tebutt, a British woman, was kidnapped from a resort in Kenya by Somalia pirates on September 11th.

--On October 4, 2011, al-Shabaab militants carried out one of the most deadly suicide bombings ever since al-Shabaab declared its jihad war against the Somali government and AMISOM in 2007, killing almost 100 civilians mostly young students who were waiting for their exam results in front of the Ministry of Education near KM4 intersection.

--Five days later on October 9th, Kenya sent its military into Somalia as part of Operation Linda Nchi in response to spate of terrorist attacks and kidnappings on its own soil by Somali pirates and militants.

--On October 13th, Somali gunmen kidnapped two Spanish aid workers of MSF from Dadaab refugee camp (and are still being held).

--Two Danish Demining Group (DDG) employees, one American female and one Danish male, were kidnapped in Galkayo on October 25th.

--In December, Ethiopian troops crossed back into Somalia to help Somali troops in seize Beledweyne.

--On December 21st, the first of two UN sponsored Garowe Conferences is held.
Key Events: Jan - Aug 2012
--On January 17th, Puntland said they expected to find at least 300 million barrels of oil in the semi-autonmous region.

--American Michael Scott Moore, a journalist, was kidnapped in Galkayo (and is still being held).

--The UN Political Office for Somalia (UNPOS) relocated to Mogadishu on January 24th after years operating out of the safety of Nairobi.

--On January 25th, two Danish Demining Group hostages were rescued from Somali pirates by US Navy Seals, marking the first very public instance of American 'boots on the ground' since the Black Hawk Down era.

--In February, the Somali government launched a campaign to regain the national property which had become home to thousands of internally displaced persons.

--On February 4th, the UN declared the famine, which began in July 2011, was over.

--On February 9th al-Shabaab officially pledged allegiance to al-Qaeda.

--From February 15 -17, the second Garowe Conference, sponsored by the UN, was held in the administrative capital of Puntland.

--TFG and Ethiopian troops seized strategic Baidoa on February 22nd.

--The Galgala militia in Puntland officially joined with the al-Shabaab insurgency on February 25th.

--On March 21 Judith Tebutt was released by Somali pirates six months after she was kidnapped from a resort in Kenya.

--On April 4 a female bomber blew herself up inside the national theater where Somali Prime Minister Abdiwali Mohamed Ali (Gaas) was addressing the anniversary of the Somali National TV. Two Somali senior sports leaders, Aden Yeberow Wiish and Said Mugambe, and Somali lawmaker Mowlid Ma'ani, wounding dozens others.

--In May, TFG and AMISOM soldiers launched Operation Free Shabelle to liberate the Somali regions.

--On May 29th President Sharif survived an al-Shabaab ambush on his convoy while traveling to Afgoye, which had been seized by allied forces the day earlier.

--Al-Shabaab announced its new organizational structure on June 17th after four days of meetings.

--TFG and AMISOM forces seized Balad, a strategic city in Somalia's Middle Shabelle region, on June 26th.

--On August 1st, two suicide bombers attempted to blow up the meeting of delegates of the National Constitutional Assembly, the same day the constitution was approved.

--One day later on August 2nd, al-Shabaab vowed to kill anyone associated with the constitution.

--On August 4th, the Islamists murdered the manager of Mogadishu's airport.

--August 6th is the one year anniversary of al-Shabaab fleeing Mogadishu.
(Editor's note: Everyday marks another major event in Somalia; therefore, Somalia Report has listed only a few highlights above for brevity and has not included incidents of piracy for this reason. We are well aware there are many more significant events from politics to internal displacement to on-going fighting. This list does not represent any bias or opinion.)
Attacks on Journalists
In addition to ongoing attacks on government officials and civilians since al-Shabaab fled Mogadishu, attacks on journalists have been on the rise with at least ten journalists shot by gunmen in the last nine months, eight of whom were killed while two others were wounded.
Somalia Report can also confirm that the majority of our own reporters receive death threats on a regular basis. We honor and thank them for operating in Mogadishu even before al-Shabaab fled, despite the innumerable risks to their lives. On this anniversary, we also honor those who have been killed trying to bring the news of Somalia to the world.
--Abdisalaam Shaikh Hassan (Hiis) of Horn Cable was murdered by a lone gunman December 28, 2011.

-- Unknown gunmen killed Hassan Osman (Fantastic), the director of Shabelle radio, on January 28, 2012 in Mogadishu.

--On February 28th, SomaliWeyn Radio Director Abukar Hassan Kadaf was gunned down in front of his home.

--On March 4th, Ali Ahmed Abdi of Radio Galkayo was also gunned down in Galkayo.

--One day later on March 5th, Mahad Salad Adam (Mahad Jamal), an editor with the Voice of Hiiraan, was shot and killed in Beledweyne.

--On March 25, a Shabelle Radio journalist, Mohiyadin Hassan Hunsi was shot in Mogadishu but survived.

--On April 24, gunmen shot and wounded Abdiaziz Dirie, a journalist with Radio Simba, in the leg while he was in Mogadishu's Bakara Market.

--On May 2, gunmen shot and killed Farhan (James) Abdulle, a journalist with Radio Daljir in Galkayo.

--On June 8th, a journalist from Bar Kulan was shot on his way home.

--Popular comedian and radio host Abdi Jaylaani Malaaq (Marshaale) was gunned down near his home on July 31st.