874 Killed In Last 6 Months
Mogadishu Fighting Also Injures 1230, Says Rights Group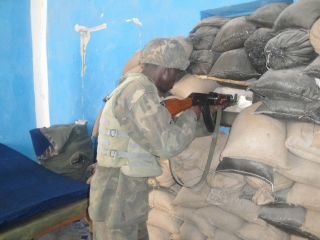 Almost 1,000 people have died and 1,230 have been injured in fighting in the Somali capital Mogadishu over the last six months, a local human rights body said Saturday.
"We have recorded 874 killed, mostly civilians, and 1230 civilians injured," Abdirahman Haji Ali, Chairman of Kulmiye Human Rights Organization, told Somalia Report. "The warring sides should respect the rights of the civilians and end indiscriminate bombardment in residential areas."
Civilians are often caught in the crossfire of fighting between government forces, backed by the AU peacekeeping mission (known as AMISOM), and militant Islamist group al-Shabaab. Amnesty International in its 2010 report on Somalia said that the warring sides used mortars and heavy weapons in populated areas, with militants launching attacks from residential areas and the TFG and AMISOM allegedly firing indiscriminately in response.
At least 14 people were killed when a shell landed in the insurgent stronghold of Bakara Market on Wednesday, although AMISOM said it was not responsible for the deaths and that the market had been designated a "no-fire" zone. Kulmiye Human Rights also said it has recorded 17 cases of rape against vulnerable women, mainly those living in camps for the displaced, and 523 cases of torture.