Breaking News
Abdi Jeylaani Malaaq (Marshaale) Assassinated in Mogadishu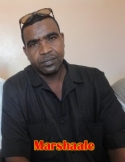 At around 6:00pm local time, unknown gunmen assassinated a well-known and popular Somali comedian, Abdi Jeylaani Malaaq (Marshaale), in Mogadishu as he was on his way home, according to witnesses who spoke to Somalia Report
The suspects escaped from the scene before security forces arrived.
Marshaale's close friend Abdala Talaash told Somalia Report that Abdi was a peaceful and loving man who was often laughing.
"It is very sad. It is shocking that gunmen would kill him, particularly during Ramadan. It is a month of worship and he was fasting. He was a patriotic man who loved his country," said Abdala.
"He was very funny, too. From the last moment we have been producing a comedy program for Radio Kulmiye with another comedian, Abdi Muridi Ajakis. Abdi joined the program at the beginning of this Ramadan month," added the friend.
Abdi had been working as a freelance comedian for many radio and television stations based in the Somali capital including Radio Kulmiye and Universal TV.
Although the motive for the murder is known, he is the eighth journalist targeted by gunmen this year, sparking fear among local media professionals.
"We were often worried, but still trying to stick our efforts to bring the reality to our people. We are often the voice of the people, but this act of murder against such man is another frustration because he was not involved in political programs. He was entertaining the people, and he was loved by the people. I never believed that he will be targeted for any reason," Ali Baashi, a local radio journalist told Somalia Report.
Photo credit: Hiiraan Online