Posts by Abdikafar Hosh
Militants Accept 'Compulsory Donations' From Local Residents, Businesses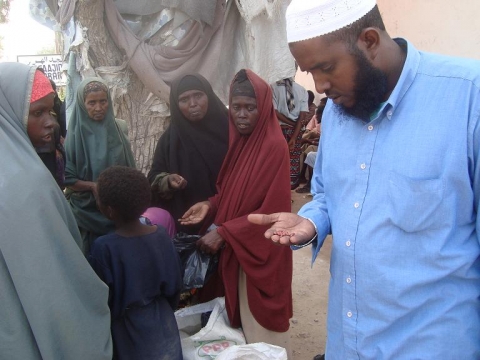 The militant group al-Shabaab has opened a fundraising office in the southern port town of Kismayo in Lower Juba region to support drought-affected Somalis and internally displaced people (IDPs) who have migrated to the city.
Al-Shabaab said the office is open to receive compulsory donations such as money, food and clothes from local businesses and residents to help those who are in dire need.
The opening of this office comes after the militants banned a voluntary drought committee and prevented them from fundraising for IDPs. The local drought committee was comprised of fifteen members including religious scholars, business figures and elders.
Local residents are skeptical about the intentions of the insurgency which has seen a drop in their funds and popularity in recent months.
"Al-Shabaab wants to receive the donations that are to be collected from the local residents. They are currently engaged in establishing collection points at all the mosques of Kismayo and main streets," said Awo Guure, a mother of five children in the town.
Awo Guure donated $200 to al-Shabaab's fundraising office in order to reach out to the drought victims in the region. She told Somalia Report she is skeptical that her funds will end up in the hands of the poor people.
"Though al-Shabaab has managed to curb the security situation in the city, there are reasons not to like them. I am not sure whether my donation will end up in the hands of the poor people or whether they will utilize it for their specific needs and their so-called Jihad offensive against the government and African Union forces in the country," she said.
The militants ordered big businesses to pay more than $200, while smaller businesses and local residents were ordered to pay not less than $100.
Adan Alasow, a school teacher in Kismayo's suburban neighborhood of Via-Afmadow believes al-Shabaab's motives are not charitable.
"It is clear that al-Shabaab is struggling to get financial resources and doesn't care about starving people. They are fighting on many fronts including parts of Gedo region, Lower Juba and Mogadishu," she told Somalia Report.
Alasow believes that al-Shabaab has lost its financial aid from the Arab countries because of the Egypt and Tunisia uprisings.
Mus'ab Abdulkadir is a pastoralist and one of the drought affected people and IDPs in the town. He was displaced from Bula-gudud village, 30 km north of Kismayo, after he lost all his livestock to the devastating drought in the region. He is accompanied by five of his children and their mother.
Mus'ab told Somalia Report that this drought is the worst of his lifetime. "I have never experienced the severity and proximity of such a drought. It is devastating and is killing all living things."
He praised the efforts being made by the local residents of Kismayo whom he described to be merciful people. However, he is worried that donations designated for them will end up in the wrong hands.
"I have heard al-Shabaab is planning to spend donations for their demands. They want to divide the money into two halves; half for us and half for the Jihad. We will not accept this. This money is not for Jihad. This money is for starving children. Let them fear Allah," he complained.
Al-Shabaab officials whom we tried to contact refused to comment on this matter.
Since the office opened, al-Shabaab's fundraising committee money has collected between $80,000 to $100,000, according to member of the committee who spoke to Somalia Report on the condition of anonymity.