Posts by Mohamed Beerdhige
Somali Pirates Use Commercial Vessels to Hijack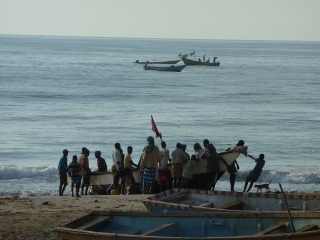 Fishermen in Bayla district, Puntland, state are voicing concerns over illegal fishing vessels that are looting natural resources and destroying thier equipment.
Also, at least four boats owned by local fishermen were destroyed by international warships on anti-piracy patrols, the mayor of Bargal alleged.
"The ships, including the warships and ordinary vessels, usually arrive in our waters every night and they destroy our fishermen's boats, also they damage our resources," Sa'aid Ateno, told Somalia Report.
EU NAVFOR said the statement was an unsubstantiated allegation, and denied ever having carried out such actions. These allegations are made regularly by local communities, but no evidence has ever been produced.
Ateno stated that the residents of Bayla district depend on fishing, accusing illegal fishing ships of affecting their daily live.
However, Ateno also accused Somali pirates of using Bayla district as a piracy zone.